Latest update 30 July 2015.

Wednesday 15 July 2015 - Maureens Cove, Hook Island to Cataran Bay, Border Island
The Whitsunday Islands, Airlie Beach at left. Generally, the second part of the route name (in white) is the location of the blue arrow.
It was again very calm overnight, at 0800 when we get up the sea is glassy. Michael goes to the beach and then we have breakfast. Today is warmer than the last couple of mornings, but it is still cool. Two days ago the whole of eastern Australia had freezing cold weather, with snow from Tasmania to the south-eastern corner of Queensland on the higher lands.
| | |
| --- | --- |
| | |
| Looking back at Catlypso from the beach at Maureens Cove | It is so glassy this morning |
At 0900 we leave the mooring and motor to Manta Ray Bay. We plan to do another dive here if possible. Both the moorings are taken, but when we ask the first one if they will be here long, they advise us that they are about to leave. Lucky aren't we! A few minutes later we are on the mooring, it is 0925.
We set up our dive gear and load it into Thunderbird 2. Originally we planned to dive straight from Catlypso but the tide is much stronger than the other day. We decide to go to the dinghy mooring and dive from there back towards Catlypso.
Of course when we are diving, we have to leave Veto on the boat by herself. We open a window at the front of the saloon and one behind. If it is a bit warm, we also open one or more of the hatches in the cabins. She is a lot better now and meekly sits on the lounge till we come back.
The tide is still running in to the north when we get to the edge of the reef. We go along with it and pass under Catlypso. There is a huge amount of fishlife sheltering in the shade of the boat, including a large Maori wrasse. A bit past here we come a bit shallower and head back to the south-west. We pass the channel that leads to the dinghy mooring and pass the other heavy mooring. There are some really nice bommies here and in places plenty of fish. We see more Maori wrasse, a huge giant trevally and a tiny and very colourful flat worm.
We end up back in the shallows. The visibility today was not as good as the previous dive here, but it was still good. We get back on Thunderbird 2 and motor back to Catlypso. We unload all our gear and haul up Thunderbird 2 onto the davits as we do not tow her more than a short distance.
Looking back at Hayman Island (right) and
Hook Island as we motor to Manta Ray Bay
Pinnacle Rocks at the north-eastern corner of Hook Island
We have morning tea, no need to rush, as there are no boats wanting the mooring we are on yet. At 1145 we leave Manta Ray Bay and motor around Pinnacle Rocks and turn to the south-east towards Border Island. The wind is right on our nose so there is no point sailing, we motor all the way, mostly into a strong current.
We arrive at Cataran Bay at 1340 and grab one of the lighter moorings. This has a maximum length limit which we are probably over, but we only intend to be here for lunch at the moment. There is only one heavier mooring here for some reason and two light ones and two other light ones a few hundred metres away.
Michael goes over on Thunderbird 2 to the boat on the heavier mooring as they look like they are going to leave. Sure enough, they say they are going now. We quickly leave the mooring we are on and when they go, grab it. If you do not get this mooring, most boats have to anchor here, at least it is not too deep, about 8 to 12 metres if you get close to the no-anchoring area.
| | |
| --- | --- |
| | |
| Approaching Border Island (left) with Whitsunday Island on the right | Kelly and Veto in Cataran Bay on Border Island |
A few boats come and go, including a huge crewed charter boat from Hamilton Island that takes the light mooring we were on. It is probably 10 times the weight that it is meant for. Luckily they only stay for lunch for the (very) drunk people on board.
We dry our dive gear, run the compressor to fill our tanks and generally relax. At 1615 we go for a run in Thunderbird 2 to see if we can get ashore. The two beaches are not accessible as the tide is so low there is nothing but coral for up to a hundred metres from the beach. We find a spot where we can get within 15 metres of a rocky beach, but it was hard.
Back on Catlypso we put our dive gear away, have showers and then sundowners. Michael cooks a creamy pasta and we also have a piece of the apple strudel Kelly cooked yesterday. We have not had internet access for most of the past week so this page has not been updated for a while. We had some coverage when sailing today, but there is none in the anchorage. Hopefully Michael can upload the pages tomorrow.
Stats:
Thursday 16 July 2015 - Cataran Bay, Border Island to Tongue Bay, Whitsunday Island
It was very calm again overnight and we sleep in till 0830. We have breakfast and then go to the main beach. This is a very nice beach with sand rather than coral. However, you can only access it at higher than about three quarter high tide.
At 0950 we leave the mooring and motor to Dumbell Island. This is not far away but as we approach, a yacht comes in ahead of us and takes the second of the two moorings. It is too deep to anchor, so we continue on and decide to go to Peter Bay which is on Whitsunday Island.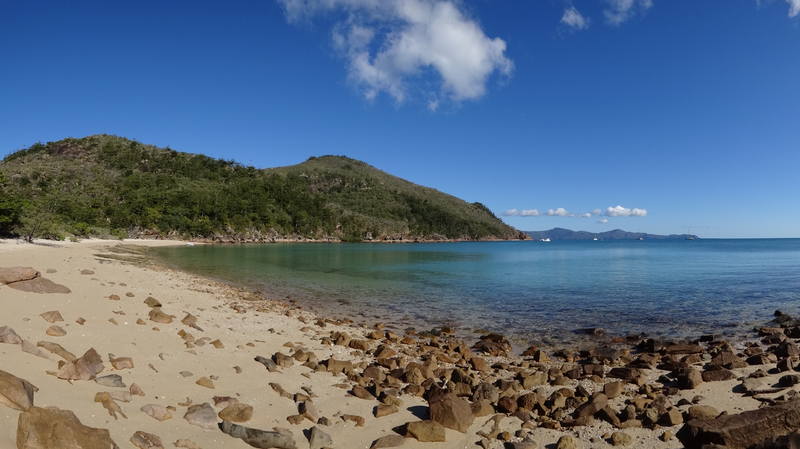 A panoramic photograph from the eastern end of Cataran Bay Beach
We arrive at Peter Bay at 1040 and anchor in about 10 metres. We only plan to stay here for a couple of hours at the most, so we do not put out a lot of anchor chain. Finally after six days we have some internet access, although it is a bit slow. We update this website and download emails etc.
At 1235 we leave Peter Bay and motor to Tongue Bay. There is little point in trying to sail today as the wind is about 5 knots and mostly from the direction we have been wanting to go. We arrive in Tongue Bay and see that one of the three moorings is occupied by one of the backpacker tourist boats. We ask them if they are staying long and we get the good news they are leaving as soon as their tender returns with the last of the guests.
| | |
| --- | --- |
| | |
| Looking back into Peter Bay | Motoring towards Tongue Bay with Dumbell Island in the background |
We motor around them once and they leave. We moor by 1325. There are only a half dozen or so boats here now but this will later change. We have lunch and laze around till about 1530 when we decide to try to go to one of the beaches. We know that the nearest one will not be accessible as there is coral right out a long way and it is almost low tide.
The beach we try is at the end of the bay. We anchor Thunderbird 2 in about 0.25 metre and start walking to shore. However, our thongs are sticking in the sand which has an almost mud-like characteristic. At times we cannot move without the fear of loosing or breaking our thongs. We have only gone less than one third of the way to the sand before we decide to abandon this venture.
Back on Thunderbird 2 we decide to go out of the bay and around Tongue Point and to Bettys Beach. This is a long run and in any sort of wind would not be safe in a small RIB. However, as today is so calm, it is easy. This is an excellent beach, to the north of the famous Whitehaven Beach. This beach is fine sand and easily accessible at all tides.
| | |
| --- | --- |
| | |
| Looking from Bettys Bay towards Whitehaven Beach | Kelly and Michael on Bettys Beach |
After a good look around we head back to Catlypso. There are even more boats in the bay now. Later this will increase to 25, including some who come in at 2000.
This bay is also amazing in that there are at least six turtles within 20 metres of our boat and we have seen 20 or more on our journey around the bay this afternoon. We have also seen a small dugong around Catlypso for about an hour. What a brilliant place!
We watch the parade of boats coming in, including one who decides to anchor very close to us. When Kelly proffers the view that they are too close considering the southerly change that is forecast for tonight, they amaze us by not even knowing this. They move a bit further away!
A panoramic photograph of Tongue Bay
We sit around, Michael has a couple of swims and we then have showers (since we will probably not have any hot water for a couple of days), then sundowners. Michael makes a fried rice and we have this with turkey left over from two days ago. We have the last of the apple strudel as desert.
The forecast for the next few days is 20 to 25 knots southerly or south-easterly winds, so we will probably be staying here till Sunday or Monday.
Stats:
Friday 17 July 2015 - Tongue Bay
The forecast southerly change starts about 0230 and by 0400 it is blowing a constant 25 knots. It eases a bit by the time we get up at 0830, it is only 17 to 20 knots. We have breakfast in the cockpit, despite it being quite cool and a bit overcast (40%).
| | |
| --- | --- |
| | |
| Tongue Bay from the western beach | Tongue Bay from the main beach where the walks start |
More boats came in overnight, mostly large tourist boats (backpackers) and this morning even more come in. After breakfast we go to the beach on the western side of the bay. After this, we watch more boats come in, most of which we have seen before at Airlie and other places. They all put their passengers on the small beach to the east. This is only accessible near high tide.
At 1100 we go to this beach and walk to the lookout. This has brilliant views over Hill Inlet and down to Whitehaven Beach. The water in the inlet and bay are a brilliant turquoise colour. This really is an amazing view. The walking track is excellent and the view is from a couple of timber lookout platforms. It is an easy 45 minute trip from the boat.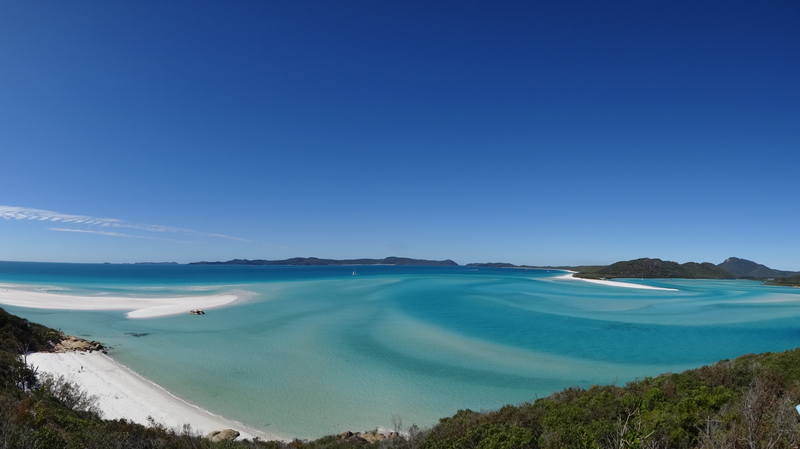 Hill Inlet and Whitehaven Beach from the lookout at Tongue Bay
We head back to Catlypso just after high tide, but the tourist boats keep coming. We estimate that a couple of hundred tourists have been on the beach between 1000 and 1230. We have lunch and at 1300 go to the large beach at the southern end of the bay. This is the one that we tried to get to yesterday afternoon but could not due to the mud.
On the beach we see plenty of the flat round shells with a hole in the middle that we saw a few weeks ago. We collect a lot as Kelly is going to see if she can make them into a bangle. We could only stay 30 minutes as the tide dropped so much Thunderbird 2 was almost on the bottom and it is about 300 metres of flat seabed back to deeper water.
| | |
| --- | --- |
| | |
| Michael and Kelly overlooking Hill Inlet | Kelly on the southern beach at Tongue Bay |
The wind has dropped to 10 to 15 knots by now. At 1540 we try to go to Bettys Beach on the outside of Tongue Point (where we went yesterday) but although we get there, it is too rough to attempt to land. We come back to Catlypso. There are only 13 boats here tonight compared to the almost 30 last night.
It is almost calm by 1700 when we have sundowners. Michael then cooks steak and sausages on the barbecue and we have the rest of the fried rice from last night. After dinner we watch another four episodes of The Twilight Zone, this really was a brilliant television show, so imaginative. We have some buoy knocking on the hull at 2000 but it stops when we shorten the mooring rope. We go to bed at 2150.
Stats:
None as we did not move
Saturday 18 July 2015 - Tongue Bay to Cid Harbour, Whitsunday Island
Last night was calm till about 0000 when the wind picked up to 20 plus knots from the south. We get worried that the shortened mooring line might be a problem at high tide. Sure enough, when we check it is so tight that we cannot release it. In the end Michael has to start the engines and motor forward very slowly so Kelly can release the second bridle we put on at 2000. We are soon hanging back okay.
We go back to sleep but around 0430 there is a lot of noise from the bridle rubbing on the stay to the bowsprit. Michael gets up and moves the mooring line to the centre of the bridle and it stops. We sleep in till well after 0700 and do not get up till 0825 (we listen to the ABC Radio News at 0745 virtually every morning).
We have breakfast and then we go to the western beach that we went to yesterday. We get wet as the southerly (now 17 to 22 knots) blows the spray over us. This beach is accessible at all tides it seems.
Today we were going to go to Whitehaven Beach and spend the night there. However, the strong wind means we would be going into it all the way and also there is a Notice to Mariners banning boats from this area (turns out it was only from two sections but it has been badly explained on the VHF radio by the charter companies). The ban is so they can film scenes for the latest Pirates of Caribbean movie starring Johnny Depp.
We decide to go north around the top of Whitsunday Island (with the wind behind us) and then down Hook Passage (between Hook Island and Whitsunday - trying to get here near high tide) to Cid Harbour. We leave the mooring at 1020 and sail with the screecher out. We start off doing 5.5 knots in a 17 knot wind with 1.5 knot tidal current against us. The wind picks up the further we go, as do the seas. We end up sitting on 6.5 to 7.5 knots (with gusts to 33 knots) and hit 9.9 knots with over 2 knots of current at times.
Sailing in 22 knots, seas of 2 metres and
doing up to 8.5 knots as we approach Hook Passage
This is Hook Passage, Whitsunday Island
to left, Hook Island to right, protected from the southerly wind
As we approach Hook Passage, we pull in the screecher. However, we once again do not do a good job and it ends up with the sheets a bit tangled. We pull out the genoa till the wind goes all over the place as we enter Hook Passage so we pull it back in. We motor on one engine at 2400 rpm and then 2200 rpm, doing only 4.5 knots with a 1.5 knot tide against us.
Once through the narrow part of the passage (and past the underwater observatory), we slow even more as we have 15 to 20 knots of wind and the tide against us. We continue at about 3.8 knots. We end up anchoring off Sawmill Beach in Cid Harbour at 1345.
| | |
| --- | --- |
| | |
| Kelly making a bracelet from some shells we found on the beaches | Cid Harbour in calm winds before most of the boats arrive |
We have lunch and then drop the screecher so that we can fix the furler and sheets. This only takes us about 15 minutes, we are now experts in doing this work. There are lots of boats here, but later there will be over 50 anchored in this large bay (harbour). Unfortunately, some idiots in a small catamaran come and anchor right next to us. There is at least 200 metres either side of us where they could have anchored but they decide to anchor within 30 metres of us.
We do a few things on the boat before going to the beach at 1630. This beach is good as you can get there at any tide, although it is coral on the water's edge below about high tide. Back at Catlypso we have showers and sundowners before Kelly makes zucchini fritters for dinner.
| | |
| --- | --- |
| | |
| Looking out from Sawmill Beach into Cid Harbour | Sunset at Cid Harbour with moon and stars |
We then try to listen to South Sydney play St George in the rugby league but the radio only has the rugby union test and the ABC radio app the Ashes cricket test. Eventually Michael finds he can use our notebook to listen via the ABC web site. Souths end up winning 24 to 8.
Stats:
Sunday 19 July 2015 - Cid Harbour
It was pretty calm overnight and at 0800 Michael gets up and goes to the beach. Once back on Catlypso, we have breakfast. The wind increases a bit as the morning wears on. Michael defrosts the fridge, the first time for about six weeks. Kelly then cleans it.
Meanwhile, Michael has a look at the shower door. It has gradually got harder to close. It seems that the bottom hinge has come a bit loose. He uses an Allen key to remove the glass door from the hinges and then unscrews the bottom hinge. This has two Allen keys on the inside part that have come loose. He tightens them and puts it all back together. The door now closes easily.
Michael also flushes the watermaker as it has been five days since it was last run (and flushed). As we are heading into Airlie Beach (more accurately Cannonvale) tomorrow and should be able to get water from the shore, we decide we do not need to make any water at the moment.
By now it is blowing over 25 knots for minutes at a time. We had planned to walk to the top of Whitsunday Peak to the lookout, but we are not confident to leave the boat in these winds when it is anchored and also because there are two boats very close to us.
Kelly does some banking on the internet and also downloads the form that Michael needs to renew his driver's licence (which expired last week). He will need to fill this out and send off with a photo from Cannonvale. After lunch Michael goes to shore and walks from Sawmill Beach to Dugong Beach. This takes about 15 minutes each way.
| | |
| --- | --- |
| | |
| The camping area at Dugong Beach | The palm valley behind Dugong Beach |
Dugong Beach has a camping area and is set in a very nice palm valley behind the beach. The camping area is the best by a long way we have seen on the islands in Queensland. There are individual spots with tables/seats, shelters and toilets. He is back by 1430.
While he was away, one of our dive buddies, Phil Rose, has phoned. Phil is driving from Sydney to Cape York, the northern-most point of the Australian mainland with another dive buddy, Les Caterson (and their wives). Michael phones back but he does not answer. He then phones Les and finds they are in Weipa which is on Cape York in the Gulf of Carpentaria. Phil later phones Michael. Their trip is going well (Phil is using our ShippShape roof top tent).
We go to the beach about 1615 and then come back when the weather looks stormy. Today has had all sorts of weather, overcast, sunny and rain threatening, but it has not actually rained. We have sundowners and then Kelly cooks pumpkin gnocchi.
Tonight there are only about 30 boats in Cid Harbour compared to the more than 50 last night. A lot less crowded that is for shore, although as mentioned we have two boats that are far too close to us.
Stats:
None as we did not move
Monday 20 July 2015 - Cid Harbour to Cannonvale (Airlie Beach)
Despite the forecast, it was again calm for most of the night. Just before dawn the wind picks up a bit and there are some gusts of 15 knots or so. We get up and 0710 and Michael goes to the beach. Back on Catlypso we have breakfast. We leave at 0755 and motor out of the bay and pull out the screecher. It is very overcast and for virtually all of the day we have no sunshine.
We do not go far before the wind picks up a lot (of course we were protected in the anchorage) but it is definitely stronger than 30 minutes ago. As we get in the lee of Cid Island, we pull in the screecher and put out the genoa. We are doing 5 to 6 knots in 20 to 25 knots of southerly wind (slightly aft of beam).
By the time we are halfway across Whitsunday Passage, the wind is a constant 30 knots, with gusts to 36 knots. We are now doing 6.5 to 7.5 knots into a 2 knot current. The seas pick up and there are some nasty little waves. At 0925 we pass Hannah Point at the northern end of North Molle Island. We are almost becalmed till we come out the other side.
It is a bit smoother for the next leg to Pioneer Rocks which we pass at 0955. At 1105 we anchor off Cannonvale boat ramp, outside the southern entrance to the Abel Point Marina. We are in 2.4 metres with the tide being 0.8 metre above low tide. Nearby is Island Home. Geoff has had to go back to Perth to deal with some work, so Marina and the boys are anchored here for a few days.
The seas sailing across from Cid Harbour to Hannah Point,
it never looks as rough in the photos as it really was
Thunderbird 2 on the beach next to the boat ramp at Cannonvale
Once anchored, Kelly messages Marina and says we have a job for her eldest son, Phil, to do. Marina had told us he is looking for jobs to do to earn some money. He comes straight over and we get him to go to the boat ramp to get us some fresh water (he has already worked out where to get it - next to the toilets). He is soon back with about 90 litres of water in our four containers. After Michael puts this in our tanks, he does another run. He has even produced a Facebook page and flyer for his "business" Go Sea Phil.
We then head off to the boat ramp. We anchor Thunderbird 2 off the sandy beach as the tide is now starting to drop. We get rid of some rubbish in the bins at the ramp and then walk to the shopping centre which is about 500 metres away. Kelly puts on three loads of washing at the laundromat ($3 each) while Michael goes to the petrol station. He gets one container of diesel and three five litre containers of petrol. He and Veto walk back to Thunderbird 2 and take it all back to Catlypso.
Meanwhile Kelly is doing some shopping. We have lots to carry so she only does a partial shop. Michael meets her back at the laundromat. The washing is now drying, so he heads off to see if he can get some digital files printed (he cannot) and some passport photos taken for his driver's licence (yes at the Post Office).
He also looks for some other things and checks out the beer and wine prices. He sees Tooheys Extra Dry cans for two cartons for $76. These are as rare as hen's teeth and also this is an excellent price, so he gets two cartons.
Once the washing is dried, we walk back to the boat ramp, thank God for the small folding trolley we purchased before we started this trip. It is now 1600. Michael tops up the water tanks and puts away the diesel and petrol. We now have full water tanks, an almost full diesel tank with 110 litres extra plus 65 litres of petrol.
We decide to have Chinese for dinner. We have found that there is a restaurant nearby, but Google Maps shows a paddock. We phone and find it is where Google has shown, the aerial photos must be old as the place is not that new. We motor over to the ramp and walk the couple of hundred metres to the restaurant and order some food.
Back on Catlypso, we have an excellent Chinese dinner. The place is called Tasty Chinese Restaurant and it is opposite the Police station.
It has been relatively calm here, but occasionally there are some strong gusts. At low tide we have 1.6 metres under our keels, exactly what we estimated. The water is calm, so it looks like we will have a good sleep, even if the wind does pick up to the 30 to 35 knots that is forecast.
Stats:
Tuesday 21 July 2015 - Cannonvale (Airlie Beach)
It was calm for most of the night but there are some stronger gusts about dawn. It is 15 knots when we get up at 0710. This morning we are taking Veto to the vet so we have an early start as we need to walk 5.3 kilometres to his practice.
After breakfast we head to shore at 0815. We are lucky that Thunderbird 2 has wheels. Although they are not great for pulling her up a beach, they are good for pulling up a hard surface. We go to the ramp and haul her up higher than we think the tide will go while we are away (at least three hours).
We start to walk at 0825 and for all but the last 1.5 kilometres we have footpaths. The last bit needs to be done on the grass verge of the road. We also pass a few shops that we want to visit on the way back. It takes 70 minutes to get to the vet. He checks Veto over and finds no obvious problems with her.
You will recall that about three weeks ago she got very ill one evening and we thought she was going to die. We believe that her problem was her back and the pain from it was so bad that she would not drink or eat or even move. It was not till we gave her some anti-inflammatory medicine we had from a previous similar episode that she showed any improvement.
We end up getting another lot of the medicine in case it happens again. We walk back and stop at the big shopping centre closest to the vets. This has a couple of auto parts places, a BCF store, a Dick Smith, a Big W and a Woolworths. We get a new jiggler hose for petrol (the one we had fell part when it got caught inside a fuel container) and some water purification liquid at BCF. We were also looking for a new 12 volt to xx volt adapter for our various laptop and other devices but Dick Smith did not have in stock!
Kelly and Veto are exhausted after the long walk today
Next to this is the council library. Michael goes in and prints out the form he needs to renew his driver's licence as well as a boat insurance form we need to sign and send back. We have tried numerous other places to get these printed without success.
On the way back we stop in a couple of hardware stores (including a Bunnings) to try to get another spare key to our door on Catlypso but again, no-one has the blank. We get back to the shopping centre near where we are anchored and Kelly does some shopping. Meanwhile Michael tries to find someone who can make a photocopy of his driver's licence (he forgot to do at the library). The Ray White Real Estate place does it for free, very generous of them.
We have lunch after this, Michael gets calamari and chips and Kelly fish and chips. The servings are huge, we cannot finish them and tonight we only have soup as we are still full. After this we walk back to the boat ramp and head back to Catlypso, arriving at 1250, with sore feet and fairly exhausted.
All day it has been very overcast and rain has been threatening. Last night we had a bit of drizzle and a few drops, but nothing really to talk about. It is calm when we get back but by 1630 the wind has picked up to 25 to 30 knots. At 1715 it drops a fair bit so we take Veto to the ramp for a last minute run (etc).
As mentioned, we only have soup for dinner, no sundowners and go to bed at 2030. It has been a big day.
Stats:
None as we did not move
Wednesday 22 July 2015 - Cannonvale (Airlie Beach)
It was very windy last night and it did not die off till about 0200. Despite this, the anchorage has calm water. We get up at 0800 and there is only 5 to 10 knots of wind.
Michael puts on the generator as we have gone backwards in power the past three days due to the lack of sun. We have also found that it is best to use the generator in the morning to put large amounts of amps into the batteries and let the solar top it up later. If you do it the other way you go not end up with as much power as the charger cuts the input of the generator once the batteries get to about 75%.
After breakfast, we take Veto to shore. Michael goes to the Police station to get his driver's licence form witnessed. They refuse to do it, claiming they are too busy. The female (as far as he can tell, not a Police officer but a public servant) says she is too busy as is the (junior) constable on the desk. It would have taken less time to do than she spent arguing this with him. Not a good impression for the public.
We fill up three water containers that Michael has put into our tanks this morning. Once back at Catlypso, Kelly stays on board and makes some phone calls to keep in touch with her work. Meanwhile, Michael heads to the marina. He takes Thunderbird 2 to the boat ramp and ties up to its wharf. There is also a public wharf here that would fit Catlypso. He also sees that there is indeed a water tap on the wharf, so you could just pull up here (30 minute limit) and fill your tanks.
Anyway, Michael decides to go to the Water Police station to see if they will witness the form. No one answers so he tries the marine parks office as a permanent public servant of five years can also do it. The girl who answers agrees to do it so he goes up and she witnesses and certifies the form for him. Excellent service!
The new blades and nose cone for the wind generator
The view from Shingleys Beach, the marina
at right, we are anchored out past the apartments
He then goes to the marina office and collects our package from the USA which arrived yesterday. This is the set of new blades and nose cone for the Air-X Marine wind generator. After Kelly has finished her phone calls, we go back to the shopping centre. Michael posts off the forms and Kelly does some shopping in Coles. Michael also gets some more wine and port, very important!
We then have pies for lunch before walking back to the ramp. We are back by 1330 and the wind is still low and there is even a little sun around, but not much. Michael ends up making up two 12 volt devices from existing (broken) ones to power our Wi-Fi router and our small netbook.
Michael starts reading the new Harper Lee novel Go Set a Watchman which is a follow up to one of the all time best novels, To Kill a Mockingbird. At 1600 we take Veto to Shingleys Beach which is the one inside the marina breakwall. She has a great run, the best for over a week.
Back on Catlypso Michael creates some new Google Earth photos for our OpenCPN software to cover places we did not do in detail. We then have showers and sundowners before Michael cooks some excellent lamb rissoles we got at the butchers today. We update the web site, pay some bills and then go to bed.
The next three to four days are looking good, so we plan to head out to the Great Barrier Reef on Friday morning. Tomorrow we need to finish shopping and we will then move to the northern side of Hook Island for an early start the next day.
Stats:
None as we did not move
Thursday 23 July 2015 - Cannonvale (Airlie Beach) to Butterfly Bay, Hook Island
It was calm all night and when we get up at 0710 there is little wind. While Kelly makes breakfast, Michael adds water from three of our containers to the starboard rear water tank that we have been using the past few days. This tops it up again. He also adds 6.5 litres of petrol to the outboard tank.
At 0815 after breakfast, we head to the boat ramp and leave Thunderbird 2 anchored just off the beach. We walk to the shops where Kelly puts on another load of washing at the laundromat before going to Coles. Meanwhile, Michael fills up two of the small petrol containers that he has emptied into Thunderbird 2 and the generator.
He walks back to the ramp with Veto and then fills the three water containers. Even though he has not been gone long, Thunderbird 2 is now high and dry. To make it worse, the bottom here at low has some small rocks right off the beach. It takes him ages to push Thunderbird 2 back into the water and then load the fuel and water. He drops it at Catlypso and then comes back, this time anchoring further off the beach.
| | |
| --- | --- |
| | |
| Sailing along at 7.5 knots in 18 knots of wind, almost perfect conditions | The view as we near Stonehaven Beach, note the clouds and mist |
Michael walks back to the laundromat where Kelly is now waiting for the washing to dry. Michael takes the food back to Catlypso as she has purchased some items (eg ice cream) that needs to get into the freezer. After doing this Michael comes back to the ramp to collect Kelly and the washing. We are back on Catlypso by 1015 and we put everything away. While Kelly finishes this off, Michael prepares the sails etc for leaving.
At 1115 we pull up the anchor and motor out of Cannonvale and Airlie Beach. We are heading for Butterfly Bay on the northern side of Hook Island where we have twice spent a couple of nights over the past few weeks. We are aiming at Stonehaven Beach and then via Narrow Passage between Hayman and Hook Islands. At first there is virtually no wind, so we are motoring. After 45 minutes we pull out the screecher.
| | |
| --- | --- |
| | |
| Kelly in command as we pass Stonehaven Beach | Looking back at Narrow Passage from the northern side of Hook Island |
We are ripping along at 7.5 knots in an 18 knot south-easterly wind. The wind hits 22 knots and we average 7 knots for a lot of the first leg of the trip, even though we are heading into a 1.5 to 2 knot current. The seas are pretty good as the wind has only just started to blow, so it has not had time to build up.
The weather is very strange, we cannot even see Hook Island till we are about three nautical miles off as it is covered in a fog or cloud. Looking back towards Airlie Beach, we can also not see the mainland now. As we approach Stonehaven Beach we pull in the screecher as the wind has dropped dramatically and is also going all over the place. The sun finally comes out and it gets quite warm. Michael and Veto sit on the foredeck in the sun while Kelly steers (as she has done all the way from Airlie).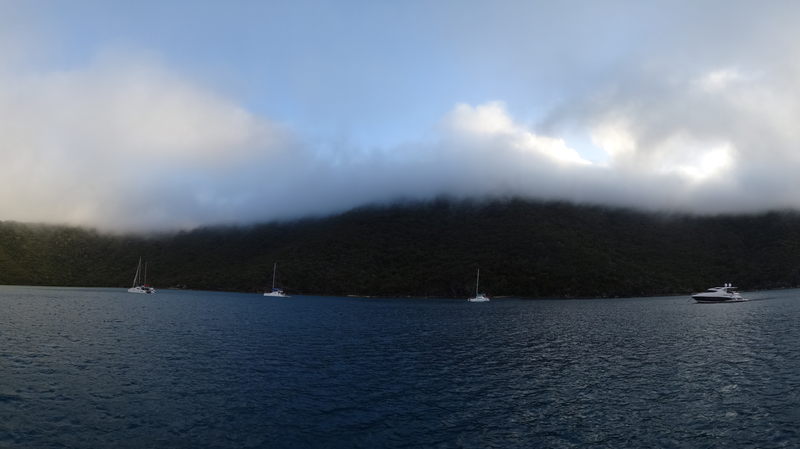 Butterfly Bay with the low lying cloud over the hills around the bay
We motor the rest of the way to Butterfly Bay. We are lucky, at 1445 we get the last mooring (you cannot anchor here) in the bay, although we notice a couple free at the other nearby bays. The hills around the bay are covered in low cloud. It is very windy at times, certainly today's weather has not been what was forecast, that is, a maximum of 15 knots.
At 1615 Michael goes to the beach and then we have showers and sundowners. Kelly has made a chicken curry and rice for dinner, it is excellent. Our plan is to head to the Great Barrier Reef tomorrow, specifically Bait Reef and Hook Reef, if the winds are less than 15 knots. We will get up early to leave, so we head to bed earlier than normal.
Stats:
Friday 24 July 2015 - Butterfly Bay, Hook Island, to Bait Reef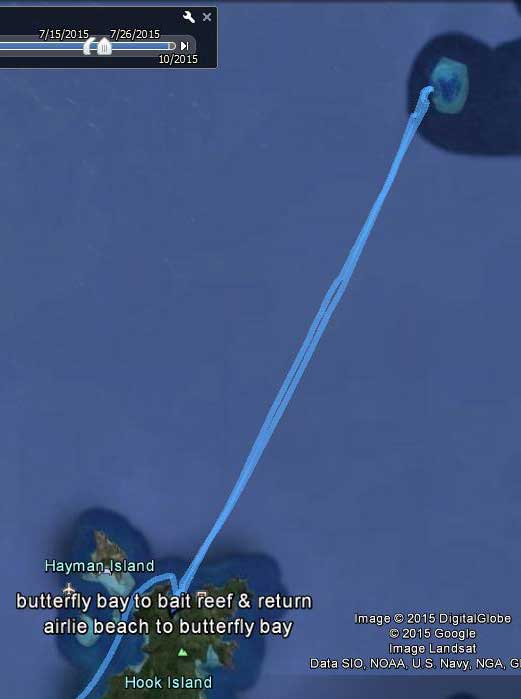 Butterfly Bay bottom, Bait Reef top
It was calm again overnight, although a few spots of rain at times. We get up at 0600 and while Michael takes Veto for a run, Kelly makes tea and coffee. We leave the mooring at 0645, just behind two other catamarans Zoo and Lauren Maree (who were anchored next to us at Cannonvale).
We put up the main and then try the genoa before changing to screecher. There is about 7 to 13 knots of wind and we are doing 6.1 knots with one engine running (into one knot current). We see two humpback whales off Maureens Cove, the first of over 20 we see today. At 0735 we turn off the engine as the wind has increased to a steady 15 knots. We are doing 6 to 6.5 knots. About an hour later two whales cross in front of us, requiring a course change to avoid. They do some fin flapping and stick their heads out of the water about 20 metres off our beam!
| | |
| --- | --- |
| | |
| Looking back at Hook and Hayman Islands | Sailing out to Bait Reef |
Meanwhile, Zoo and Lauren Maree head to Hook Reef (to the east of Bait Reef) and then motor to Hardy Reef (we can see them on the AIS). They later decide to not enter Hardy Reef as the entrance (The Waterfall) was still like a waterfall over one hour after low tide.
We put the engine back on at 0855 as the wind has dropped and our speed is under 4 knots. The seas coming across have been very good, just a small 0.5 metre slop. At 0945 as we approach Bait Reef we pull in the screecher and soon after drop the main. We motor in the main channel to the anchorage called The Stepping Stones and take the first mooring inside.
There are five moorings inside this anchorage and later another boat leaves. We have some morning tea and then set up our dive gear. We decide to do a dive outside the reef just south of the entrance on The Stepping Stones. We take Thunderbird 2 and anchor between one of the "stones" (a coral bommie) in 15 metres. Before doing this, we ask the people on Gidgee (Michael and Sheree) if they can keep an eye on Thunderbird 2 while we are diving to make sure it does not drift off. They are taking the two young guys on the boat (their sons?) diving so will be in their tender nearby.
| | |
| --- | --- |
| | |
| The two humpback whales that swam across our bow | The entrance to Bait Reef is to the right of the marker |
We dive to the south along a shear wall to 25 metres. There are lots of overhangs and tunnels through into the lagoon. We go past the next "stone" and come back to the anchor before heading north. We take one of the tunnels and exit back into the lagoon. We go back to Thunderbird 2 and spend 10 minutes in the shallows.
We have excellent visibility, between 30 and 40 metres. We see three white-tipped reef sharks, quite a few species of nice nudibranchs, some larger fish including a saw-tooth tuna and a titan triggerfish. The coral is also great, with lots of gorgonias and sea whips as well. All through the dive we can hear humpback whales singing, there must have been a dozen from the different sounds. An excellent dive.
Looking back towards Hayman and Hook Islands from the anchorage at The Stepping Stones, Bait Reef
After we surface, Zoo and Lauren Maree come into the anchorage and take the two remaining moorings. We dry our dive gear, have lunch and then Michael fills the tanks with the compressor. We laze around for the rest of the afternoon, seeing many whales pass by very close to the reef, including two that were probably only 20 metres off the reef where we were diving earlier.
The wind has now dropped to about 10 knots and it is very calm inside here, even though it is coming up to high tide when the waves will probably come over the reef to the south. We have sundowners and Michael updates the web site by hauling his iPhone up the mast and using it to connect to the internet. Meanwhile, Kelly cooks massaman beef curry and rice for dinner.
Stats:
Saturday 25 July 2015 - Bait Reef to Butterfly Bay, Hook Island
It was calm all night and comfortable till 2300. However, around then the wind dropped and the tide became stronger than the wind. This caused a minor problem as the plastic tag on the mooring line started knocking against the bow. This was just the start of it.
About an hour later the mooring buoy started bashing against the port hull. As we have mentioned before, the moorings are very badly designed, with the ropes that you tie off to being far too long after the buoy. For the next four hours we hardly slept, with the buoy bashing at very regular periods against the hull. Unless you have heard it, you cannot believe how loud it is and how bad it seems it must be to the hull (it probably isn't).
From about 0400 the tide must have changed and we slept quite well till 0700. We awoke pretty tired and we reckon we will sleep well tonight. Anyway, we get up at 0800 and it is sunny and there is less than 10 knots. We put on the generator as we have not had much sun over the past few days. We run this till we head off diving.
We have breakfast and Michael makes up a new lot of yoghurt. We set up our dive gear and take Thunderbird 2 over to the reef south of the entrance. We anchor a bit north-east of where we did yesterday, much closer to the entrance to the anchorage. The water is even cleaner than yesterday, probably 35 to 40 metres.
We head north-east to the entrance channel. We see a couple of sharks, a white-tipped reef shark and a black-tipped reef shark. We head a bit into the channel before turning around. We go back along the reef towards where we anchored yesterday. There are a couple of very large anemones, one with pink anenomefish and the other with Clark's anenomefish.
As mentioned yesterday, the reef has a shear wall to about 20 or 22 metres. We pass the tunnel we swam through yesterday. We turn around where we anchored yesterday and on the way back we see a wobbegong shark on a small ledge on the wall. This is a totally different species to any wobbegong we have seen before. It is very short but extremely wide. We will have to look this up on the internet when we get access or have a look in our books when we get home. There are plenty of gorgonias, sea whips, harp sea whips and lots of soft corals.
We go back to where are anchored and spend the rest of the dive in the shallows. Other fish we see are lots of flutemouths and blue damsels, a few flutemouths and batfish. We also see a blue-faced angelfish, a regal angelfish, some barramundi cod (with a remora on one) and different species of butterflyfish. There was also a large Maori wrasse near Thunderbird 2.
We surface after the dive and find snorkelers from Lauren Maree and Zoo only a few metres away. We had earlier asked Lauren Maree to watch Thunderbird 2 for us.
This big tourist boat comes out to the reef
each day, although not normally to Bait Reef
Hook Island as we approach from Bait Reef
We go back to Catlypso and decide to leave and head back to Butterfly Bay as Veto still has not done a wee or poo. It is now over 30 hours since she has been to the toilet. She really does not like going on the boat, it has been at least six weeks since she has as far as we recall. We leave the mooring at 1135 and as soon as we are outside the reef we pull up the main and get the screecher out.
We have about 13 knots of easterly wind and this means it is just aft of our port beam. We are making 6 knots without an engine. The wind is about this all the way, although closer to Hook Island it increases to about 16 knots. The sea is very flat and it is a great sail. We see dozens of humpback whales, some we have to alter our course to avoid. They are breaching and fin and tail flapping as well.
We reach 7.5 knots as we get closer to Hook Island. We start looking for moorings, there are plenty available at Luncheon Bay and probably one at Maureens Cove. We pull in the screecher and then drop the main and motor the last couple of minutes to Butterfly Bay. We see that there are only 8 boats in there, so that means there is one free mooring. We soon spot it and are moored by 1450.
Almost as soon as we are safely moored, we drop Thunderbird 2 and take Veto to shore. She immediately has a wee, the longest we have ever seen. She looks so relieved! While we are there, another dinghy comes in and tells us most of the boats are coming to shore soon for sundowners. Michael goes back out to Catlypso and gets some drinks and nibblies.
It turns out that we already know quite a few of the people, Michael and Jenny from the timber motor-yacht Wongadir we first saw at Pancake Creek, Rita and John from TwoKeela Kalu that we saw almost three months ago at Ballina (and many times since) and Jim and Annie from Best Seller who we saw at Rosslyn Bay marina. There are at least seven boats here. We have a good time, although Veto gets cranky with Charlie the poodle from TwoKeela Kalu, no idea why.
| | |
| --- | --- |
| | |
| Michael and Veto with Veto's birthday dinner | Veto and her dinner |
We all head back to our boats about 1700. We fix up the sails and covers, have showers and then some nibblies as Michael prepares chicken schnitzels and Kelly mash potato. We also have to clean Veto up as she decided to go for a swim and then roll in the sand. We suppose she can do what ever she wants today, it is her 7th birthday!
We have dinner, even Veto gets a small plate of chicken schnitzel and mash. We also have another bottle of James Hardy sparkling wine to celebrate the birthday of our only "child".
Today has been a great day, sunny for the most part, a fantastic dive, a great sail and sundowners on the beach with a great bunch of people. We later listen to South Sydney play Newcastle in the rugby league. Souths finally have a brilliant game, more like their premiership winning form of last year, winning 52 to 6.
Stats:
Sunday 26 July 2015 - Butterfly Bay to Luncheon Bay and return, Hook Island
It was very calm overnight, we had a great sleep to make up for yesterday's lack of sleep. It is sunny and warm. Michael gets up at 0840 and goes to the beach. TwoKeela Kalu, Best Seller and a couple of other boats leave in the morning. Best Seller is heading for Luncheon Bay. We decide to go there as well and then dive Manta Ray Bay via Thunderbird 2.
We call Jim on the VHF to see if there are any free moorings there. He says he got the last one but 10 minutes later he calls again and says there are two free. We leave quickly and as we pass Sentinel we tell Danny that we are happy for him to come diving with us. He is attempting to get his compressor going (he has not used for more than a year). He advises that he would like to and he will come to us once he is ready. We motor around to Luncheon Bay and get the last mooring.
| | |
| --- | --- |
| | |
| Best Seller moored in Luncheon Bay | Michael putting the new blades onto the new hub |
We attempt to call Danny but he does not have his radio on. We later get a call from him as Jenny from Wongadir has heard us and she dinghies over to him. He says that he is still filling his tank but we say we are happy to wait for him. In the meantime, we have filled our tanks from yesterday.
He gives us a call as he leaves and we are almost ready when he arrives at Catlypso in Luncheon Bay in his dinghy. We both motor around to Manta Ray Bay.
We do a similar dive to the last one we did here, heading out to the reef edge and then north-west. The visibility is probably 35 metres, way better than the other dives we have done here. We go under the two heavy moorings and a bit further on we turn around and come back a little shallower. We see some large anemones with pink anemonefish, lots of surgeonfish, butterflyfish and lots of bluey coloured fish that I cannot identify in our fish book.
We also see some nice nudibranchs and a couple of large Maori wrasse. Back under Thunderbird 2 there are three very large giant trevallys, they are magnificent. There are also some batfish here and there. As mentioned before, there is also great coral here, with gorgonias, seawhips and soft corals galore. An excellent dive.
We head back to Catlypso and then motor back around to Butterfly Bay arriving at 1340. We have lunch and then dry the dive gear and fill our tanks. We have a call from Jim on Best Seller and we are invited over for sundowners and a barbecue.
It is very calm this afternoon so Michael looks at how he can get the old hub and blades off the wind generator so he can put the new ones one. He makes a sort of ladder out of a rope and hangs this off the top of the generator pole. He levers off the nose cone and then, with Kelly's assistance (passing him Allen keys and helping him onto the "ladder"), he gets the hub off. This has a reverse thread which he had guessed it would (so that when it spins it tightens rather than loosens).
He passes the hub to Kelly and we are lucky not to lose the centre nut as he did not realise it was there, he thought the generator spindle was screwed straight into the hub. Lucky! He makes up the new hub with the new blades and again, Kelly passes all the bits up to him. We have attached a rope to the new hub so that if it falls, it cannot go anywhere (eg into the water). A few attempts later, the whole thing is back together. Later there is some wind and it spins, it seems much quieter, although the nose cone is making a clicking nose, we might not have it fully on.
The wind generator with its new blades and nose cone
Kelly with her favourite author, Anne Rennie (right) and
Anne's sister, Janet at left. This was at dinner on Best Seller
We later go to the beach, have showers and then head over to Best Seller at 1700. We have a nice evening, a great barbecue cooked by Jim, some nice salads made by Kelly and Anne. Anne's sister Janet is visiting from London, so it is interesting to see how she is enjoying her time on the boat. We head back to Catlypso at 2015. We read a bit and then got to bed by 2130.
Stats: