The McFadyens
Our family comes from the Isle of Coll which is located in the Inner Hebrides, Scotland. This is off the west coast of the Scottish mainland. For more information about the McFadyens Click here.
About Me
When we moved to Little Bay, my mother's parents thought that this was the end of the World but, in reality, it is closer to the City than where they lived. Little Bay is just north of La Perouse which is on the northern side of Botany Bay.
I went to school, first at Our Lady of Annunciation at Pagewood (although the school is really in Maroubra) and after 2nd Class we went to Marist Brothers Daceyville. Here we did 3rd to 6th Class. High school was back at Maroubra at Marist Brothers Pagewood (now called Marist College - my brothers and my nephews Kieran, Patrick and Scott went there as well).
I think that I had a relatively good childhood, with a lot of family and friends around. Even today I see my mother and all four brothers and sisters virtually every week or so.
Growing up where I did, it was inevitable that my life would revolve around the water as well as the South Sydney Rugby League Club (Rabbitohs). By the way, in 2014 I went to my seventh South Sydney grand final. They won an amazing game, the first premiership since 1971. What a night. I have now been to the last five grand finals Souths have won. Glory Glory to South Sydney!!
With my family and the families of my school friends, we spent a lot of time at the beaches of Botany Bay and Maroubra. I remember my first attempts at snorkelling in the early 1960s when I was very small. Those first goes were using a ping-pong ball snorkel that I had received for a Christmas present from my parents. The snorkel was first tried out in Heffron Park Olympic Pool at Maroubra and then, getting gamer, in the ocean pool in Long Bay at nearby Malabar. Although there was little to see in either pool, the thrill of sticking your head underwater and still being able to breath was something that really excited a six year old.
After a while I graduated to the open seas, usually at Bare Island (by this time the Malabar Sewerage Works had caused Long Bay to be closed on health grounds) or nearby. Later when I was a bit older, every summer weekend and sometimes before and after school I would walk through the bush at the end of my street with school mates to get to La Perouse to be able to swim and snorkel at Congwong and Little Congwong Beaches (then better known as Congie and Little Congie). The rocks at either end of the beaches were shallow and a great site. As I got a bit more experienced and older, I ventured further out in Botany Bay to Bare Island. As an aside, I guess this is where my love of Bare Island as a dive site came from.
Each year before Christmas Day, the family went on its annual holidays up to the Central Coast, near The Entrance or Bateau Bay. This odyssey (as it seemed to be then in a 1950s model Morris Minor 850 and latere a 1960s Austin Cambridge) was our trip to the tropics, to untouched beaches! Many of my school mates went there as well and our families spent virtually all the daylight hours on one of the many beaches nearby. This being "men's business", the boys would always see who could scare our mothers the most (when the fathers were playing golf) by swimming out the furthest and around the headlands. One year our parents scared us by introducing all the boys to a relative of one family who showed us the huge scar where a stingray had speared him right through his calf. All through this, the faithful snorkel survived (my mask didn't though, I remember an urgent trip to a glazier to have new glass put in one holiday). Eventually I got older and it was not kosher to be seen with a ping-pong ball snorkel. One year I got a new snorkel and I had that for many years, who knows, it is probably still in the garage at Mum's.
This is me about to dive in April 2003
Here I am doing part of what was my real job.
I am being winched from a BK117 helicopter
over Wollemi NP just before Xmas 2001
during the fires that ravaged the areas around Sydney
I became a junior surf club member of South Maroubra with some school friends and others (some who played Rugby League for South Sydney, Canterbury and even Australia or Rugby Union for Randwick). This was a great time, we went to NSW and Australian titles and had a fantastic experience. I was also a junior rugny league referee for about six years.
Not being a spearfisher (I cannot stand the taste of fish!) I did not often swim down below the surface more than 10 feet. As I got older I spent more time at the beach, mostly Maroubra Beach. Nowadays I cannot understand why I never learned to surf as I used to have a "Coolite" board. I never attempted to try a proper surfboard but I loved to body surf. Even today I try to body surf whenever I can, but diving and work take up too much time.
After a number of trips overseas where I snorkelled in Vanuatu, Noumea and Papua New Guinea, I had a go at scuba diving, first on a Pacific cruise on the TSS Fairstar and then via a resort course at Club Med Moorea in Tahiti. This opened up a fantastic new area of exploration and I was keen to learn to dive. When I came back from Tahiti, I decided to learn to scuba dive. I did my course at Greenpatch and Summercloud Bay in Jervis Bay, with my first boat dives also at Jervis Bay and then later Sydney.
Since then I have dived in excess of 100 dives every year (except one when I hurt my ear and two when we went sailing for six months). Therefore, I suppose it can be said that I am a very keen (some would say obsessed) Sydney-based scuba diver. Until 2004 I was single and a fairly well off (I suppose that this is relative) person, so I was lucky that I could devote time and money to diving. After that, I was even luckier, Kelly was also a diver!
Workwise, my real work life started in 1977 when I started working for the NSW National Parks and Wildife Service. Over the next 37 years I worked in many different roles, including public relations, park management, wildlife management, cultural heritage and at the end, information technology. Over all this time I also fought bushfires in various roles such as crew leader, fire commander, night fire boss and more. This had me exploring inaccessible areas of remote national parks as well as being a lot of thrills (imagine being winched down in between huge trees or hovering off 200 metre cliffs).
From 2000 to early 2011 I had a half share with my friend, Les Caterson, in a 5.6 metre Marlin Broadbill boat called Le Scat. Kelly and I then owned the boat outright. However, in mid-2016 we retired her and purchased a new boat, a Sailfish 6.2 metre cat Mak Cat. This is set up for diving and is used by us and our friends to dive the Sydney coastline each weekend. In my view it is probably the best set up dive boat in NSW, even including charter boats. I was even a qualified commercial coxswain, for more than 20 years (handling dive boats in Sydney and NSW waters) till I decided not to renew in 2011 but I reactivated it in mid-2016 to use when volunteering at NSW Marine Rescue.
| | |
| --- | --- |
| | |
| Mak Cat at home | Mak Cat at Hole in the Wall ramp |
Despite what some people think, I am not an instructor (please do not send me emails asking me to teach you or employ you - I used to get many each month till I changed my contact page!!), nor am I even a dive master or a master diver. I am simply a diver who has considerable experience in most aspects of diving. My only post certification qualifications are advanced diver, deep diver, Nitrox diver and rescue diver.
Even then, when I did my deep diver course, I had more deep dives under my belt than the instructor and the group in which I did the course actually took the instructor on a dive on a deep wreck (>40 metres) that he had never before dived. So much for the sensibilites of the dive instructor agencies!! As you may guess, I have a fair bit of distrust in the agency system. If you are from overseas or interstate, if I can, I may take you diving in Sydney for the cost of an airfill or petrol for the boat. Email me. I have so far taken over 60 divers from interstate or overseas diving in Sydney. However, it is a lot harder to do this now that we live a lot further away from the centre of Sydney where most visitors stay.
Since I started to dive, the longest period I have gone without diving was 77 days after I suffered an ear problem towards the end of a diving trip to Vanuatu (diving the SS President Coolidge of course) in October 1998 (mentioned above). I started diving again on 3 January 1999 and have had no problem with my ear since then (apart from ocassional ear clearing problems) although in September 2004 I had a problem at Chuuk Lagoon which may have been ear related. See the separate page about that incident.
A list of my significant dives:
| | | | |
| --- | --- | --- | --- |
| Dive | Date | Dive Site | Location |
| 100 | 25 October 1989 | Blue Pool to North Bommie | Heron Island, Queensland |
| 500 | 19 July 1992 | The Balcony | Sydney |
| 1,000 | 25 October 1996 | Cessna Plane | Madang, Papua New Guinea |
| 2,000 | 17 June 2004 | Shiprock | Sydney |
| 3,000 | 29 May 2010 | MV Semle Federsen | Port Vila, Vanuatu |
| 4,000 | 11 January 2018 | SS Tuggerah | Sydney |
Most of my dives have been in Sydney and NSW, but a lot have been overseas. I dive the coast of Sydney every weekend, weather permitting.
A detailed summary of my diving is attached in a separate page.
I lived in the Inner South West of Sydney for 25 years till March 2008. For all of my life up until 2004 I was single and basically unattached. Then I met Kelly Jandik while giving a talk to the Ryde Underwater Club.
On Saturday 26 May 2007 Kelly and I got married. She is also a very experienced diver (including deep wrecks off Sydney) and we share a huge amount of common interests, including shipwrecks, underwater photography, four wheel driving and camping. We were married above Bare Island, our favourite dive site. I have added some photos of our wedding to our Club's web site. (Click on this and select the Photo Gallery from the left menu. In March 2008 we moved from Tempe to Kareela in "The Shire" to a house we had owned for three years. We separated in early 2019 when she walked out and we were divorced in November 2019.
Kelly and I on our friend Mark Ridsdale's yacht
on Sydney Harbour on New Year's Eve, 2005
This is a painting of Kelly and me done by my
nephew, Scott Barry when he was younger
For a while I was a keen underwater videographer who made some short documentaries for the benefit of my friends and family. Some of the photos on this site are taken from the video. I have also uploaded some to YouTube and linked to the relevant page. As I get time, will will do more. Before that I used to take underwater photographs until some mongrel stole my Nikonos. I used the insurance money to buy a video camera and then purchased a new underwater housing.
In 2003 I purchased a new digital camera and underwater housing. The web site has grown considerably as I added shots of the different sites and wrecks. Many photos are already attached to these pages. See my article about how I chose my camera and housing.
I used to be a regular contributor to Australasian scuba diving publications, especially DIVE Log (more than 400 articles!). I have also been published in Sportdiving , Scuba Diver and DIVE Log NZ. My most recent article on the wrecks of Chuuk Lagoon was published in the October/November 1998 issue of Sportdiving.
However, I gave up writing on a regular basis as I was sick and tired of a large number of the Australian dive industry (and expatriate dive industry) who do not like to read anything but wholesome praise of their operations and cannot accept independent and unbiaised review. I have been abused by the owner of a dive shop for not mentioning his shop when I wrote about the diving in that area (why would I when I did not even know they existed and since I mostly used my own boat in diving that area), threatened with defamation action three times (all were unsuccessful) and had lies spread that I was demanding free equipment from suppliers. Some of them will stop at nothing.
However, I started writing again for DIVE Log on a regular basis begining in January 2004 after discussions with the Editor, Barry Andrewartha. From then I wrote a monthly column on Wrecks in the Pacific (more than 135) till I stopped in April 2015 as I had run out of wrecks to cover.
Apart from this, when I do a dive or a dive trip that is out of the ordinary or where I think it would benefit a shop/area that is suffering unduely, then I may come out of retirement. Hence I wrote about my 2000 trip to Norway and my 2001 trip to the Solomon Islands and the 60th Anniversary of the sinking of the SS President Coolidge and Port Moresby.
I also upgraded my web site (at considerable cost) by moving to a new location, with more space and a dedicated domain name. I have already expanded the site with more photos, diagrams, maps etc and more will come as I get time. The web site will still not be influenced by sponsorship or advertising. This is why I have refused money offered by some dive industry organisations/companies so that this site is not compromised.
I am regularly invited to talk at dive club meetings. Some of the clubs where I have presented videos, slides and even a talk on how to map dive sites include Terrigal Underwater Group, Underwater Research Group of NSW, Sydney University Underwater Club, the University of NSW Underwater Club, Penrith Dive Club, DOUTS, Hawkesbury Dive Club, Dive Quest Mullaway, South Pacific Divers' Club, Ryde Underwater Club and of course my own club, St George Scuba Club. I have been the guest speaker a number of times at some of these clubs.
At the 60th Anniversary of the sinking of the SS President Coolidge in 2002 in Vanuatu I was asked to give a talk about the ship, its history and its voyages. I have also been guest speaker numerous times at other organisations, including a number of times for various branches of the National Parks Association of NSW. I also gave two presentations on the German World War I wrecks of Scapa Flow at the 2014 Australian International Dive Expo.
In 2014 and 2015 I gave a number of talks to groups of seniors at their weekly meetings.
I am happy to talk to any dive club or any group free of any charge (of course taking into your location) so long as a suitable time and date can be found. Contact me (see email below) if you would like to me to present a talk (with video and/or slides) to your group. Topics can be anything found on this Web Site.
I regularly dive other areas outside Sydney and have dived all the major sections of the NSW coastline. As well, I have dived many places overseas, including Vanuatu, Solomon Islands, New Zealand, New Caledonia, Palau, Chuuk (Truk), Papua New Guinea, Tahiti, Ireland, the Philippines and Norway. Elsewhere in Australia, I have dived Queensland (Heron Island, the Ribbon Reefs and Osprey Reef - Dec 2006 Gold Coast), Darwin in the Northern Territory and Perth and Dunsborough in Western Australia. I went to South Australia to dive HMAS Hobart in February 2003 and I dived Melbourne in early 2005.
I dived Chuuk Lagoon in 2004 and the Cook Islands in June 2005. I went to Chuuk again in September 2005 and in November 2006 we went to the Great Barrier Reef and the next month the Gold Coast. In 2007 we went to Port Vila and Santo in Vanuatu for our honeymoon and later in the year we went to the Great Barrier Reef again. Since then we have been to Papua New Guinea, Tasmania (twice) and in 2009 we went to the Solomon Islands. In May 2010 we went back to Port Vila. In March 2011 dived the North Island of New Zealand and in October we went to Chuuk Lagoon again. We also dived Guam in November 2011.
In 2012 we did a week on a liveaboard going from Bali to Komodo and back (Indonesia) and another week in Bali. In 2013 we went to Scapa Flow in Scotland and dived the German World War I wrecks. In 2014 we went back to Bali. I also went on a liveaboard trip to the GBR and the Yongala in November 2014.
In May 2014 I went on long service leave but in July I was made redundant, so after 37 years I finished work for the NSW NPWS (and all its names since mid-2000s). As I retired, I thought I would have a lot more time to dive, but thinks later changed that idea!
In June 2014 Kelly and I purchased a sailing catamaran (see the link here). We used this to explore the GBR in 2015 and 2017.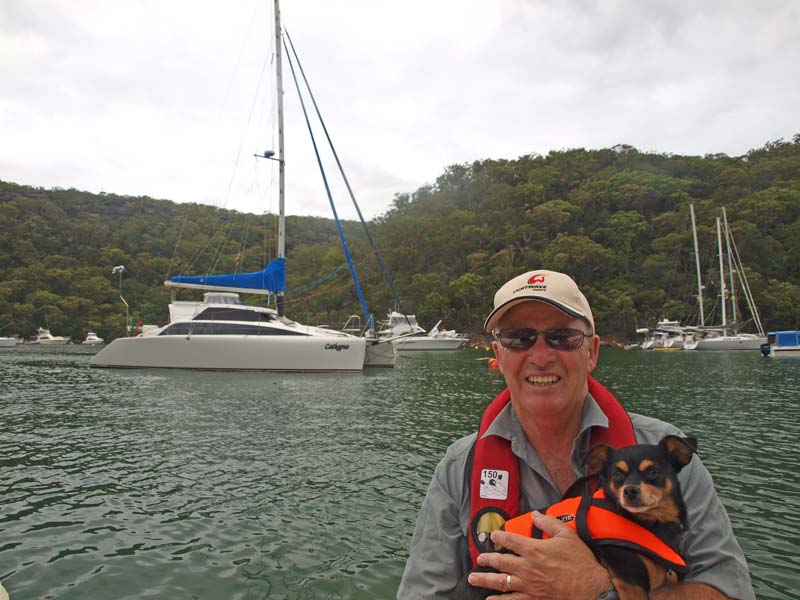 This is me with our dog, Veto, and our catamaran Catlypso in late December 2014
In February 2012 I travelled to Birmingham, Alabama, USA, to appear as the defence expert witness at the trial of Gabe Watson for murdering his wife, Tina, on their honeymoon off Townsville, Queensland. Although I ended up not appearing as the judge acquitted Gabe before the defence needed to present any evidence, I was heavily involved in the preparation of questions to be asked the prosecution witnesses. This was a very interesting thing to be involved in. Click here to read about this case.
Go to my Australia and NSW or overseas pages and have a look at the articles. If you would like any information I have not included, email me and I will help if I can. If you have any suggestions or corrections that will make these pages better, send me an e-mail (use the Contact Me link from top menu) with your comments.
I was also the inaugural President of the Scuba Clubs Association of NSW (SCAN) but at the 1997 Annual General Meeting I did not stand for re-election. For more information, see the SCAN Web Site.
For the period 1998 to 2002 I was the President of St George Scuba Club in Sydney. For more information, see the St George Scuba Club Web Site. I was privileged to have been granted Life Membership of the Club in 2002. My then wife Kelly was President from 2006 to 2008. In August 2018 I again became President of the Club.
At the moment I am a member of Marine Rescue NSW. I volunteer as a radio Watch Officer for Marine Rescue Solander (Botany Port Hacking) where I log on and off boats at least one half day a week. Unfortunately due to the divorce, I have been forced to return to work, at least for a while. I am driving a bus for a number of age care centres, interesting work which certainly helps older people.
I hope that you enjoy my web site. If you have any comments or questions, do not hesitate to contact me as per the contact page. I promise to respond to each and every email.