There are many excellent boat dive sites in the Shellharbour area, however, most divers tend only to dive the shore sites. Located only 105 kilometres south of the centre of Sydney (no more than one and a half hours drive from most spots), this is an area that can easily be visited for one or two dives on the one day and still return home before nightfall.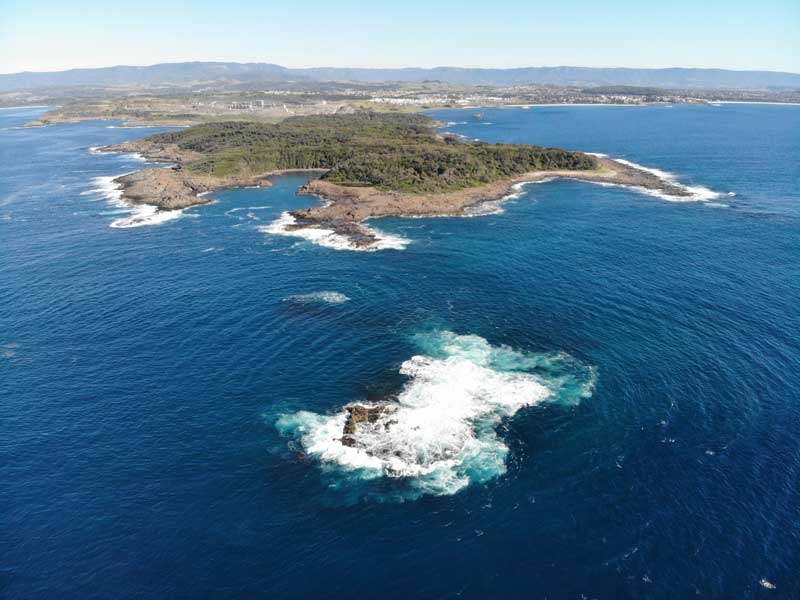 A drone shot of Bass Point showing Bass Point Island on a rough day - the dive site is to the left of the white water
To the immediate east of the Bass Point Reserve there is a small rocky islet called Bass Point Island. There are a number of different dives you can do around this island. All are called Lous Reef. It is 4 kilometres from the boat ramp at Shellharbour Harbour to the site. On the southern side at 34° 35' 57.3"S 150° 54' 19.7"E (using AUS66 as datum - see my GPS page for details or you may not find).
There used to be a mooring (at February 2007) in about 20 metres. The bottom here is 28 metres and it drops out further to over 32 metres. The mooring was just a few metres off the edge of the reef. The reef near the bottom is a steeply sloping series of rocks, with excellent sponge and gorgonia life. Closer to the island there are some vertical walls. There are also some large boulders on the slope.
A recommended dive is to head to the east from the mooring along the reef edge and return shallower up the slope a little. Go past the mooring and the reef runs for another 20 to 30 metres before turning south or south-west. The reef becomes steeper and a bit further along it is a very large vertical wall. The bottom here is only 24 metres and it comes up a bit as it goes on further.
Come back to the mooring and go north into the shallower water (15 to 20 metres). It is a bit flatter here. Further north it gets shallower but you will need millpoind seas to get too far up there. You will find a lot of sweep and one-spot pullers all over this reef. You may also see huge schools of yellowtail, ladder-finned pomfret and silver drummer in the shallower areas.
| | |
| --- | --- |
| | |
| Bass Point Island South | A red rock cod on the reef at Bass Point Island South |
Overall the fishlife here is not too bad, but can be especially good shallow. Huge schools of one-spot pullers, old wife, lots of black reef leatherjackets and six-spined leatherjackets can be seen. In the shallower area there are some large bream and sometimes, huge schools of large drummer.
You can do quite long dives here, starting off deeper and ending up in the shallows.
| | |
| --- | --- |
| | |
| A cuttlefish on the rocky slope at Bass Point Island South | A tiny moray eel at Bass Point Island South |
A really great dive site that deserves being visited many times.