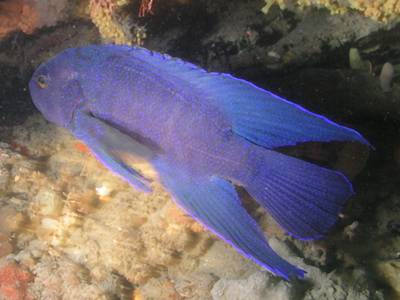 A blue devilfish at The Zoo

I live in Sydney and as such, it is very easy to dive. It is only 15 minutes from my house to numerous dive sites. This is the case for many divers, it is no more than 30 minutes to a dive site for many Sydney divers and no more than 60 minutes for even divers living the furtherest from the coast. Melbourne is very different. Apart from a couple of pier dives inside Port Phillip Bay, it is quite a long drive from the centre of the City to decent dive sites.

Melbourne is located on the northern most part of Port Phillip Bay, a huge bay that is at least 56 kilometres long north to south and over 40 kilometres from north-west to south-east. The entrance to the bay from Bass Strait (one of the roughest stretches of water anywhere in the world), is only 3.4 kilometres wide. The entrance is generally known as The Rip. As can be imagined from the name, the water literally rips through on incoming and outgoing tides. Compared to Sydney Harbour which has an entrance 1.6 kilomtres wide and has nowhere the amount of water in it, the flow of water through the heads is huge, meaning that there are constant tidal currents except for the short period around high and low water at this location. The western side is Queenscliff and the eastern side is Portsea.

INFORMATION

Travel

There are some really bargain flights now from most capital cities to Melbourne. It is probably best to fly to Tullamarine (where Qantas and Virgin Blue land) rather than Avalon where JetStar lands. A further disadvantage of using JetStar is that you can only take 20 kg and over this you will certainly pay excess baggage (no way I can keep my bag under 26 kg when diving) and there are no cheap hire cars there. It is however closer to Queenscliff.

Car Hire

You can hire from all the normal car firms at either airport. However, I have used Airport Car Rentals, an off airport car company. They offer very good cars at about half the price of the normal companies. See their web site.

Dive Shops

As I mentioned above, there are numerous dive operators located near Port Phillip Heads (Queenscliff, Geelong and Partsea) as well as others who run operations out of Portsea but have their shops in the Melbourne metropolitan area. There is one at Queenscliff, one at Geelong and three at Portsea (in February 2004 there were four). However, I can only recommend one due to the incompetence in responding to my queries about pricing and dives. More about this shop later.

I emailed three shops seeking pricing and dive plans. These were one at each of Geelong, Queenscliff and Portsea. Only one bothered to respond, and his prices were high and his demands about proving our diving abilities were outrageous. Pass! When I received no response from the other two I emailed them again and finally received a reply. One's prices were $165 for two dives and tanks and weights!! Double pass!! The others prices were also high. I then emailed three more shops. Again only one responded immediately (a dive shop owner I met in Chuuk Lagoon in September 2004 - I did not know he owned this shop when I emailed) and after some discussions in which he suggested using the shops at Portsea, he offered a good price. We booked on. A few days before our trip I emailed him reconfirming the diving. Guess what the response was? I do not have you booked on! I then emailed him back pointing out that in an email dated xxx he confirmed my booking. He then informed me that his boat was out of action. It was certainly lucky that I emailed again, if I had not, we would have turned up at his shop on the Saturday morning and found out there was no diving. Was I pissed off? You bet. Did I give him a serve about his unprofessionalism? You bet. This again confirms to me that most dive shop owners are unsuited to running operations that have to provide service to the public and should get out of the business.

Anyway, we eventually decided to dive, after many thoughts of abandoning the diving altogether. The shop we used was Melbourne Dive Services. They are located right opposite the Portsea Pier, have a great shop and facilities and their dive operation is first class. Their two boats are as good as any I have been on and they are very professional (apart from also been a bit slack in their response to my e-mail query). Note that the diving here is not cheap, especially considering that the dive sites are located fairly close to the starting point. It is $50 a dive and $100 for a double dive (all double dives are in fact two single dives). Gear hire is also very expensive. We were quoted $165 a day for two dives and tanks and weights from one shop (you get charged individual prices for tanks, air and weight hire - no such thing as a package deal). It will cost you at least $280 for four boat dives (and you could get a couple of dives under Portsea Pier using the remaining air from your tanks after the last boat dive of the day).

Accommodation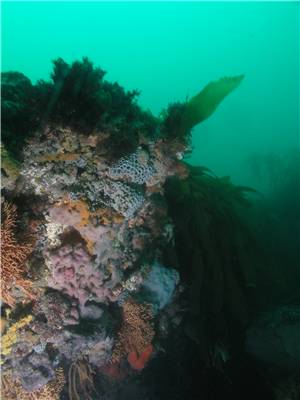 The Zoo dive site

A bit harder. On the Portsea side, the accommodation is much more limited than the Queenscliff side and more expensive. None of the dive operators there has their own accommodation nor do they appear to have any relation with accommodation suppliers (very unlike NSW dive shops which virtually all have their own accommodation or a close relationship with local hotels, motels or real estate agents).

The Portsea Hotel is expensive, as are the other hotels and motels in the area. There are also many bed and breakfasts in the area but these are also very expensive. The only reasonably priced accommodation I could find nearby was BayPlay. This is located at Blairgowrie, which is about 8.5 kilometres from Portsea. I think that this used to operated under a different name by one of the former dive shop owners. It now operates more as a backpacker accommodation which provides scuba diving instruction, kayaking and other adventure sports.

The rooms looked great on their web site but were not as good in real life. They are quite small. The cost of our room (a double bed with two bunk beds) was $100 a night. Even for two people, they were very cramped, with no storage space apart from the bunks. If you had a couple of kids or a few friends, it was not too bad a price but it would have been very cramped. For a couple of people, the price was a bit steep considering the room size, I reckon it was worth more like $70 a night. however, the grounds were quite nice, with grassed areas and a couple of tables at which it was nice to have a beer. They also have an outside fireplace which is nice for a late night drink location.

However, considering the options, it is the best I could find at some sort of reasonable price. It is not too long a walk to the Blairgowrie shopping centre where there are a few restaurants (see next).

Eating Out

One of the most amazing things about Portsea is the lack of food outlets. There is not a single cafe at Portsea, only one take away food shop and the Portsea Hotel. The take away food shop is located right next to the path to the Portsea Pier and is, to be honest, one of the most pathetic examples of take away food outlets I have seen in any State in Australia (or for that matter, even in places like Vanuatu, Chuuk Lagoon and Papua New Guinea). Imagine a place that does not sell hamburgers, that only has a few types of soft drinks or juices, and even on a fine Summer Sunday, had less than a half dozen pies for sale at noon. Talk about a waste of a perfect location and a huge passing traffic, it should be a gold mine!

The Portsea Hotel has some very nice food, but is fairly expensive. If you want anything at all, the minimum cost is about $10. It seems to concentrate more on proper meals and the snacks are very expensive. Even some wedges is almost $9. However, at least the food is good and the view from the hotel and beer garden worth the cost, especially on a fine day. The beers are very cold, with a good selection, although as with everything else at Portsea, expensive.

For dinner, if you stay at Portsea there is only the hotel. If you stay at Sorrento there is a bigger choice and if you stay at Blairgowrie, there are three restaurants. I tried the pizza and pasta place in the main shopping centre. This was only new in early 2005. It has BYO wine, sells beer and has some very nice food. It was reasonably priced, with quite quick service. I would recommend booking during Summer as it was very busy the night we went there. There is a bottle shop almost next door but it closes at 7 pm, so make sure you pick up some wine for dinner early (and beer for a drink at your accommodation before and after dinner - there is no pub or club that I saw).

Dive Sites

There are numerous dive sites that can be done out of Queenscliff and Portsea. There is at least one shore dive (Portsea Pier) and numerous boat dives. As well as the reefs (The Zoo, The Rip, Portsea Hole, and many others) there are lots of shipwrecks. These include many of the J-class submarines scuttled after the end of World War II and the SS Coogee.

I did the following dives when visiting Portsea:


Summary

The diving is very good, the location excellent for non-diving sightseeing and other things, but the service provided before diving is attrocious by most dive shops. They really do not seem to want business. However, once you get information about their diving (and ignore the high cost), the services of Mebourne Dive Services was excellent. Well worth diving, although next time I will drive down and save lots by having my own tank and weights.