Mitsubishi Zero-Sen "Zeke"

The most famous Japanese aircraft of the Second World War is undoubtably the Mitsubishi A6M Zero-Sen fighter, code named Zeke by the Allies but more popularly known by its Japanese name of Zero. (Note: The Japanese designation A6M means A=Carrier Fighter, 6=6th in the carrier fighter series, M=Mitsubishi). Built as a land-based, carrier borne and even as a seaplane, the Zero was truely a fantastic plane. The plane was designed by Mitsubishi to a 1937 Navy specification for a carrier aircraft. It first flew on 1 April 1939 but was no April Fool. Mitsubishi and Nakajima built 10,937 of the 11.0 metre wingspan, 9.0 metre long Zero.

Different models of the Zero were armed with various guns, but a common setup was two 20mm cannons in outer wings, two 12.7mm guns in the fueslage. It was powered by a single engine, a common one being the 925hp Nakajima NK1C Sakae 12 14 cylinder two row radial engine giving a maximum speed of 570km/h and a range (with drop tank) of about 1920 km.

The Zero was used in all theatres of the Pacific war, its most famous role being as part of the attack on Pearl Harbour in December 1941. In the early stages of the War the Zero was almost unstoppable, its manoeuvrability and range making it far superior to any Allied plane. After the Battle of Midway, the new Grumman F6F Hellcats and Vought V-166B F4U Corsair (possibly the greatest combat aircraft of all time) of the US Navy finally took control of the air.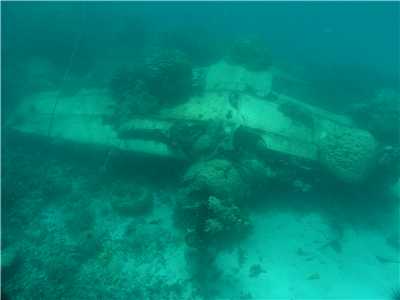 Mitsubishi Zero-Sen "Zeke" off Eten Island, Chuuk Lagoon

There are a number of Zero fighters that can be seen throughout the Pacific.

In Palau, there is a Zero and there is one in Gizo.

In Chuuk Lagoon there is a Zero fighter that can be seen only a few metres from the end of the former airstrip on Eten Island. This Zero appears to have suffered a terminal engine failure on take off (there is no obvious bullet damage but I may be wrong) and is lying upside down in 10 metres of water. The plane is fully intact except where it has broken in two a metre behind the wings. The wheels are missing, the doors open. The propeller is not bent indicating that the engine was probably dead when the plane hit the water. This plane is usually snorkelled by divers while having their lunch on Eten Island although some use the remains of the air from their previous dive. A nice distraction from lunch.

There is apparently another in Chuuk Lagoon at the other end of Eten Island but it is in very shallow water. There are also pieces of Zeros in Hold 2 of the Fujikawa Maru.

Reference:


German, Italian and Japanese Fighters of World War II by Bill Gunston
Jane's Fighting Aircraft of World War II