Halifax Park dive site

One of the best shore dives in NSW, if not the whole of Australia, must be Halifax Park at Nelson Bay. Nelson Bay is located on the southern shore of Port Stephens, north of Newcastle. The Port Stephens area is only two to two and a half hours from Sydney and makes an ideal weekend dive location.

The two best known dive sites in the Port Stephens area are Halifax Park and Fly Point. The sites drop from a rocky beach down to more than 20 metres just 20 to 30 metres from the shore.

The closest site to the ocean is Halifax Park. Located almost at the end of Nelson Head (go past the big roundabout, past Fly Point and take the first real street on your left and go right to the end). There are a couple of small, rough parking areas where you can leave your car. On a fine day in summer, you can get literally a hundred or more divers wanting to dive this site, so make sure you get here early for a good spot.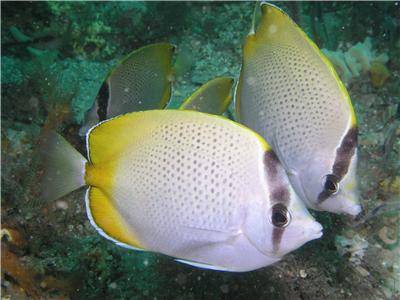 Gunthers Butterflyfish
Photo taken March 2005 at Halifax

Generally, this dive is only done on the peak of an incoming tide. However, you can dive here mid-incoming tide and just after high tide with no problems as well as at low tide. All you need to do is modify your dive to suit. For example, on an outgoing tide, I enter the water at the southern end of the site and swim out about 50 metres (or until the floor drops away) and descend here. Drifting with the tide, you can explore nearly the whole site while travelling towards the ocean.

On an incoming tide (before actual high tide), enter at the far northern end of the rough track that runs along the water's edge (there is a flat rock to the east that is a very good entry spot). Swim out to the north and descend. Follow the reef back to the south and exit at the end near the Waterways Authority wharf.

One thing I have found is that the water here can swirl around a fair bit. For example, on an incoming tide the water can be running in in deeper water but running out in the shallower water. The opposite occurs on outgoing tides. This can be used to your advantage and enable you to see more of the site by doubling back in the shallower water before returning the deeper water. Makes life very easy.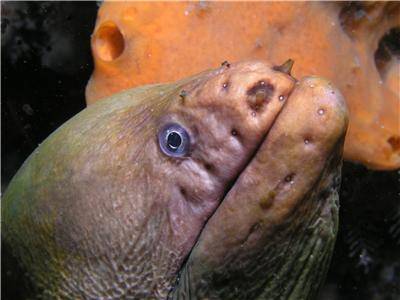 Moray eel at Halifax
Photo taken March 2005 at Halifax

If you are doing the incoming drift, the bottom drops in a few small walls and slopes to the sand bottom at 25 metres or so as you head out from the shore. The walls are roughly at 6, 10, 15 and 21 metres. It will take you about five or six minutes to get to the bottom. Turn left here and drift with the tide. There are small walls, isolated rocks and huge amounts of sponge life all over. You will see large schools of bream and leatherjackets and lots of other fish. There are plenty of moray and moasic eels, cuttlefish and many tropical species to be seen. Look under all the small overhangs.

As you drift, you will see small wobbegongs and Port Jackson sharks, blind sharks, giant flathead, small rays and even white-spotted shovelnose ray. The depth of the bottom gradually comes up to 21 metres. After about 20 minutes you will find the wall starting to become less prominent. In addition, you will have used more than half of your available bottom time so come up to the top of the wall/slope and head even shallower if you need to. The reef is now running due south. Head shallower again and you might find that the current is running back in the opposite direction. You may even be able to get right back to the starting point or very close.

As to what I think of the site itself, well, the term "amazing" is generally overused, but in this situation it barely does the site justice. In some ways Halifax Park is like