Latest update 25 July 2017

Click here for previous part of this trip.

Saturday 8 July 2017 – Cannonvale

It was a very calm night, with only a strong burst of wind about 0430 for 15 minutes. There were lots of boats leaving the boat ramp from about 0500, but most of the ones before 0600 were considerate and did not run at speed through the anchorage. There was a very heavy dew overnight and it is sunny and warm. We got up at 0800 and after breakfast, we went in Thunderbird 2 to the Whisper Bay boat ramp.

Wow, this has changed, and not like we thought it was going to be. When we were last here in September 2015 they had just start work on the changes. An additional lane was added (now three but people only use two) and a floating wharf added. The biggest change is a huge rock wall built in an inverted L shape to protect the ramp. Overall I think it could have been done much better, with the wharf offering little tie up spots at low tide. That been said, there is enough room on the outside of the wharf for dinghies and most of this space is used by yachties. There is a nominal 30 minute limit, but we saw dinghies that were there for full days.
| | |
| --- | --- |
| | |
| The boat ramp, wharf and retaining wall | Dinghies galore! |
We collect two Coles shopping trolleys that have been left here and walk with them to the Cannonvale shopping centre (it may be called Whitsunday Shopping Centre). We have with us all our petrol containers, including the dinghy's one, and the gas bottle. We also have a couple of loads of washing. Kelly goes to the laundromat and puts it on and then goes to Coles via the Reject Shop. John and Michael go to the Coles fuel station and fill the containers and swap the gas cylinder. We make sure we get a cylinder that is a little lower than the one we have as it hardly fits in the gas locker.
They then walk back to the ramp and Michael takes the petrol out to Catlypso. He returns with five diesel containers and they walk back to the fuel station and fill them. Another walk back to the ramp with the fuel in two shopping trolleys, then Michael takes them out to the boat.
They then walk back again to the shopping centre. It is very hot and humid and they are both sweating a lot. Veto is also walking with them and has to stop many times for water at taps in the park. It is about 800 metres from the ramp to the shops, flat on a good footpath. The next trip back to Catlypso was with the shopping while Kelly looked after the laundry.
They then came back to the shops and we all had lunch at the food place next to the chemist. Excellent hamburgers! We go to one of the two liquor stores and get some beer and wine. The final walk back to the boat ramp meant John, Michael and Veto had walked about 6.4 kilometres today, sometimes pushing heavy shopping trolleys!
Back on the boat Kelly puts away the food and Michael transfers 66 litres of diesel to the main tank (it is now full) and puts the fuel containers away. We then relaxed, we are exhausted from all the walking and lifting. Later Kelly and Michael take T2 to Shinleys Beach (which is inside the marina walls) and we attempt to glue back on the protective strip around the boat. It has started to come free again over the past couple of days. We use contact adhesive. It seems to hold but tomorrow it will come free again and we totally remove it.
At 1815 Michael goes to the wharf yet again and collects our friend Therese (sort of Michael's other sister), her boyfriend Darren and her sons Jared and Alex. They have come this morning from Goulburn via Sydney and Townsville. They are spending the night with us and then tomorrow we will take them out somewhere before they go back to Townsville.
| | |
| --- | --- |
| | |
| Michael's new Rabbitohs shirt from his Mum | A bottle of Chandon for his 60th from his sister Janelle |
On the third trip Michael and Jared go to the Chinese restaurant near the Police station and collect takeaway. We have a great meal and stay up till 2300 talking! Therese has also brought along presents for Michael's birthday which is next Friday (he will be 60). These are from Michael's family and Therese.
Sunday 9 July 2017 – Cannonvale to Cannonvale
It was very calm overnight and we do not have many boats disturbing us this morning. We later realise that the Queensland school holidays end tomorrow, so it looks like they have all gone home.
It is another great day. We get up at 0720 and Michael and Jared take Veto to the beach for a run. After a breakfast of bacon and eggs, we leave at 0925. We motorsail in 7 knots and make about 5.0 knots but after a while we have to pull the screecher in as the wind is 3 knots. We motor the rest of the way and at 1050 we drop anchor off the beach just inside Woodwark Bay.
| | |
| --- | --- |
| | |
| Jared | Alex |
This bay is to the north of Airlie Beach. We have never been here. We can get pretty close to the southern end of the beach. This is a great beach, although this spot is only for winds under 15 knots they say. Jared and Alex take the kayaks and paddle to the beach while everyone else has a swim off the back of the boat.
| | |
| --- | --- |
| | |
| Jared, Therese and Darren | Looking back at Woodwark Bay and the beach |
Michael takes T2 to the beach with John and they have a swim and a walk. Michael then cooks lunch on the barbecue while Kelly has also made some salads and cooked chicken winglets in the oven. We have a really nice lunch. We leave at 1350 and despite an early attempt to motorsail, we motor back to Cannonvale. Michael then takes Therese and the gang to the wharf so they can drive back to Townsville.
After taking Veto to the beach for another run, we have showers and sundowners. Dinner is leftover Chinese from last night. We go to bed at 2045!
Stats:
Monday 10 July 2017 – Cannonvale to Nara Inlet
It was another very calm night. We get up at 0730 and have breakfast before again going to the shops. Michael and John get another 66 litres of diesel and some petrol (we filled up the compressor and generator) while Kelly goes shopping again. After taking the fuel back to Catlypso, Michael walks to Bunnings (10 minutes from shopping centre - gets some glue and tape) and John waits at the shops. When Kelly finishes, we have coffee and cake.
| | |
| --- | --- |
| | |
| Looking into Refuge Bay | Closer up in Refuge Bay |
While Kelly is putting away the food (mostly stuff that needs to go in the fridge and freezer), Geoff, Marina and Scott drop past in Island Home. We have not seen them since the Gold Coast. We up anchor at 1145 and go over to ask them if we can get a lift on Thursday morning back from the boat ramp as we are dropping Thunderbird 2 off to a company who is going to make us a new protective cover and attach a new protective strip. They will be still here and say they can do this. We will be going into the marina at 1100 but the company wants the dinghy as early as possible.
We motorsail out of the bay towards Nara Inlet. We can just sail the right direction using the screecher. We need the engines on as we have to cool down one freezer which has been off for the past week. We make 5 to 6 knots in 10 to 12 knots with one engine on at 2400 rpm. We enter Nara to see lots of boats here. We have decided to anchor in Refuge Bay which is a small protected bay on the western side. There is one other boat here.
| | |
| --- | --- |
| | |
| The wrecked yacht at the end of Refuge Bay | The huge cod under the boat in Refuge Bay |
We go past this boat and anchor in 8 metres near low tide (1450). This is a really nice spot, we will probably anchor here every time if we can. Michael later takes John to the Aboriginal shelter and art site down the end of the main bay and we later go over to the small beach near us (can get here at low). We see a small cod and a very small turtle in the shallows. Also, we have a huge cod under the boat, not sure of the exact species, but it is very large.
The yacht that we saw two weeks ago at the end of Refuge Bay is still there, high and dry and tied up by its shreded sail and ropes to trees.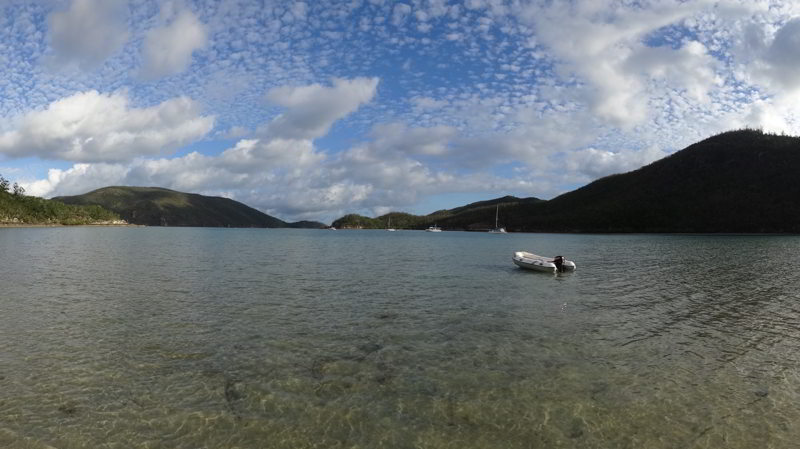 A panoramic photograph from the beach in Refuge Bay
We have showers, sundowners and then rosemary and lamb rissoles cooked on the barbecue with salad. These are the best rissoles ever, we got them from the butchers at Cannonvale. We go to bed at 2140.
Stats:
Tuesday 11 July 2017 – Nara Inlet to Cid Harbour
As the forecast for the next few days is for 20 knot and plus south-easterly winds, we have decided to move to Cid Harbour. We are going to have to go back to Cannonvale tomorrow so we can drop off the dinghy first thing on Thursday morning. We want to have the wind almost astern on the trip back as it can get very uncomfortable in the Whitsunday Channel.
We get up at 0640 and after making tea and coffee, we motor out at 0710. We have to motor the whole way as we are heading right into the wind. We arrive at Sawmill Beach in Cid Harbour at 0855 and anchor very close to our previous spots. The wind came up to 18 knots on the way but here is is less than 10.
Michael did some more trouble shooting re the starting battery leaking to the house batteries but came up with no solution (and still does not know the reason). He also tried using the HF radio again to get weather via fax, another failure. Michael also removes from Thunderbird 2 most of the lines and the additional anchor.
After lunch Kelly did some more cleaning and John and Michael went to the beach to the south of Cid Harbour. This is a really nice beach. Back at the boat we have showers and sundowners. There are lots of boats here tonight, over 40 as far as we can see, but there is still plenty of room.
It is quite calm and there is a lot less wind than was forecast. In addition, the forecast for the next two days is much better than it was a few days ago. We have beef ribs and mash for dinner.
Stats:
Wednesday 12 July 2017 – Cid Harbour to Cannonvale
It was a calm night but there were some strong wind gusts at times. It was very overcast when we got up at 0710. Michael put the generator on as we are very low on power, the fridge is chewing it up. We have arranged to have a mechanic come and look at it tomorrow, so hopefully that will fix the problem. We want to watch TV tonight to see the third rugby league State of Origin, so we need more volts!
After breakfast Marine Services Queensland comes and boards us and wants to see our EPIRB, flares and lifejackets. No problems as we have this and more. They are only visiting the private boats as the charter boats of course are looked at as part of their survey.
After this Michael checks the oil in the engines and discovers a lot of water in the starboard bilge. The bilge pump is off! It must have been bumped at some time. The water is all removed once it is back on. It looks like it is slowly dripping from the raw water filter (it is, tomorrow Michael fixes by removing the lid and cleaning).
After lunch we motor down Hunt Passage so that we have a better direction of sail with the wind more behind us. Once around Cid Island we sail towards the top of North Molle Island with the genoa out, making 5.5 knots in 22 to 26 knots of wind. Later we change to the screecher when the wind drops a little, we are now doing 7 knots, hitting 9.2 a couple of times.
| | |
| --- | --- |
| | |
| Very rough crossing Whitsunday Channel | Much calmer as we approach Pinnacle Rocks |
Once we are crossing Molle Channel it is too strong for the screecher, so we decide to pull it in. Unfortunately, it seems that when Kelly set the autopilot for this she must have also hit the button above which turns it off. This was not noticed. When we almost had the sail in, we turned side on to the waves and the screecher started flapping. Somehow the two sheets (ropes) to the sail came free. We quickly pulled these in so they did not get tangled in the props. The problem we then had was the sail was flapping, so we had to drop it to the deck. In the end, we came out of it okay.
We then motorsailed with the genoa the rest of the way. At 1535 we anchored next to Island Home. We flushed the watermaker and Kelly removed the hallard from the screecher as we are getting this collected tomorrow to have the UV strip replaced. Michael then took T2 to the bow and loosened the prodder and then removed the screecher from the furler.
| | |
| --- | --- |
| | |
| John relaxing as we cross Whitsunday Channel | Island Home and Catlypso |
Geoff and Scott from Island Home dropped by on the way back from the boat ramp. They are going to come to Michael's 60th birthday dinner on Friday night. We then took Veto to the beach and while there we removed the anchor and mooring line from T2.
We have showers, sundowners and a dinner of pumpkin gnocchi. Afterwards we watch the State of Origin, Queensland kill NSW 26 to 6, the 11th series win out of the last 12! We go to bed at 2230.
Stats:
Thursday 13 July 2017 – Cannonvale to Abell Point Marina, Airlie Beach
It was a calm night with very light winds for the last four hours. We are awake at 0700 and get up at 0800. We have breakfast and then at 0845 we take Thunderbird 2 to the boat ramp as it is being collected by Whitsunday Ocean Services. They are making a new cover to replace the one that is falling apart and put a new rub rail on. Scott comes and collects us and takes us back to Catlypso.
At 1030 we up anchor and head into Abell Point Marina. We are staying here three nights as tomorrow is Michael's 60th birthday and Kelly has lots planned (which Michael knows nothing about). We are in our berth on B arm, very tight passage to it, at 1050.
We hook up power as the batteries are again almost flat. We get rid of our rubbish and Kelly starts cleaning the starboard engine bilge. She also looks in the rear compartment and it has water in it. We suspected this and will in the coming week replace the silicon in the joints above with UV stuff (Sikaflex 295 UV) rather than the stuff we used two years ago to fix. Kelly goes off to do some washing. While she is away,l Charlie from Doyle Sails comes and collects the screecher.
Michael fixed the leak in the raw water filter then. Our dive friends Steve and Sue arrived so we settle them in. Then the fridge mechanic comes. Michael and he pull out the fridge and within a few minutes he diagnoses the problem, the fan which cools the refrigerant in the "radiator" is not working. He does not have one with him, so he heads home to collect one (and have lunch). He later comes back and installs it. It is finally working properly, we have an icy freezer within a few minutes.
Kelly goes to the doctors at Cannonvale, they cut out the small lump rather than freeze it. We then have very long showers! Michael also takes Veto for a long walk and then we all go to Airlie Beach for dinner. Our first choice, one of the pubs, is shut because of cyclone damage, so we end up at KCs. Very nice food. We come back and have another beer and then bed by 2130.
Stats:
Friday 14 July 2017 – Abell Point Marina, Airlie Beach
Today is Michael's 60th birthday. Michael is told to take Veto for a walk of at least 15 minutes. When he gets back, the bow of Catlypso is covered in banners wishing him "Happy Birthday". Then he is forced to wear a T-shirt and badge proclaiming his age! After breakfast, Michael applies on-line for his Seniors Card which will give him discounts to many things and also let him apply for a Gold Opal Card for cheap travel in Sydney.
The bloke comes to replace the furling line. He picks straight away who did the original rigging on the boat (not impressed with him it would seem, neither are we). He replaces the old line with new line which is a bit longer and which has a join that is the same width as the line. This now will run through the furler if it slips (it is also a bit "lumpier" so should not slip as easily. Excellent work.
| | |
| --- | --- |
| | |
| Michael and his South Sydney birthday cake | Michael and the Ford Mustang |
We then have a birthday cake for Michael, a South Sydney cake. Edward, Louisa and Imogen from Madiba who are in the berth two down come as well. The cake is red and green and has the Souths' rabbit on it. Fantastic!
At 1115 we go out to the roadway and the next part of the birthday comes along. It is a 1965 Ford Mustang, red of course and a convertible. Michael drives, with John and Kelly in the back and the owner Greg in the passenger seat.
| | |
| --- | --- |
| | |
| Michael at the wheel of the Mustang | Michael and the Yak 52 |
Michael drives through Airlie Beach and then out to to Whitsunday Airport. The next part of the birthday present is a flight in a Russian Yak 52 trainer. This is an aerobatic plane. Michael is given the briefing and then heads out to the plane. He is sitting in the back seat. They take off and head to Hook Passage and then down to Tongue Bay. Here they do loop the loops, barrel rolls, upsidedown flying and more.
| | |
| --- | --- |
| | |
| Tongue Bay, Hill Inlet and Whitehaven Beach in background | Starting a loop the loop |
Michael survives, but his stomach is a bit funny and he is sweating despite the cool temperature. They fly back to Airlie Beach and do a couple more barrel rolls and a fly past before heading back to the airport. This was a flight of just over 30 minutes. Michael is happy to be back on the ground and is white! It was great fun, but he does not understand why anyone would want to do it more than once!
| | |
| --- | --- |
| | |
| Upside down! | Airlie Beach |
After recovering, Michael drives the Mustang (with Kelly and Veto in the passenger seat), to the Port of Airlie where we go to lunch at Denmans. This is a brewery pub and Steve and Sue are waiting there for us. While Michael has a schooner of IPA, his stomach is still upset so he does not order food, just having a chip or three.
When lunch is finished, we walk back to Abell Point Marina, a nice walk along the waterfront. When we get back, Werner, Liz and their friend David come over from Halycon. They bring some wine and nibblies and we sit in the saloon (too hot on the back deck). Michael must have recovered a little as he has a wine!
| | |
| --- | --- |
| | |
| Michael in the Yak 52 | Everyone at dinner |
At 1600 Kelly goes and collects Thunderbird 2 from the public wharf in the marina. Wow, it looks brand new. We then have showers and then Geoff, Marina and Scott dinghy in and tie up behind us. We have a drink or two and then head off to Sorrentos, the bar and restaurant at the marina. We have been there before, the pizzas are great.
It is full, but Kelly has booked a table. We get drinks and order pizzas. Unfortunately, the two best ones are no longer on the menu (lamb and pulled pork), but the ones we get are great. At 2200 we go back to the boat for some ports and at 2300 Island Home heads off. We go to bed soon after, a huge day!
Thanks to Kelly for organising Michael's 60th celebrations. Michael also got video calls from his Mum and brother Paul from Sydney, from his brother Stephen who is holidaying in Switzerland and calls from his two sisters Janelle and Cathie as well as from quite a few friends.
Saturday 15 July 2017 – Abell Point Marina, Airlie Beach
It rained heavily at one point during the night but it did not wake Michael! We get up at 0800 and Michael takes Veto for a walk. After breakfast Michael works out that we have used 411 litres of diesel at 2.11 litres per hour. We have also used 102 litres of petrol.
About 1130 we walk to town and have a look at the Saturday markets. Kelly buys some fresh vegies there. We get a kebab for lunch and sit on the grass behind the beach. We then go shopping. While John watches Veto, Kelly goes to Woolworths and Michael gets some more wine. We then walk back to the marina.
We are back by 1400 and Kelly then puts all the food away (she will not let anyone else do it). The screecher then comes back and we put it on. We have to pull it out a bit to retension it. The furler appears to work well. So the repairs we have done are dinghy $1665, furling line $187, screecher repairs $1200 and fridge $237.
At 1740 Michael goes for a shower but finds that the male ones are closed for cleaning. When he asks the cleaner how long he will be he claims 15 minutes and when asked why would you do it in the peak period for having a shower, he states "everyone goes between 1830 and 1900". Idiot!!! When Michael comes back after 20 minutes, of course he is not finished and it is not till 1810 that he reopens the toilets.
After this we walk into town and go to the Lovely Indian restaurant. Here we have a very nice dinner, tasty food and good service (despite some reviews we have seen). It is John's last night on board.
We get back at 2110 and Michael and Kelly take Veto for a final walk as a reward for being left alone on the boat.
Sunday 16 July 2017 – Abell Point Marina, Airlie Beach to Refuge Bay, Nara Inlet
It was very calm overnight. We get up at 0800, it is sunny again. We have breakfast and then Michael flushes the watermaker and tops up the water tanks (he filled them yesterday). He also washes the decks. Kelly did a last wash and Steve and Sue drove John to the ferry at the port. Then Michael went to get a hot chicken and rolls.
| | |
| --- | --- |
| | |
| Kelly and the refreshed screecher | Flying the screecher across Whitsunday Passage |
At 1030 we leave the marina, it is a very tight manoeuvre to get out of the berth and around the corner. There is less than 4 knots of wind so we motor. Once we near Funnel Bay the wind increases to 9 knots but it is on the nose. It then goes are bit more to the south so we pull out the genoa and motorsail. Past Pinnacle Rocks we swap to the screecher and turn off the engine. We are doing 6 knots in about 18 to 22 knots of wind.
As we approach Nara Inlet we pull in the screecher (works perfectly) and then motor into Refuge Bay. We are the only boat in this bay, while there are already at least 10 in the main part of Nara Inlet. We anchor at 1320 near where we were last week.
| | |
| --- | --- |
| | |
| Looking out from the end of Refuge Bay | Thunderbird 2 all new looking |
After a cup of tea, Kelly and Michael go to look at the yacht on the rocks at the end of the bay. The dinghy is ruined, hardly inflated. The bottom of the hull and keel has lots of rust marks, so it must be steel. As we suspected before, there are ropes from the bow and stern to trees and the main halyard is tied to a tree. Looks like it will never move again except in another storm.
Michael has a shower and then we have sundowners. Kelly cooks chilli peanut beef stirfry for dinner. After this Michael spends a lot of time updating this web site as he has not done it for almost a week. We go to bed at 2100.
Stats:
Monday 17 July 2017 – Refuge Bay, Nara Inlet to Butterfly Bay
It was very calm last night and this morning it is nice and sunny. We wake at 0700 and get up at 0800. After breakfast we went to find Back Friday which was supposed to be anchored outside Refuge Bay, but it must have left. We later confirm this via AIS.
We leave at 0925 and motor out and around the south-western corner of Hook Island. Once there we pull out the screecher. There is not much wind and we have over a knot of current against us, so we have to motorsail. We make about 4.7 knots. As we near Stonehaven, we have to pull the sail in as the wind drops and also changes from one side to the other and back again. We motor the rest of the way.
As we round the north-western point of Hook Island, we have a cat in front of us and one behind, both obviously intent on getting to Butterfly Bay before us. They are charter boats and have their engines flat out, no one would do that to their own boat. We are lucky in that we know this area well so we keep much closer to shore and the cat behind cannot catch us (we also have both motors going, but well under full power).
As we near the entrance to Butterfly Bay, we see that there are only two moorings left. It looks like we will get the last one till we see another charter yacht coming at full speed from our port side. Then the cat in front stops, no idea why. This lets us get in front of it and we get the last mooring! In fact, once we get inside we realise there will be one more vacant soon as there is a tourist boat on one and from experience we know he will leave within an hour or so.
We moor at 1200 near Madiba. We have lunch and the spend most of the afternoon reading and sunbaking on the foredeck. Michael also checks the batteries, we have never had the power so high after more than 24 hours off shore power. Just shows that the fridge was consuming a huge amount of power.
Michael later took Steve and Sue to the beach so they could have a swim and snorkel. They call us on the radio when they are finished and Michael collects them. More boats come into the bay even though it must be obvious that there are no spare moorings (all they have to do is count the number of boats and compare to the number of mooring shown in the guide book as being available). Some come right to the end before heading back out.
Later Michael and Kelly go to the beach and end up speaking to Edward and Louisa (and the kids) for a while. Once back, we have showers and then sundowners. Around this time another charter boat comes in and actually anchors at the southern end of the bay. This is prohibited to protect the coral. They radio their company that their anchor will not hold but neglect to tell them where they actually are.
By the way, the boat was Orca 2 from Whitsunday Escape. They end up going and trying at the northern end, again inside the no anchoring area before again leaving and anchoring off the point between the main bay and the eastern one. This is where they appeared to come from in the first place.
Dinner is a barbecue of sausages and sirloin steak with salad. It is quite cool this evening with lots of relatively strong bullets coming over the hill to the south. We read and relax and then go to bed at 2100.
Stats:
Tuesday 18 July 2017 – Butterfly Bay to Cataran Bay, Border Island
We had a great night and at 0710 when we get up it is sunny and calm. At 0640 Madiba left for Bait Reef. After breakfast, Michael makes a new batch of yoghurt and then puts the watermaker on. We left the mooring at 0845 and sailed most of the way across the top of Hook Island.
Once we reach Pinnacle Point, we have to pull in the sail and motor the rest of the way. We have the wind and current against us, so we do not make much more than 3.5 knots (running one engine very conservatively). We moor at 1130 on one of the smaller moorings (crazily there are four smaller ones and only one larger ones) in Cataran Bay on Border Island. At 1305 we move to the larger one when the boat on it leaves (they told us they would be going).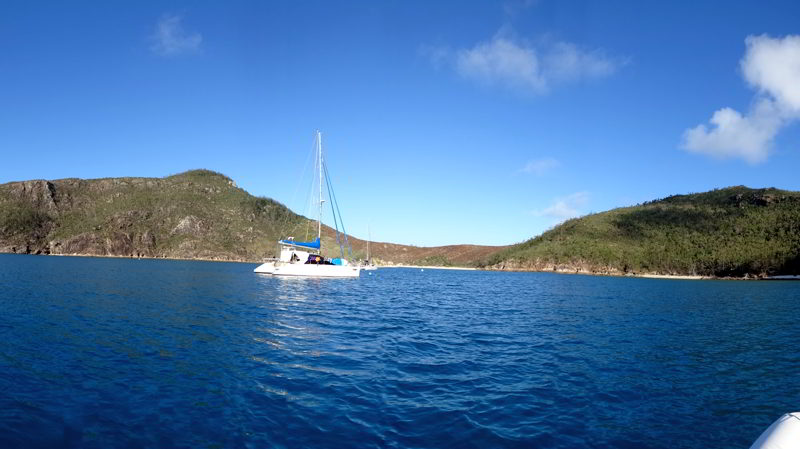 A panoramic photograph looking in towards the beach at Cataran Bay
After lunch we go for a snorkel from the boat. The coral is not in very good condition generally, but it is not cyclone damage. There is some good brain coral and some nice soft corals, but that is about it. The fishlife is pretty good however, including lots of parrotfish.
We end up making about 90 litres of water so Michael adds 46 litres to almost fill the tanks again. He also tops up the fuel tank from our containers. We read for the rest of the afternoon and then Michael and Kelly go to the beach for a walk.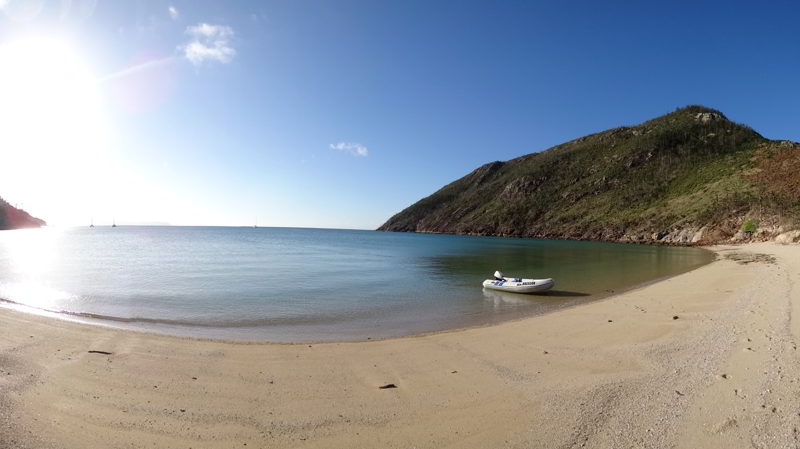 A panoramic photograph from the beach in Cataran Bay
Back on the boat Steve and Sue have had showers already and then Michael and Kelly also have one. We are being pretty liberal with our water at the moment, since we have lots of power and are also needing to motor everywhere, we can make it to replenish our supply.
The wind finally drops from about 15+ knots to under 8 knots at about 1600. This is much later than we expected from the forecast. We have sundowners in the cockpit and then roast pork with vegetables. An excellent dinner.
| | |
| --- | --- |
| | |
| Michael and Veto as the sun sets | Steve and Sue and the sunset |
Once it is dark we have a spectacular display of stars. There is no moon and for the first time on this trip we see satellites, in fact, about five. Later Michael sees three shooting stars in about two minutes. We go to bed about 2130 and it is very calm.
Stats:
Wednesday 19 July 2017 – Cataran Bay, Border Island to Tongue Bay
About 0130 Kelly and Michael had to get up and shorten the bridle to the mooring as it started to knock against the hulls. This was because there was no wind at all, only a slight current. When we get up at 0800 the water is glassy and the wind speed is 0.0 knots.
After breakfast, Michael puts the watermaker on again and at 0925 we leave the mooring. As we go out of Cataran Bay, we see a humpback whale not too far to the north. We motor the short distance to Dumbell Island. The seas are glassy even outside the bays.
| | |
| --- | --- |
| | |
| Glassy seas at Cataran Bay | Approaching Dumbell Island |
Dumbell Island is quite small and does not give much protection from any wind. However, it is a great spot to stop for lunch or a swim. There are two larger moorings here but one has a red buoy attached. This says "do not use" so we assume the mooring must be damaged. We take the other one at 0955.
We take T2 and motor the short distance to the smaller of the two beaches. This is 100% coral, but is deep straight off it and gives a nice place to tie up the dinghy. We have a snorkel (very poor, dead coral, again not from the cyclone) but a nice swim. We sit around for a while before Michael has to return to Catlypso to swap water containers on the watermaker.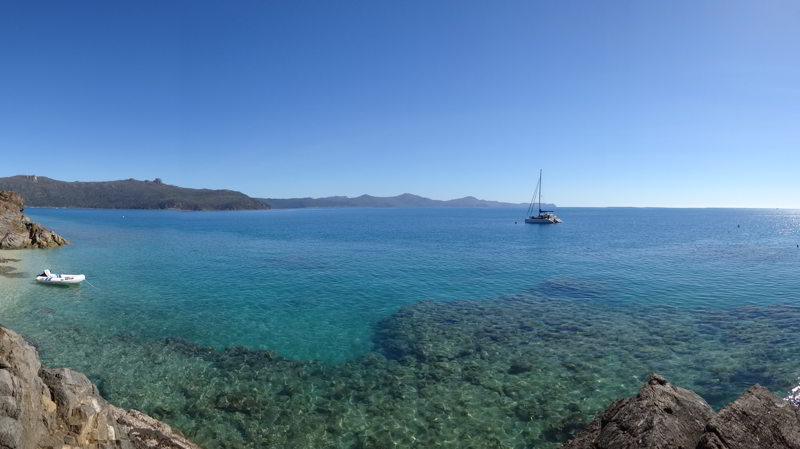 A panoramic photograph from the rocks on Dumbell Island
We are back on board by about 1140 and after running the watermaker for just over three hours we have made about 68 litres. Michael transfers 20 into the water tank and will move more tomorrow morning.
We have lunch and then motor to Tongue Bay. Again, there is hardly any wind and we pass one yacht which has its sails up but does not appear to be moving at all. Hardly worth the effort. Only one mooring is not occupied, but it also has a red buoy on it, but nothing written on it. We decide to not use it.
| | |
| --- | --- |
| | |
| Michael and Kelly at Dumbell Island | An RAAF Lockheed Hercules flies over Tongue Point |
We anchor at 1335 in a good spot. There are about 10 boats here and more come in during the afternoon (and even after sunset, some of the charter boats lie to the companies about where they are during their skeds).
At 1400 two RAAF Lockheed Hercules C130 aircraft fly over Tongue Point heading south. They have their rear loading doors open, what a fantastic flight they must have. Another two go over soon after, presumably they are headed for the war games down at Shoalwater Bay Army Training area.
| | |
| --- | --- |
| | |
| Looking out from the beach at Tongue Bay | Bird prints on the beach |
At 1600 Michael and Kelly go for a walk to the southern beach. When we return, Madiba arrives from Bait Reef. They had a good night out there, glassy seas and no wind after about 1600 yesterday. We have showers and sundowners and then beef tacos for dinner.
By the time we go to bed at 2200 the forecast strong south-westerly change has not arrived.
Stats:
Thursday 20 July 2017 – Tongue Bay to Whitehaven Beach
The southerly change hit about 0030, about five hours late. However, it was a lot less than forecast, only 15 knots or so. The seas are calm and we had a great night's sleep. We get up at 0710, it is sunny but cool.
Michael goes to the beach for a walk, and while he is there one of the backpacker boats, Freight Train (like most, an ex-Sydney to Hobart yacht) comes and anchors next to us. They end up only 15 metres away as measured by our rangefinder. When Kelly said to the skipper that they were too close, he was very condescending and called her "darling" and said "I'm watching it".
| | |
| --- | --- |
| | |
| The track of a snake on the beach | The track of a wallaby on the beach |
She insisted they move and they did. The skipper then disappeared, so it was unlikely he was going to be "watching it". He was a wanchor, that is, a person who has no idea of how to anchor and the etiquette of anchoring. We are amazed by the lack of courtesy of many of the commercial boats in the Whitsundays, going too fast in anchorages, anchoring too close or just not listening to their VHF radio.
At 0835 Michael took Steve and Sue to the beach so they could do the walk to the lookout over Whitehaven Beach and Hill Inlet. They came back about 30 minutes later. At 0930 we left and motored using both engines into a 25 knot southerly and a current. We arrived at the southern end of Whitehaven Beach at 1040 and anchor near where we were a few weeks ago. It is still 15 to 20 knots here, but the sea is flat.
Michael has run the watermaker again this morning and made 46 litres to fill all our tanks and containers. After lunch, he takes Steve and Sue to the shore and they go for a walk along the beach. It is still quite cool in the wind, which eventually starts to drop late in the afternoon (it was supposed to drop after lunch).
| | |
| --- | --- |
| | |
| Madiba leaving Tongue Bay | The view to Catlypso from the beach |
At 1615 Michael and Kelly went to the beach for a walk. We all had showers and then sundowners, the wind now is under 10 knots. Dinner is lamb rissoles and beetroot salad. We watch the stars which are amazing tonight. We end up seeing at least 30 shooting stars between us, far more than we have ever seen before. We listen to music and have a very late night, not going to bed till after 2300.
Stats:
Friday 21 July 2017 – Whitehaven Beach to Happy Bay, Long Island
We get up at 0630 and get ready for an early departure so we can have the tide behind us as we go through Solway Passage. We have breakfast and at 0755 we up anchor and head off. As normal for us, the tide is not doing what it should be and we have it on the nose through the passage. We motor till we can pull out the sail, first using the genoa and then, the screecher.
| | |
| --- | --- |
| | |
| Sunrise from Whitehaven Beach | Exiting Solway Pass |
We motorsail at about 5.3 knots with one engine on. As we go through Fitzalan Passage between Hamilton Island and Whitsunday Island, we have the tide behind us and we hit 8.0 knots. We have to pull the sail in here and motor south down Dent Passage till we can go between Dent and Henning Islands. Here we pull out the screecher and end up sailing all the way across Whitsunday Passage at about 4.5 to 6.5 knots, depending on the wind and current against us.
Off the top of Long Island (South Head), we pull in the sail and motor down the western side of the island to Happy Bay. We anchor at 1120 off the now closed resort. It is a beautiful day, but the wind is still cool.
| | |
| --- | --- |
| | |
| Approaching South Head at Long Island | The resort at Happy Bay, abandoned |
After lunch, Kelly and Michael go in Thunderbird 2 south to have a look at the Palm Bay Resort. This is not far away and looks good, why are the other resorts not being kept in good condition. On the way back we tried to go into the beach in front of the resort where we are anchored, but the tide is almost low (a very low one) and there is too much mud to walk across.
| | |
| --- | --- |
| | |
| The Palm Bay Resort | Some of the accommodation at the resort at Happy Bay |
More yachts come in during the afternoon, we end up with another five here. At 1645 the tide has come in enough for us to go to the beach. We take Veto as this is a chance for her to have a run on the beach. We have a look at the resort buildings, generally they look in good condition except for some smaller outbuildings.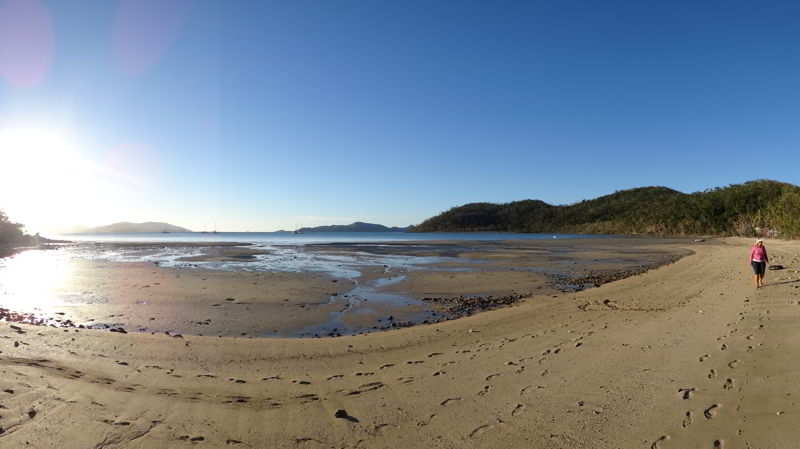 A panoramic photograph from the beach at Happy Bay
We are not sure when it closed, but the water sports building has a boat registration in the window dated 2012, so presumably it closed about then. However, we later Google it and it seems it closed in January 2015 for renovations with a promise it would reopen in 2016. Obviously this did not happen. The lease for these properties needs to be revoked from the current holders and put out to tender. It is an extreme waste of valuable resources.
| | |
| --- | --- |
| | |
| The main building at Happy Bay, Long Island | The remains of the leads for boats and the pool at Happy Bay, abandoned |
Back on the boat we have sundowners. It is very cool, the southerly wind today has been freezing. We have a nice chicken leak pasta dinner. After dinner Michael watches Souths play Cronulla via his mobile phone (our TV reception is rubbish). Souths lose again!
Stats:
Saturday 22 July 2017 – Happy Bay, Long Island to Woodwark Bay via South Molle Island
It was very calm overnight but the anchor alarm went off at 0320 when the tide changed and we turned around. When we get up at 0800 it was sunny and the wind was about 13 knots.
After breakfast we left (0925) and sailed north. We had the screecher out and made 4.2 to 5.5 knots into a 0.5 knot tidal current. We went between Daydream Island and South Molle Island and then as we neared Unsafe Passage (between North and South Molle Islands), we dropped the sail and motored through the passage and into Bauer Bay, South Molle Island.
| | |
| --- | --- |
| | |
| Daydream Island | Looking towards Unsafe Passage (at left) |
The resort on Daydream Island is closed because of damage caused by Cyclone Debbie in late March. The owners have said that it will be reopened after the damage is repaired and a planned upgrade of all facilities is completed (this was brought forward a year). I will believe it when I see it as so many resort owners in Queensland have used the excuse of cyclone damage over the past 10 years to close down.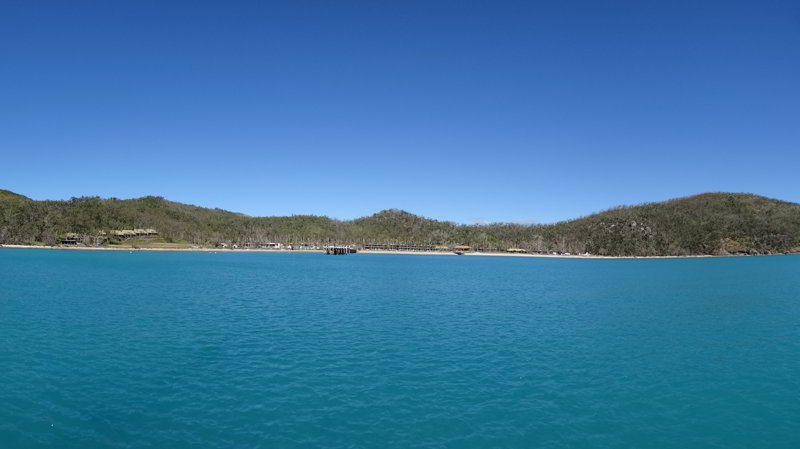 A panoramic photograph of the resort at South Molle Island
We anchored at 1100 straight in front of the ruins of the wharf at South Molle Island. The resort here is a mess, roofs missing off buildings, including the entire eastern side of roof of the restaurant building. The wharf is damaged in many places, there are trees and rubbish everywhere. It looks as though not one bit of work has been done since the cyclone. This is very sad, it looks like yet another resort has been abandoned by the owners.
| | |
| --- | --- |
| | |
| South Molle Island resort | The main dining building is missing its roof |
We have morning tea and at 1145 we motor back through Unsafe Passage (which by now you will have realised is actually safe) and pulled out the screecher and sailed towards Woodwark Bay. We have the wind on our beam for most of the trip and we average well over 6 knots for this leg of the trip, hitting over 7 knots many times. The seas are flat and the wind about 13 knots. We have a slight current behind us.
We round Grimston Point and sail almost into the small unnamed bay to the south of the point before motoring the rest of the way. We anchor at 1355 near the same spot as we did two weeks ago. It is very calm here even though the wind is now about 15 knots.
Michael added 22 litres to the fuel tank and we then pulled apart the mainsail sheet winch apart. Kelly wanted to find out the model number so we could get a manual so that we can totally pull it apart, clean all the bits and then put it back together again. However, we could find no indication of model. The grease is very bad, so we will need to do it soon. We need to get grease which we will do in the next couple of days.
At 1645 Michael and Kelly went to the beach for a walk and we spoke to the owners of a cruiser anchored next to us. By now there are five other yachts here. When we get back, we have showers and then Kelly puts on the lamb rack and vegies. We have sundowners and then the excellent dinner.
We then open a bottle of port Steve brought on board and end up drinking it all! Apart from Sue, we probably have had a bit too much. We go to bed at 2200 (I think).
Stats:
Sunday 23 July 2017 – Woodwark Bay to Cannonvale
It was very calm overnight. We get up at 0800 and it is sunny again. Today looks like being a lot warmer than the past couple of days. After breakfast, Michael went around the boat in Thunderbird 2 and scrubbed the hulls using the soft broom. A lot of fine growth comes off, but it may have been just silt.
A panoramic photograph from the beach at Woodwark Bay
Meanwhile, Kelly has been measuring the sheets for the screecher as we need to replace them. She also measured roughly the lazy jacks (for non-sailors, these guide the mainsail back into the sail bag). She will order new ropes for these on-line today or tomorrow and have them delivered to her sister in Sydney. Kelly will collect them when she is there in three weeks on her way to or from Norfolk Island.
Just before lunch Asif, a 35 foot Lightwave (basically the same as ours) came in and anchored near us. We saw this boat in 2015 at Rosslyn Bay Marina and met the owners then. However, it has since changed hands, so Kelly and Michael went over to say hello. We actually considered buying this boat in 2014 when we were looking for a boat.
| | |
| --- | --- |
| | |
| Michael and a prawn that suicided on the rear steps last night | Steve, Sue, Michael and Kelly on the bow at Woodwark Bay |
We left at 1400 and motorsailed with the genoa back to Cannonvale. We anchored there at 1535, a bit further out than other times due to a crowded anchorage and a very low tide. We had less than 0.9 metres under us with a further drop of 0.2 metres to come. Michael took Steve to the marina public wharf so he could get his car. He then went back to Catlypso and collected fuel containers, rubbish, laundry and Kelly.
Well, we had a few problems from then on. We motored Thunderbird 2 to the Whisper Bay boat ramp and we got stuck as soon as we entered the entrance. We tilted the engine up as far as it could go but we the hull was stuck on the mud.
| | |
| --- | --- |
| | |
| Asif and Catlypso | Dinner at Cannonvale |
We ended up need to use the oars and push (not row) ourselves into the wharf. At one spot we had to go backwards as we apparently hit an immoveable object. There were a few large rocks and bits of wood showing, even in the main "channel". Obviously they did not make it deep enough when creating. We eventually made it to the wharf.
Steve took us to the shopping centre and Kelly did the washing and then went to Coles. Steve and I got 66 litres of diesel and 5 litres of ULP. When we get back to the wharf the water has come in a little and Michael and Steve can push the boat outside till he can use the motor. Later Michael took Veto to the wharf for a walk and met Kelly as she came back from the shops. The water depth now was enough to motor in and out.
After showers, we all went in T2 to the wharf and then in Steve's car to the pub near the shops. Here we met Ron and Donna who are coming on tomorrow. We have a great meal and relatively cheap beer. We head back to the boat and are back by 2050.
Stats:
Click here for next part of this trip.