Latest update 8 June 2018.

Sunday 18 October 2015 - Coffs Harbour to Port Macquarie
Coffs Harbour at top, Camden Haven at bottom, Port Macquarie above this
We planned to get up at 0300 but as we are awake before this, we get up at 0245. It was very calm overnight. We make tea and coffee and at 0315 we pull up the anchor and head out of Coffs Harbour. We have the radar on of course and use this and the chartplotter to navigate out to the open ocean.
We round the outside of Korffs Island and head south. There are four cargo ships on the AIS all heading south, out to sea from us and close together. They will pass us during the early morning. We see no other boats but radar shows two small boats to the east of us at one stage, 2 and 5 miles from us. Visually we do not sight them,
The seas are quite good, much better than the last leg of the trip. First light is 0515 and by 0545 we turn off the navigation lights. A small tinny comes up from behind and passes us, Michael did not see this on the radar (which was on 8 miles radius).
Our instruments at night, from left,
forward looking sonar, VHF radio bottom, boat speed
and wind (green), chartplotter (top white), depth (not
really visible), autopilot (green), compass (red) and radar
The fog when it first hit
At 0555 we have a very thick fog come over from the shore. The wind is very cold compared to before. At times we cannot see more than 100 metres, although there are better sections. The radar is put to good use again. The wind is from the south-south-west at 7 to 9 knots. We are doing 7 knots with one engine at 2200 rpm and the genoa up.
Off Nambucca Heads at 0635 a tinny comes out of the fog just in front of us and crosses our bow. Michael changes the radar range to one mile and we can see him. He is also visible on the two miles setting, so we leave it at this while the fog is thick. The fog finally cleared at 0655 and it became much warmer.
Off Scotts Head the current against us increases to 1.5 knots so we decide to head out to sea to try and find the East Australian Current. We go out to 100 metres where it is only 0.5 knot, so we head south again. The wind comes on the nose so we pull the genoa in. At 0925 we start the second engine as we now need to average 6.5 knots to get to Port Macquarie by 1430 to cross the bar on an incoming tide.
We are doing 6.7 to 6.9 knots. At 0940 we pass Smoky Cape and soon after Fish Rock (we are well out to sea). At 1210 Ian Gowan phones. Ian was on Catlypso up at the Whitsundays and lives at Port Macquarie. He is at the bar and reports that it is good. We swap from genoa to screecher and turn off one engine but increase the one we are using to 2400 rpm. We are doing nearly 7.0 knots.
| | |
| --- | --- |
| | |
| Looking back at the bar at Port Macquarie | Catlypso at the public wharf at the boat ramp |
At 1410 we cross the bar. The tide has already turned, but according to our guide book it should not have done this till 1440. There is some swell but nothing is standing up or breaking. Anyway, we follow the lead light into the Hastings River and then motor up to the marina.
We anchor to the west of the boat ramp but are not happy, we are hanging right out into the channel and also too close to the shore. We decide to tie up to the public wharf next to the ramp. This wharf is the old one, a T type wharf. There is a new long wharf that the boats being launched use, so we should not impact on anyone. There is no sign saying you cannot use it. We are tied up by 1450.
The depth at the wharf shows as 0.5 metres (under our keel). As the tide still has to drop 0.4 metre, Michael checks the depth using a boat hook. The depth sounder appears to be picking up the depth from under the wharf, as under the boat is appears to be a bit deeper. I recommend it to anyone going into Port Macquarie.
After lunch, we get rid of rubbish (bins at the ramp), take Veto for a walk, top up the water tanks (hose at the fish cleaning table) and top up the fuel tank (38 litres) from our containers. Michael also climbs the mast to check out two aerials on the spreader. These are both moving. It looks like one mount is broken and the other is just loose (but not going to fall). We have no idea what they are for, perhaps the AM/FM radio.
We take Veto for another walk and at 1815 Ian and Sharon Gowan arrive. Ian takes Michael to a petrol station to refill the two containers he used. After they come back we have a drink (the girls are already on the sparkling). We then go to the Westport club which is a few minutes walk across the park (but we drive). Here we have an excellent dinner. They also have some good beers on tap, Coopers Pale Ale and 150 Lashes Pale Ale amongst them.
We are back on Catlypso by 2130. We give Veto another walk in the park, she loves the grass, she has not seen much in the past six months.
Stats:
Monday 19 October 2015 - Port Macquarie to Camden Haven
Coffs Harbour at top, Camden Haven at bottom, Port Macquarie above this
We get up at 0745 and after listening to the ABC Radio news, Michael takes Veto for a walk. Soon after, Belinda and Tim Hitchins arrive. Belinda's late husband, Noel, started South West Rocks Dive Centre and Michael became very close friends to them. Tim is their son, now 19 years old! How time flies.
They spend over an hour with us. We discuss a lot of things, their recent dive trip to Heron Island, Tim's business (using drones to video properties for real estate ads), his flying (he is a licensed pilot) and our trip. We have not seen either of them since we came up to Port a few years back for Belinda's birthday.
| | |
| --- | --- |
| | |
| Kelly, Belinda and Tim | The second of the baby humpback's breaches |
After they leave, we ready to depart. We leave the wharf at 0945. Note that a tourist boat operator came to us before and reckoned that the wharf we are on is used by charter boats. However, Tim actually works for one and says that no charter boats pick up passengers here. We motor out to the river entrance.
We cross the bar at 1000. There is no swell on the bar itself but out back there are a lot of waves standing up. You may recall that when we left here in May we had two huge waves stand right up and we crashed over the first and one broke on another boat behind us. We thread our way out through the various areas where there are almost breaking waves. It is about three hours after low tide so the tide is now running in.
Once outside we pull out the genoa in 6 knots of wind. We are doing 6 knots with one engine at 2200 rpm but into a 0.75 knot current. The seas are smooth, despite a few larger swells now and then. Once we turn south, we see a kayaker with a whale about 10 metres away. It is a southern right whale and when he moves, the whale appears to follow. What an amazing experience he must have had.
| | |
| --- | --- |
| | |
| Another of the baby humpback's breaches | Catlypso anchored off the wharf |
We motor sail and at 1215 Michael sees a splash of water on the starboard bow. A few seconds later there is a splash behind and then a baby humpback whale breaches less than 10 metres behind us. Shit! We did not even see this whale (since it was probably behind the screecher). The whale does a half dozen more breaches as we sail away.
There are some large swells as we near the entrance to the Camden Haven River. We keep a bit left of the leads as the worst seems to be on the right side. We motor in and surf on a couple of the swells, hitting over 10 knots. None break near us, but to the right they are breaking. We are about an hour before high tide.
We motor up the river towards the anchorage off the United Service Club. There are two boats on the wharf (available to use) and space for one more, but it would be tight. We decide to anchor off the wharf and at 1300 we are safely anchored.
Once the tide changes (about an hour after high at the bar), we swing all over the place as the wind has increased to 20 knots from the north.
Michael ends up sleeping for a few hours, the lack of sleep catching up with him, even though we got a good night's sleep last night. At 1715 we take Veto to the wharf and go for a walk. When we are at the marine rescue it looks like Catlypso is moving. However, it turns out that it was just a strong wind gust pushing her against the current.
We come back to Catlypso and have showers and sundowners. Michael makes fried rice and then cooks a flat beef on the barbecue.
We have decide to stay here till Friday as the wind over the next few days is forecast to be over 25 knots from the north. While we have sailed in that strength before, if it is more than forecast, it would be very uncomfortable. In addition, there is a very strong southerly change (40 knots) coming which will hit Sydney on late Wednesday. If we stay here it looks like we will totally miss it.
Stats:
Tuesday 20 October 2015 - Camden Haven
It was calm overnight and we get up at 0755. We take Veto for a walk and then have breakfast. About 0930 we notice that one of the yachts on the wharf has left and soon after the other one that was there when we arrived also moves off (Lorilei - John). He anchors out in the river. We decide to move over to the wharf so we put out fenders and lines and pull up our anchor.
The yacht that is still there is a cat called Toobara (Denis and Barbara) which we saw at Coffs Harbour a few days ago. They move forward and we ask them to move as far as possible so we can tie up behind. As we tie up, some woman comes down and says that you cannot tie up on the southern section of the wharf.
This is a big change since May when you could use the whole wharf. It seems that some commercial operator has convinced the council to make the southern almost half a 30 minute only area. More about this tomorrow. We move as far forward as possible, but it is impossible to fit two decent size yachts on the wharf without one impeding on the 30 minute zone.
| | |
| --- | --- |
| | |
| Catlypso at the wharf at Camden Haven | Having sundowners with Catlypso behind at the wharf |
We tie up and later the bloke who was on the yacht that left (a local) comes back and says that he is trying to fight the change to the wharf rules. Michael seems to think he knows him but it is not till much later that he recalls. He is Phil Bowman who Michael had a bit to do with 20 years ago when Phil was trying to get a marine park created off the Port Stephens area. Phil is also trying to get a floating pontoon as part of the wharf so more yachts can tie up.
We walk up to town and put on a load of washing at the laundromat (the most expensive we have encountered anywhere - $6 a wash and $1 for 4 minutes in the dryer) and then go to Coles. We get a few things and then come back to Catlypso for lunch. The wind is really blowing now, 17 to 22 knots and gusting to 26 knots, all from the north or north-east.
Kelly then goes back to put the clothes in the dryer. Michael also gets the key for the toilets and showers at the club ($50 deposit).
Michael uses the cutting polish to do the starboard upper steps (above the engine). We then go for a walk to the fish co-op. When we come back, Michael has a shower and we then have sundowners on shore at one of the tables in the park. Michael makes chicken schnitzel and Kelly mash potato for dinner.
Stats:
None as we did not move
Wednesday 21 October 2015 - Camden Haven
It was calm again overnight, the winds were nothing like the forecast. We get up at 0800 and Michael takes Veto ashore for a run. We then have breakfast. After this Michael does some more polishing, this time the smooth surfaces on the top of the hulls and the bows and foredeck. Kelly does some (real) work on the phone.
| | |
| --- | --- |
| | |
| Michael and Veto with Queens Lake behind | Kelly off Henry Kendall Reserve |
The yacht that left the wharf yesterday and anchored in the river is coming back in and tying up to Toobara so we help Denis. It is now blowing almost 20 knots so it is not that easy, but we get him tied up without mishap.
At 1125 we take Thunderbird 2 and head up the Camden Haven River. We go for about 15 minutes till we reach a lake. It is not all that exciting, so we head back. We go past Thunderbird 2 and turn left past the VMR base. This takes us to Queens Lake. This waterway is very nice, a small narrow channel which winds around. There is a really nice reserve about half way. This is Henry Kendall Reserve and there are some tables and toilets.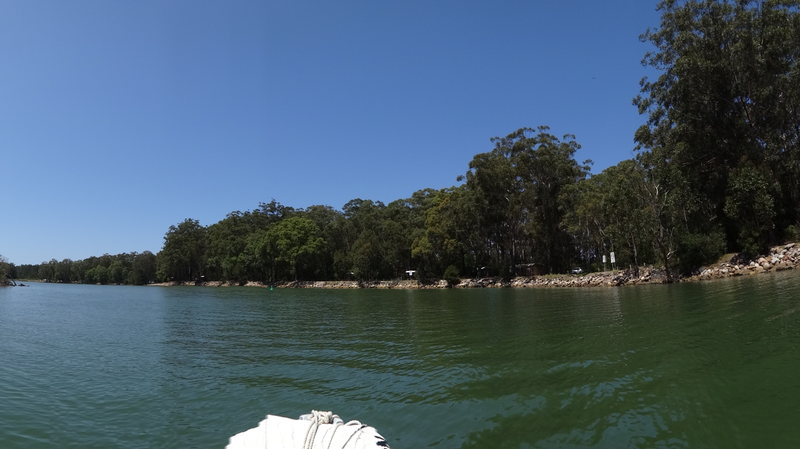 A panoramic photograph of Stingray Creek and Henry Kendall Reserve
When we get back to Catlypso, we walk to the fish co-op and get some lunch. Kelly has a dozen oysters (very nice she says) and we have calamari and chips. This is also very good.
Back on Catlypso, Michael refuels Thunderbird 2 (he already put some more fuel in earlier) and also greases the outboard's steering. However, he runs out of grease and walks to the shops to get some more. As usual, he has problems putting the new cartridge in, but eventually he gets it working. Kelly checks on the port bow to see if we got any water in after her repairs to stop the leak. It seems to have worked.
| | |
| --- | --- |
| | |
| Henry Kendall Reserve | One of the many pelicans near the wharf |
The woman who told us yesterday about the 30 minute restriction comes back. Seem she works for a boat charter and they intend to use the wharf tomorrow, so we have to move all three boats forward about three metres. This really is ridiculous, it seems that they only do one or two trips a week and yet half the wharf is basically unusable by the people it was meant for, yachties. There are at least four public wharves that this charter boat could use as well as where they moor!!!
We have showers and then a drink on the shore. Denis and Barbara later join us as does John. We are not that hungry after the lunch we had, so we have very simple dinners, Michael soup and a roll and Kelly an omelette.
Stats:
None as we did not move
Thursday 22 October 2015 - Camden Haven
It is raining when we get up at 0755. Once again Veto vomited on the doona, no idea why as she is okay after this. It is calm.
After breakfast, one of the owners of the charter boat that uses the wharf came along and rudely tells us to move. He makes all sorts of wild claims, that the Lands Department told the club to put the 30 minute parking signs there and more. We know for a fact that the wharf is owned by council, not the Lands Department. He also threatens to ram us if we do not move. He says they will be there at 1000.
After he leaves we move as far forward as we can without hitting Toobara. Michael later measures the wharf, they are claiming access to 21 metres of the 42 metre long wharf and southern extension. This means that only one yacht of the size we have normally encountered on this trip can now use the wharf. We leave them 16 metres of the wharf and the extension the way we are parked. Their boat is 18 metres long according to their web site.
Well, the boat turns up at 0925 and moors. It certainly does not need the whole 21 metres they are claiming and the 16 metres they have is more than enough (meaning at the very least the no parking sign should be moved to the next pole to the south). They also overhang the southern end (the small floating wharf) and impinge on small boats use of this wharf.
| | |
| --- | --- |
| | |
| The Laurieton Marina Reserve wharf | The charter boat at the wharf, see how much space it takes up |
At least the wife (the woman who turned up on previous days) apologises to a certain extent for her husband's behaviour as they tie up. It seems that she is the licensed skipper, not him, (again according to their web site) and he should not be driving the boat. I should also point out that I became a licensed coxswain in NSW in 1989.
Of course, the time limit for use of the section of wharf they are on is 30 minutes and by 1000 they have now overstayed the time limit. It seems that rules do not apply to them, just yachties. They leave after 45 minutes. It seems that they started this operation in late 2013, having come from Sydney.
Kelly later goes to the club and speaks to the manager. He confirms that the council owns the wharf and that the club manages it. The change to the use pattern happened after the charter boat was staying on the end of the wharf for days at a time. Of course this is contrary to the reason the wharf was built in the first place, to provide a tie up point for visiting yachts, not local commercial operators.
He says that the club was forced to try to find a solution and he agrees that the one in place is not working. He also says he has had many other complaints by yachties about how aggressive the charter operators behaviour is and the whole thing is a thorn in his side.
They come back after 1200 and drop off their passengers. They only had nine people on board, all appear to be pensioners. Their web site also shows they only do three charters a week (the Tuesday one certainly did not go ahead this week). At the rate they charge, the amount that they brought into the community today is about half what we have and will spend in Laurieton while we are tied up to the wharf. Which do you think is a better use of the wharf?
Later we decide to walk up to look at the other wharves and where they are moored. It rains so we turn around before we get there. We later go back and find that they certainly could use access from the fuel wharf next to where they are tied up (at the marina) but would need to build a long gangplank. This is certainly not impossible but would cost a bit of money, but not an outrageous amount.
They could also use the main wharf with a modified L shape ramp or even put in a lift like we used on dive boats in Scotland and England. This would probably be the cheapest solution which would let them access many wharves. So it seems that they purchased a boat without thinking of where and how to load passengers, particularly elderly ones (probably their main clientele), and just want the cheapest solution (use a wharf built for some other purpose). There is also another even better floating wharf at the boat ramp near North Haven. This would be perfect.
At 1600 a thunderstorm comes over with a tiny bit of hail at the start. It really pours down before easing up. At 1710 the rain comes back again.
After a shower, we go to the club and have dinner. There are some good value meals and we have an excellent dinner with some nice beers (a new one Tooheys Pale Ale) and a sparkling wine. We are back on Catlypso by 2045 and the southerly change appears to have arrived, although it is very light at the moment.
Stats:
None as we did not move
Friday 23 October 2015 - Camden Haven
Well, a different night than the previous ones that is for sure. The southerly dramatically increases, perhaps about 0000 and at 0145 it is really raging, waking us up. Michael turns on the wind instrument and it is blowing well over 35 knots. By 0245 it is much less but there are still gusts over 30 knots. He checks the maximum, 54.1 knots!!
After not sleeping much, we get a better sleep from 0300. We get up at 0830, the wind is still 20 to 25 knots. Michael takes Veto for a walk to the shops to get a newspaper. While he is away Kelly finds some water leaks (she actually found some during the night). One is on the starboard side forward where we had a leak back in April/May and we thought we fixed. The other is on the port side near where we had a leak opposite the navigation table. This is a different leak to the one we fixed at the same time.
Later Michael has a look and thinks he can see where the water is coming in. It is actually coming in from the bottom of the windows and the extremely strong wind from last night has forced it upwards and over the fibreglass where the window is attached. He tapes the edges and later puts silicon over the joint. Meanwhile Kelly cleans up the water and dries everything out, including three of our books.
It is quite cold today, the wind is still over 20 knots most of the time. We go for a walk to the north along the pathway. This goes to an oyster farmer's operation and then the road to Port Macquarie. We have to turn back there as they are replacing the bridge over Stingray Creek and they were moving a telegraph pole so everything was blocked off.
We are invited to dinner at the local Indian restaurant tonight by Denis, Barbara and John. It is Denis's birthday tomorrow and John's next week. Michael removes the tape on the leak repairs and we have showers and get ready for dinner.
We also check the web cameras for the Camden Haven bar, it looks quite calm which is amazing as there is a swell of 3 to 5 metres at the Crowdy Head wave recorder. Our intention at this time is to leave early tomorrow morning and head for Port Stephens. The winds are supposed to drop off during the evening and tomorrow should have light winds till about lunchtime when they increase but from a favourable northerly direction.
We walk up to the Bollywood restaurant in the main street. It is a BYO so Michael goes and gets some beer and wine from the bottleshop (we forgot ours on the boat). We have an excellent dinner, five mains, rice and other bits, really good food and more than enough for us. The cost, $25 each including tip. We also have a lot of interesting conversations about our adventures, John and Denis certainly have a few stories. Highly recommended.
After dinner we drop into the club to give back our toilet/shower key. There is a lot of people there so it takes a while as you have to go to the poker machine desk. We get back our deposit ($50) and head back to Catlypso. We say goodbye to Denis, Barbara and John. The wind has dropped to about 10 knots.
Stats:
None as we did not move
Saturday 24 October 2015 - Camden Haven to Port Stephens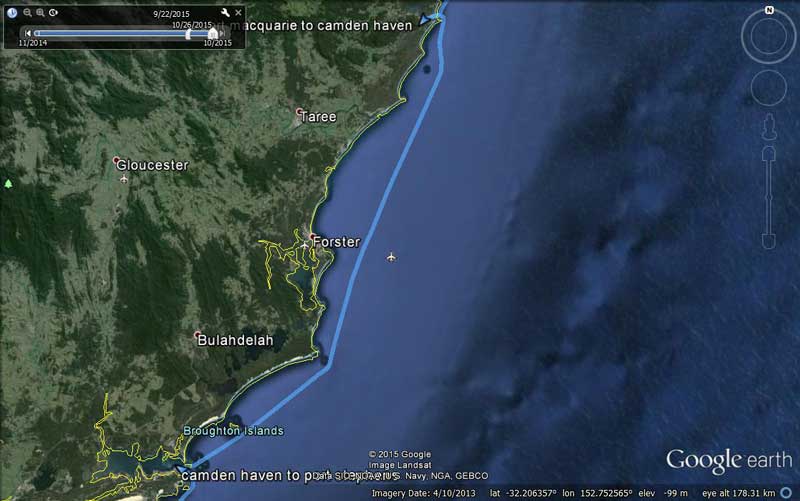 Camden Haven at top, Port Stephens at bottom
It is very calm when we get up at 0500, the wind is about 5 knots from the north-west. We prepare to leave, make tea and coffee and get rid of some last minute rubbish as well as take Veto for a quick walk. It is a bit darker than we thought it would be so we linger a while before leaving the wharf at 0545 with help from Denis. It is drizzling as we cast off.
We motor down the river, getting every thing ready for the bar crossing. We log on to marine rescue (as we always do) and line up the leads for the bar. There is some swell coming in but the only breaking waves are on the western/northern breakwater as is normal. We have a couple of waves stand up a little, but there is no problem at all.
Once outside we head out to sea and round the outside of Telegraph Rocks which are breaking violently (the paddle steamer Telegraph hit them 8 October 1867 and sank). When clear of the rocks we head south and pull out the screecher. The swell is about 2.5 to 4.5 metres at the moment but it later drops to 2 to 4 metres.
The wind is variable, 9 to 15 knots and sometimes even less. We need to average 6.5 knots to make it by 1830, so we need an engine running all day to achieve this as the winds are not strong enough except right at the end. The engine we have on we is running at 2500 rpm rather than the normal 2200 rpm. This means our fuel consumption will be much higher than normal, but we need to do this to make Port Stephens well before sunset.
| | |
| --- | --- |
| | |
| Sailing down towards Crowdy Head | The police boat towing the small boat |
We are making 6 to 7.5 knots depending on the actual wind direction and speed. The wind is still from the west or north-west. At one stage we change to the genoa as the wind goes more on the nose but we soon change again back to the screecher. Toobara has chosen to go in close whereas we are out wide. I think we have more wind based on our radio conversation with Denis.
We pass Crowdy Head at 0820 and make some toast for breakfast. It is still overcast and quite cool. Around this time Kelly asks if Michael can hear some noise on the deck. When Michael finally does hear it, he also sees what is making it. The long boat hook goes sliding forward and disappears. Kelly takes over steering while Michael goes forward to see where it went. Luckily it has caught on the trampoline lines. He gathers it and comes back. It was left on the deck a few days ago it would seem.
By 1030 most of the chop has gone from the seas, although there is still a large swell running. At 1145 we pass Forster and check in with marine rescue. We end up pulling in the screecher as the wind is now from astern and is less than the boat speed. As such, it is flopping all over the place. Within 30 minutes the wind has moved more to the east and we pull it back out on the starboard side. We are doing 7 to 8 knots as we pass Seal Rocks at 1350 but we have to change direction here and now the wind is right behind us which slows us up a bit.
At 1535 we pass a large Police boat which is attaching a tow line to a small boat. They head off and soon pass us, heading back to Port Stephens. The wind increases as we get closer to Port Stephens and the seas get a bit rougher. We come in between Cabbage Tree and Boondelbah Islands and enter Port Stephens.
| | |
| --- | --- |
| | |
| Broughton Island from the east side | At the mooring off Anna Bay |
We use the southern entrance which is shallower and come around into Shoal Bay. We grab one of the public moorings at 1730. By now the wind is blowing well over 20 knots, far stronger than at any time during the day. Michael takes Veto to shore and then tops up the fuel tank from containers. As predicted, we have used a lot more fuel per hour than normal, 3.1 litres an engine hour.
We have showers and a very late sundowners. We have curry beef and rice for dinner. Michael also flushes the watermaker, something he should have done two days ago!! About 2015 the boat starts moving erratically on the mooring. Even though the wind is over 20 knots, we are being turned sideways to the wind by the tide. It is not a huge tide, so this is quite strange. We end up having to shorten the mooring line and also tie off the buoy in the middle to stop it bashing into the hulls. Looks like we will not get much sleep for the first half of the night till the tide starts to come back in.
The plan for tomorrow is to head to Pittwater/Broken Bay. The winds are forecast to be quite strong (over 20 knots) from about 1400 or 1500, so we will start early to try to miss this. However, considering the forecast for tonight was only 10 to 15 knots and it is consistently over 20 knots and hit 27 knots, we are not sure what to believe any more.
Stats:
Sunday 25 October 2015 - Port Stephens to Refuge Bay, Broken Bay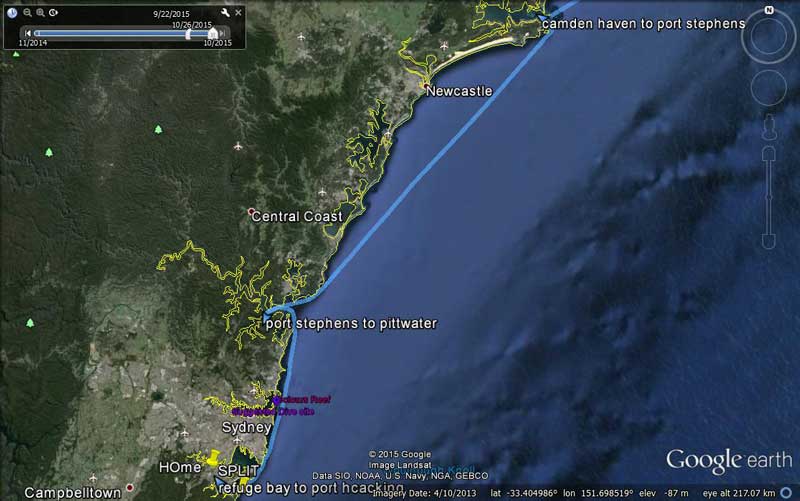 Port Stephens at top, Refuge Bay middle and Port Hacking at bottom
It was a lot calmer after the wind eased around 2115 last night. Michael slept well till 0445 but Kelly had a restless sleep. We get up at 0500 and the wind is 10 knots maximum from the north. We make tea and coffee and at 0530 we leave the mooring (the last time we will ever use one here that is for sure).
We motor out via the southern entrance and once out near Fingal Head we pull out the screecher. We are using the radar to assist us as it is still quite dark. Once outside Fingal Head we turn towards the south and motorsail at 2400 rpm. We have wind of about 12 to 14 knots and are we are doing 7.3 to 7.7 knots.
It is a long and quite boring sail for the next 8 hours as we cross Stockton Bight and pass the port of Newcastle. There are nowhere as many coal ships waiting outside as when we passed in May, we only count about six on the AIS. There were almost a couple of dozen back then and even more last year, a sure sign that the coal industry is on the downward slide.
Looking towards Fingal Bay and Port Stephens as the sun rises
Looking out to sea as we come into Broken Bay,
Lion Island at left and Barrenjoey Headland right
We do not see any whales, but for the first hour or so we have a lot of problems with buoys. These appear to be attached to fish traps, 60 metres or more down. Very annoying and dangerous to all boats, especially those sailing at night. Should be banned!!! We later have quite a few pods of dolphins come to the boat, but most only stay for a few seconds before disappearing.
The wind later dies to 7 to 8 knots and is right behind us. It is giving us no benefit at all so we pull in the sail. We end up starting a second engine as we need to average well over 6 knots to get to Broken Bay well before sunset and also to get to the anchorage we want which is a fair way from the entrance. We are also running the engines at higher revs than normal.
The wind increases about 1155 so we put out the screecher and turn off one engine. The wind is now about 12 knots and later it gradually increases till it is 18 to 20 knots with gusts to 24 knots. We are doing 7 to 7.5 knots. Later the wind gets to 22 to 26 knots. It calms a bit for 30 minutes (15 knots) and then goes back over 20 knots.
| | |
| --- | --- |
| | |
| Catlypso in Refuge Bay | On the beach at the waterfall, Catlypso in middle |
We enter Broken Bay and gradually the wind drops as do the seas. The swell was quite large this morning with a lot of chop but by 1100 it had abated a lot. After 1400 it got quite rough when the wind went over 25 knots. We pull in the screecher as we pass Lion Island as the wind goes less than our boat speed (and it is still mostly behind us).
We motor through all the yachts sailing back to their moorings (it is Sunday afternoon of course) and go into Refuge Bay. We could have went to Coasters Retreat (The Basin) but since the forecast is for the north-easterly wind to stay strong all night, we decide to go further in to this extremely protected anchorage.
Refuge Bay/America Bay is certainly the best bay we have ever anchored in or seen. It has large hills to all but the north-west direction. We were here over the Christmas 2014 to New Year 2015. At 1640 we grab a mooring owned by the Royal Motor Yacht Club (Broken Bay). We are members of the Port Hacking branch so have reciprocal rights. The one we get is right near the waterfall and beach.
| | |
| --- | --- |
| | |
| The waterfall from Catlypso | Our last sundowners of the trip |
After mooring, we take Veto to the beach, she has not been ashore for almost 24 hours. She is relieved. We come back to Catlypso and have showers and then our last sundowners of the trip. Michael makes fried rice and then cooks pork spare ribs in BBQ sauce. Kelly makes a dessert of mixed berries and ice cream. A great last dinner of the trip.
We have also hit the 3,000 nautical mile of the trip.
Stats:
Monday 26 October 2015 - Refuge Bay, Broken Bay to Yowie Bay, Port Hacking
This was probably the calmest night of the six month trip. We get up at 0545 and Michael takes Veto to the beach. Kelly makes tea and coffee and at 0615 we head off. We motor out against the incoming tide and once outside find that the seas are still big but relatively calm.
We try twice to use the screecher but the wind is so light (less than 8 knots) and from behind, it is just flapping around. We continue to motor using both engines as we want to get home before the forecast thunderstorms hit. We dump the holding tank along the way.
| | |
| --- | --- |
| | |
| Sunrise lights up the shore as we leave Refuge Bay | Sydney Harbour, North Head at right |
As we approach Sydney Harbour, HMAS Warramunga comes out and is on a collision course with us. Kelly pulls off the power as we are not sure what they are doing, even though they have AIS. Michael calls them on channel 16 VHF but they do not respond. Not good boat etiquette, even for a warship.
The seas calm down a bit as the day goes on and as we approach Maroubra Michael is advised by his sister Janelle that she will go to Little Bay to watch us pass by. Michael comes in close to the shore as we go by, but Janelle finds her camera does not have its battery in it! As we pass Botany Bay, a humpback whale breaches only 100 metres from us. It does it a few more times and we have to take evasive action to stay a safe distance away.
| | |
| --- | --- |
| | |
| HMAS Warramunga passes in front of us | Passing Maroubra Beach |
As we come into Bate Bay (off Cronulla), the wind has dropped to almost nothing. Before this it has turned to the south, something it was not supposed to do till about 2000. However, it has only been a maximum of 10 knots.
We enter Port Hacking, our home port, and Kelly logs off with Marine Rescue Sydney. We motor up the Hacking River, it is almost low tide and as normal, it is very shallow off Shiprock, less than 0.5 metres under the keels. As we pass Lilli Pilli, Janelle, Isabelle and Michael's Mum are waiting for us and wave to us. We get into Yowie Bay where we have our mooring at 1230.
We are not sure which of two vacant moorings is ours. Neither has a number on it (ours certainly did when we left in May). We grab one and then realise that it probably is not ours. Michael takes Thunderbird 2 and goes over to the other one. He decides that this is probably ours since the mooring lines are much dirtier, whereas the one we are on has a clean upper metre.
| | |
| --- | --- |
| | |
| The whale that breached off Botany Bay's entrance | Port Hacking and Cronulla, our home port |
We check on the laptop and agree that the other one is our mooring. We motor over and re-moor. It is 1250. Kelly has already got some things together and once we have secured the boat, we take Thunderbird 2 and motor over to the Yowie Bay wharf. Janelle is waiting there with Isabelle and Mum. We spend some time chatting before Janelle takes Michael home.
There he attempts to start his Toyota Prado but it does not even kick over (we later learn that the battery has been disconnected). He then uses Kelly's Suburu to bring back the small inflatable we use to get out to Catlypso. Just as he leaves home, a huge thunderstorm hits, with lightning, heavy rain and wind of up to 50 knots. Luckily it does not last long, but Kelly reports that it was very intense on Catlypso.
Once he gets to the wharf/ramp, Michael puts the smaller inflatable into the water. Kelly arrives in Thunderbird 2 with a lot of things from the boat. These are loaded into the Suburu. Michael uses Thunderbird 2 to tow the smaller inflatable back to Catlypso.
Back on Catlypso, Michael needs to put Thunderbird 2 back onto the tender davits, close the sea cocks and empty the freezer. He checks that everything is okay and comes back to the ramp. We then head home.
We are no sooner home than the neighbours start coming over. We end up having beers and wine with them as the kids play cricket in the middle of the strip (they have started doing this since we left in May). It is great to be home, we have such brilliant neighbours.
Stats:
SUMMARY
Well, the trip is over, we had a great time, but it is also good to be home. The following are some statistics related to the trip.
Distance covered: 3,045 nautical miles (5,640 kilometres)
Nights: 186
Anchored: 120
Moored: 39
Marina: 15
Wharf: 6
Hardstand: 5
Sailing: 1
Engine hours: 538.9
Fuel: 1,246 litres
Cost: $1,671
Litres per engine hour: 2.3
Lightwave Yachts seen: 21
Favourite place: Bait Reef