Day 4 - Sunday 4 April 2010 - Kookaburra to Georges Junction, Macleay River
For the previous part of this trip, click here.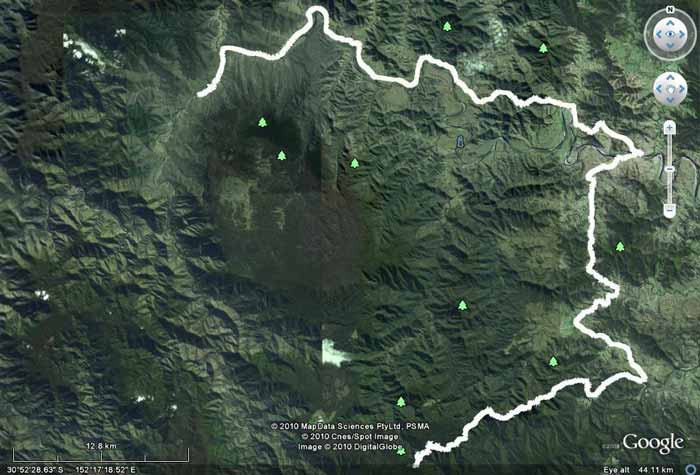 Day Four - Kookaburra is at bottom, Georges Junction top left
It was a lot warmer last night, about 12ÂșC minimum this morning. Daylight Saving ended last night so we get extra sleep. We get up about 7:30 and have breakfast. While we do, Kelly gets two leaches on her from the grass around the car. Another slow start to the morning and at 8:55 am we depart.
Kookaburra is located at the intersection of Coachwood and Carrai Roads so we take Carrai Road but this time head north on it. About 500 metres along we take a sharp left that is not sign-posted. This leads to the Stockyard Lookout. This overlooks the Kookaburra or Stockyard Creek Waterfall that we walked to on Friday afternoon.
It is about 60 metres from the rough car park (which would be a nice camping site - has a metal barbecue) to the lookout. Unfortunately there are a few small trees now blocking the best views so you have to climb over the fence to get a decent photograph. A pity they are not kept cut back. Note that the sign here says the lookout is 600 metres away but it is more like 60 metres. I suspect that the forestry worker entrusted to install the sign was supposed to put it back on the main road which is about 600 metres away.
The view of Kookaburra Falls from the lookout
Ron cuts the stump while Eric prepares to limbo
under the fallen tree near the start of McCoys Trail
At 9:15 am we head off and once back on the Carrai Road, we turn left. A very short distance along we turn right onto McCoys Trail. This has a sign there and I am pretty sure that is says the track is locked further on. However, as we have the key (the gate is on private property), we head down the track. Even if you do not have the key, it is well worth doing this track as you will see. Otherwise, continue north on Carrai Road and you will eventually come to the road that leads to the Kempsy-Armidale Road.
We do not get far before we come across the first of many fallen trees. This one is at an acute angle falling from the right. Eric is leading and he is having trouble. There is one trunk that has been partially broken by the falling tree. This is stopping him from getting past so he breaks it off with his bullbar. A quick few chops with an axe and he can get over the stump. Ron and I are a lot lower and we clear the tree easily.
We soon come across another tree. This is a much bigger one and has totally blocked the track. We spend some time cutting it up and pulling it off the track. A further 300 metres along we come to another larger but simpler to clear tree across the track. We cut it into a few pieces and remove it to the side of the track.
A short distance along there is another tree that we need to cut and remove. Just past here there are excellent views to the left and right as the track runs on the very top of a ridge that drops off very steeply on both sides.
At 10:30 am we turn right, still on McCoys Trail. It has taken us almost 90 minutes to travel eight kilometres. Fifteen minutes later (two kilometres) we stop for morning tea on a saddle. We are back on the track at 11:10 am and four kilometres on we turn right onto Toorumbee Trail. Apparently straight ahead is a dead end. This road was put in many years ago so that a drilling rig could access the area to drill cores for scientific purposes.
This is one of the trees we had to clear
- Kelly and I hard at work
Thousands of these ants came out of the tree
I would recommend turning around here or perhaps going out to the end on the other track. As we have the key to the gate, we continue down Toorumbee Trail. The track now starts to drop a fair bit. We end up down in the valley and on what appears to be private property. We have to cross a few creeks. They are fairly shallow, but the first one is very rough.
Nine kilometres from the intersection, we come to the locked gate. We go through the gate and turn left onto Willi Willi Road. We come to Carrai Road and continue on via Fifes Creek Road to Bellbrook. We come across the Macleay River on the western side of the town.
| | |
| --- | --- |
| | |
| The second tree we had to remove from the track | Near where we had morning tea on McCoys |
At the Kempsey-Armidale Road we turn right and straight ahead is the Bellbrook Hotel. We are having lunch here. We arrive at 1:20 pm. It has taken us four and a half hours to travel the 58 kilometres. Already at the pub are Jane's parents who have come up to deliver a jerry can of diesel for Eric's Land Rover (it only has a small tank) and to have lunch with them.
We order lunch from the bistro. A small selection but reasonably priced. As it is Easter Sunday, there are a lot of people here. Luckily, most have already had lunch and are leaving. Still, it takes almost an hour for our meals to come as there were still quite a few ordering when we arrive. We have a light beer and then another. I have a simple hamburger and chips and it is not too bad, although the chips could have been cooked for longer.
| | |
| --- | --- |
| | |
| Grass trees along McCoys Trail | The Bellbrook Hotel |
We leave the hotel and drive back up the road to the general store. We need some bread and milk. This place also is a cafe, pizzeria, fuel station and also has the largest collection of tea spoons south of the Equator. We also all buy an ice cream!
We leave at 3:00 pm. We head west on the Kempsey-Armidale Road. This is not the best road, still in the same poor condition as when I last drove it in 1994. It is narrow, windy and in spots very rough. The first section out of Bellbrook is tar but it soon becomes a gravel road. Twenty five minutes later and 21 kilometres along we see Blackbird Reserve. There are a lot of people camped here (I presume that it is a council run reserve).
At 4:00 pm we arrive at Georges Junction Reserve. It has taken one hour to travel the 47 kilometres, exactly 47 km/h, so you can see what the road is like. This is at the junction of Georges Creek and the Macleay River. It has some large flat and grassed areas for camping. Again, it appears to be a council reserve as there are council garbage bins here. There are quite a few people camped here, but there is still a lot of space.
We are not planning to camp right here as Eric has some sites further up the river in mind. However, first we have to cross the Macleay River.
We drive down to the water's edge along the obvious track. This entails crossing what would in high water levels be already underwater but normally are sandy/rocky beaches. It is quite a way across the river, at least 75 metres. However, the crossing appears to be a natural or at least part natural causeway. It heads off in one direction before dog-legging to the left on the opposite back. The water level is higher than normal due to rain last week and probably because of the rain that fell months ago much higher up.
Eric goes first in the Land Rover Defender. He does it easy, as he has higher clearance than we do. Ron comes across in his newer Toyota Prado. It has raised suspension but is not has high off the ground as the Defender., It is shallow for most of the crossing but in one spot it gets deeper and he looses traction a little. When this happens, he is slightly shifted sideways by the waterflow. He soon regains traction and completes the crossing without incident.
I go last. Our Toyota Prado also has raised suspension. When we gets to the same spot, we experience exactly the same thing as Ron.
Coming up a rocky section of the track
after crossing the Macleay River
Our Macleay River camp site
Once across, we follow the track along the eastern side of the river (the river runs south to north here). There are a couple of creek crossings, not much water, but the approaches to one are very rough and require slow driving.
We go down a side track towards the river but find no suitable area and continue on. At 4:35 pm we see another spot right next to some huge sloping rocks. It appears that some hoons have attempted to drive up them in the wet, marking the rocks. The site is just below the track and right next to the river. There is space for our three vehicles (and possibly one more) on a nice flat grassed section. We set up camp and then collect some timber from nearby for the night's fire. We soon have the fire going and have nibblies and drinks.
Kelly and I are having a barbecue tonight. We cook some lamb loin chops and sausages and this goes down well with our wine and beer. We watch the stars for the rest of the night. It is clear and we see three satellites and three shooting stars.
Kelly and I go to bed at 10:00 pm and once again sleep very well. It is much warmer during the night.
Kilometres: 110 kilometres
Weather: Fine, maximum of 25ÂșC
For the next part of this trip, click here.