On my second trip to Heron Island in October 1989 for the Heron Island Dive Festival, I dived only one dive on the western side of the Heron Island reef. This was Harrys Bommie.

Harrys Bommie is located to the south of the entrance to the small harbour at Heron Island. As such, it is one of the closest dive sites but is not dived all that often as most of the diving is on the eastern and northern sides of the reef.

The site consists of a huge coral bommie that is located just off the main fringing reef which runs in a roughly south-east to north-west direction.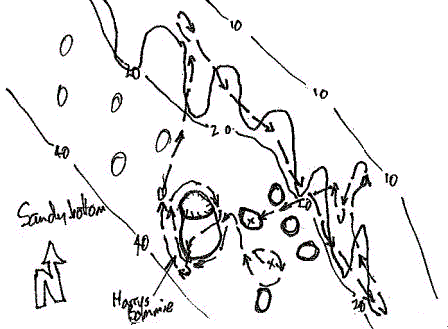 A very rough map I drew of Harrys Bommie in 1989
Note depths are in feet
There is a mooring on top of a smaller bommie a few metres to the east of the large bommie. Once on the bottom, head to the large Harrys Bommie. This is quite shallow on the top, perhaps five metres from memory. The bottom of the bommie is 10 to 12 metres deep. Circle it and check out all the marine life on and in it. From the bommie head north to the main wall.
You will gradually rise to six metres at the bottom of the main reef wall. The bottom is sand with some small isolated coral outcrops. The wall runs in a ~~ sort of direction, with at least five small bays or inlets along its length right adjacent to Harrys Bommie.
Go up on the top of the reef and you will see that it is very interesting. The coral here is (or at least was) very colourful. There were lots of small gorgonias and seawhips. The inlets were home to lots of fish like fusiliers.
Follow the reef north-west for a short distance before turning around and heading south-east. As you go, drop over to the reef bottom and check out the overhangs for more life. Things like firefish and flutemouth can be seen in these spots.
As you go along, all the inlets and between the third and fourth ones you will see five smaller bommies. This is near the mooring. Keep going and after the fifth one come back to the smaller bommies and spend the rest of your time here and around the main Harrys Bommie.
Other fish seen here include parrotfish and unicornfish. I also saw lots of nudibranchs and starfish. This site also had the best visibility of all my dives at Heron Island, perhaps 30 metres. Not a bad dive from memory.
Note this article was written in 2008 so my memory may be a bit out with some aspects of the dive site and things may have changed in the almost 20 years since I last dived there.