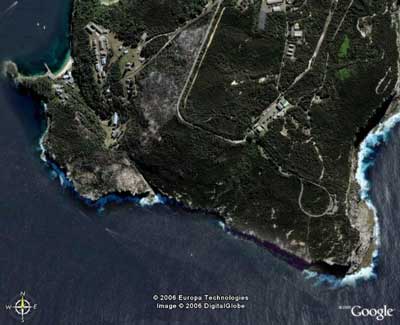 North Head - you can dive anywhere along here
Old Mans Hat is above the word Europe

The northern headland of the entrance to Sydney Harbour is called, not surprisingly, North Head. It runs in an east-west direction for over a kilometre and a half. All along this section there is excellent diving, especially when the north-easterly sea breeze is blowing strongly.

A favourite way to dive here is to do it as a drift dive. If the tide is running in, drop in out towards the ocean and if on an outgoing tide, start towards the Harbour. Alternatively, you can anchor in any location a (simply run in towards the land and drop anchor when the bottom comes up). A good spot is 33° 49' 18.9"S 151° 17' 35.3"E (using AUS66 as datum - see My GPS Page for more details). Maximum depth is in the order of 24 metres, although it may get deeper towards the ocean.

Once on the bottom, follow the sand edge in your chosen direction and return shallower (if anchored) or follow the sand edge if drifting till your bottom time gets low and then come shallower. The reef here consists of a lot of small boulders on the sand and some low walls behind this. There are some much larger boulders off the reef as well. The most spectacular feature of this location is the sponge gardens, absolutely brilliant. Sponges of all colours, sea squirts, ascidians, gorgonias and other fixed marine life is just the start of it.

If you head east from this spot, there are lot of boulders to explore. I normally spend about 10 minutes going in this direction at a depth of about 22 metres before coming up the reef to about 18 metres. From here, I turn back to the west and go back towards the anchor.

There are a number of very spectacular walls along here as well as some overhangs, small canyons and a couple of very good swim-throughs. This is a great section of reef. The overhangs are home to lots of ladder-finned pomfrets, seapike and even Port Jackson sharks in late Winter.

Once you get back near the anchor, head further west. There are more nice walls and boulders, with many overhangs. I normally go about 8 minutes past here (time will be about 28 minutes). Then, turn around again and go back to the east to the anchor. You should be back there about 38 minutes. Doing the dive as I have described, you will only have about 40 minutes bottom time, so it will be time to ascend.

The fishlife is also very good, with bream, sweep, luderick, yellowtail the most prolific. There are also a lot of black reef and six-spined leatherjackets. On the sand there are also sea dragons and if you are lucky, you may see a red indianfish.

If you need an anchor, there are numerous abandoned ones all over this dive site. In June 2010 we found two really good ones with lots of chain.

This is a great dive location (or in reality, a number of locations). Dive it again and again.