On 29 April 1770, Lieutenant James Cook, RN, in HM Bark Endeavour entered Botany Bay and stepped ashore at Kurnell. Cook and his crew, including the famous scientist Sir Joseph Banks and his assistant Daniel Solander, explored the area of the bay and originally named it Stingray Harbour because of the large number of rays they caught. Cook stayed eight days and then headed north.

If Banks and Solander had been able to examine the waters of the bay in greater detail and to a greater depth, they would have discovered one of the most fascinating and beautiful of all sea creatures, the sea dragon. In this article I will describe a dive site where I guarantee that if you look carefully you will see at least one common sea dragon on every dive. I have seen up to 20 sea dragons on a single dive and it not uncommon to see 10 or more. This is considerably more than in the late 1980s when you would only see a maximum of about seven or eight sea dragons on a dive.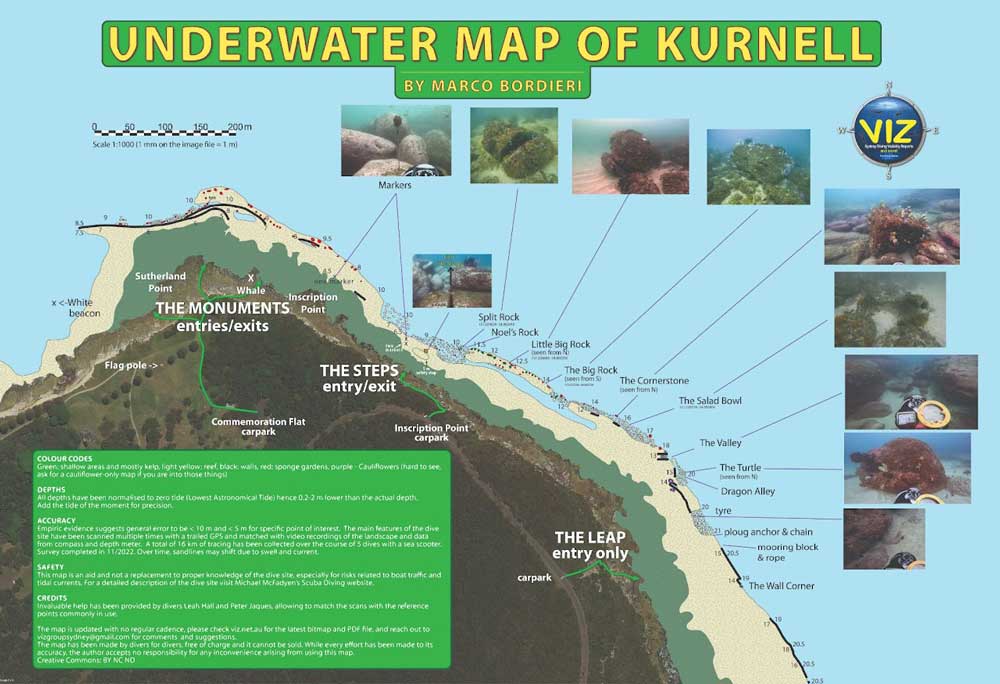 A new underwater map of Kurnell created by Marco Bordieri from www.viz.net.au.
For a much larger pdf version of this map, click here.
Used with permission of Marco Bordieri
Both headlands of Botany Bay are part of Botany Bay National Park. The southern side is known as the Captain Cooks Landing Place section of the national park and is accessed from Captain Cook Drive at Kurnell. A fee is charged to use the park's facilities.
After entering the park, travel along the main park road towards Cape Solander and past the turn-offs to the visitor centre and Sutherland Point (named by Cook after one of his seamen, Forby Sutherland, who is buried nearby). About 1.5 kilometres into the park you will see a 90° parking area on your left running parallel to the roadway. There is always plenty of parking space available.
A more detailed section of Inscription Point dive site created by Marco Bordieri from www.viz.net.au.
For a much larger pdf version of this map, click here.
Used with permission of Marco Bordieri
In the middle of the parking area there is a stairway which leads halfway down the cliff face. This gives the alternate name to the dive site, The Steps. Note that back in the 1980s there was a ladder not steps, hence why it was then not called The Steps. Also, in more recent years - since about 1997 - some have started referring to Inscription Point dive site as being the one more correctly known as The Monuments.
Anyway, before you gear up, first check that the entrance and exit spot is safe as it larger seas it can be very dangerous. If you walk down the first section you will see a narrow set of steps between rock. You can climb over the handrail on your left onto the flat rock and from here you can see near the entrance spot. Make sure there is nothing more than very low waves visible. Note that at very high tides even small waves can become difficult for exiting.
In addition, you can check before leaving home by looking at NSW Port Authority Wind and Tides website page. Look specifically at the Captain Cook (Directional) Wave buoy. Click on the link. If the swell is over 0.8 metres maximum, then it is probably not safe to dive here.
After gearing up, take the stairway down the cliff and then follow the walkway and small board-walk to the west. From here you can easily walk down onto the rock platform. A very good entry and exit point can be found in the small inlet as shown on the attached map. There is really only one entry and exit spot, nothing else is possible or safe.
After entering the water, swim on the surface towards Bare Island for about 20 metres. Sink to the bottom and you should be on kelp. Swim north and soon you will see some boulders that are mostly clean of growth. On your left you should pass a larger one, this is a good spot to note for your exit and safety stop.
Continue to swim towards north until you reach the sandy bottom which is at a depth of about 10 metres. Here you will encounter a bottom littered with large boulders, mostly covered with a prolific sponge garden. Under the boulders you will find bullseyes, roughies and other fish. There are also at times Bare Island anglerfish seen in these boulders.
The entry and exit point is below the two divers
Follow the sand edge to the east and the water gradually gets deeper to about 15 metres. This dive used to have one of the best sponge gardens in Sydney. However, over the period from about 1994 to 1998 a species of grass, probably from overseas and imported in bilge water in one of the giant ships that service the Port of Botany, grew over everything. Nearly every section was totally covered. Although in some spots it looked nice, in reality it totally smothered the sponges and at that time only a few remained untouched.
| | |
| --- | --- |
| | |
| The boulders in the shallower section of Inscription Point | A sea dragon on the sand |
| | |
| A sea dragon amongst the kelp at Inscription Point | A close up of a common sea dragon at Inscription Point |
Note: on my dive here on 13 September 1998, the sea grass appeared to have died off somewhat and on my dives here in December 2000, May 2001, September 2001 and April 2003 it was far less prominent, with large areas now clear of grass. In February 2006 I did not see any at all, with huge sections of what appears to be the dead roots of the plant. This was a temporary aberration as since 2006 the weed has come back a little and then disappeared again. In January 2010 it was mostly absent. but in January and February 2011 it is back a bit. Since then it has come and gone. In November 2023 it is again very prominent.
When looking at the sponge covered rocks, have a close look and you will see numerous nudibranchs of many species. The rocks are also home to numerous other species of animal, including giant jelly, magnificent and blue throated ascidians, lace coral, sea fans, tube worms and sea squirts.
| | |
| --- | --- |
| | |
| A sea dragon with eggs, November 2023 | Another sea dragon, November 2023 |
| | |
| --- | --- |
| | |
| A Sydney cardinalfish carrying eggs in his mouth, March 2023 | A wide-bodied pipehorse (Stigmatopora harastii), March 2023 |
Many of the rocks are covered with a reddish weed. If you look very carefully at this weed, you may find that you will see a pygmy pipe horse. We see lots here. On 19 February 2011 on a night dive we found eight different specimens. However, they are very hard to find, so it may take you a long time (as it did for me).
On the sand at the 12 to 15 metres level, in the area up to 3 or 4 metres from the rocks, you should see beautiful common sea dragons, but you must look carefully for they can easily be mistaken for pieces of kelp. They can often be found in the small "bays" of sand on the reef edge and in between the larger boulders. These fragile looking fish move around ever so slowly. In the late winter and early spring period look close and you might see a "pregnant" male.
| | |
| --- | --- |
| | |
| Limacia ornata, November 2023 | Honey-coloured okenia, November 2023 |
On 27 September 1997 I dived here and found 14 sea dragons, three of which were "pregnant" males. What a great dive this was, with plenty of other fishlife to be seen but the highlight been the sea dragons. On 13 September 1998 I saw also 14 sea dragons, of which one was a pregnant male (with a head that appears to have been attacked by something). On 31 December 2000 I saw 20 sea dragons, including one "pregnant" male and three tiny babies. We also saw a sea horse, the first I have seen here. I have since seen a sea horse on one other dive but I have heard of divers seeing them quite regularly.
| | |
| --- | --- |
| | |
| A yellow boxfish at Inscription Point | A Pink Frilled Nudibranch at Inscription Point |
However, on 23 March 2003 and 28 April 2003 I only saw two sea dragons. I have no idea why there were only this small a number, since I have normally never encountered less than about 6 to 10 sea dragons here in the past 12 years. On 10 January 2004 I counted (and photographed) 19 sea dragons, of which about six were carrying eggs (note that this dive was from The Leap). One is a very distinctive animal, missing most of its tail.
| | |
| --- | --- |
| | |
| Pygmy pipehorse head, November 2023 | Pygmy pipehorse head, November 2023 |
| | |
| Pygmy pipehorse head, November 2023 | Pygmy pipehorse head, November 2023 |
| | |
| Pygmy pipehorse head, November 2023 | Pygmy pipehorse, November 2023 |
Jaime Sanchez Camara (Email him) from Spain is carrying out a study of sea dragons at Inscription Point. In 2000 he tagged 90 sea dragons at this location with minute coloured tags placed under their skin and visible with a "blue light" (ultraviolet). Since then he has been coming back regularly and noting the numbers of sea dragons that he has refound. It was previously believed that that their movement was limited to about 100 metres. Until December 2004 when I took Jaime on a dive at Bare Island Isolated Reefs on the other side of Botany Bay, none of these 90 sea dragons had been seen outside the originally tagged location. However, on that dive, we found one of the tagged sea dragons, over 1.3 kilometres from Inscription Point. This is a first, showing that sea dragons may move long distances. For more information about sea dragons, see my Sea Dragon Page.
| | |
| --- | --- |
| | |
| Grey Bare Island anglerfish, November 2023 | Black Bare Island anglerfish, November 2023 |
| | |
| White Bare Island anglerfish, November 2023 | Yellow Bare Island anglerfish, November 2023 |
We have seen many interesting things at Inscription Point. I have seen a shark here which at first I had no idea what species it might be as I could not find anything that resembled it. However, in July 2006 I dived at Fish Rock and saw a grey nurse shark that had a large rope attached to its tail. This was affecting the shark's swimming and it was also cutting badly into its body. This shark was very, very skinny and lacked some of the characteristics that make grey nurse sharks so easy to pick (humped back, spots over sides). Now that I have seen this shark, I am confident that the one we saw here was a very skinny grey nurse shark.
We have also seen turtles, in February 2006 we saw a small hawksbill turtle (see the photo at bottom) in some kelp near the sand edge. Note that on 17 May 2006 a person was convicted of spearing a small hawksbill turtle at Kurnell. It was not this one as the photo in the paper was a different turtle. I am not sure when this happened as the report in the newspaper did not say. I have also seen another one nearby in June 2006.
| | |
| --- | --- |
| | |
| Big belly sea horse, November 2023 | Big belly sea horse, November 2023 |
| | |
| Big belly sea horse, November 2023 | Big belly sea horse, November 2023 |
After you have used half of your air supply, turn to the south and ascend into shallower water. When you reach 11 metres you will come across a patch of sand about 10 metres wide. You can often see one or two sea dragons on this sand area. At the end of the sand there is a small ledge where the depth comes up to nine metres. Here you will encounter huge boulders, so turn to the west. There are a lot of overhangs and a couple of small swim-throughs created by the boulders.
Continue past the end of the big boulders into even shallower water. At about seven metres you will see a hole and just past there, a small gully or slit. Follow it to the west over the kelp for about 15 metres until you are in three metres. Under the kelp you may see a beautiful herring cale, darting in and out. Surface, check your bearings and swim back to the exit point. It is an easy job to climb back onto the rock platform, but a much harder effort to return to your vehicle.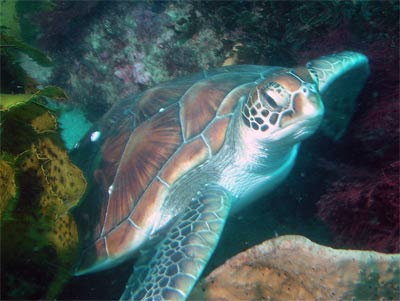 A hawksbill turtle that we saw here in February 2006
Apart from common sea dragons, other fish to be seen here are common stingrays, flatheads, leatherjackets of all sorts (especially pygmy leatherjackets), bream, moray eels, small cuttlefish, old wife, bream, luderick, sergeant baker, blue groper and different types of wrasse.
Visibility here used to usually never be great, with nine metres being considered especially good. Six metres used to be a good average but in the period since 2000 I would say that 10 to 12 metres is now more like the average. You can get up to 20 to 25 metres visibility on an incoming tide. Even when it drops to three metres you can still enjoy this dive as there are so many small things to see. However, on 27 September 1997 and 31 December 2000 I had about 15 metres on a mid-incoming tide, even though there had been a considerable amount off rain over the previous week of the first date. In early February 2006 we had 20 metres.
Tides are not really a consideration as they never really get strong enough to affect a dive plan, but you need to take it into account once you are in the water. This is because while you should normally head east on a dive, on an outgoing dive you need to be aware that you will be coming back against the tide. You will get marginally better visibility on an incoming tide, with the best idea to enter the water just over one hour before the tide's peak.
An alternative is to enter at the steps, go east for about 13 minutes, then head west and exit at The Monuments (the grassed area at the picnic area). See Inscription Point to The Monuments Drift dive article.
Inscription Point is an excellent dive site in southerly winds and seas as it is protected. Even in quite large southerly/south-easterly swells you can normally dive here. If the seas are from the north to east quarter and are big (over 1 to 1.5 metres) then forget about diving here, go to Sydney Harbour and dive Fairlight instead. The same if it is a southerly or south-easterly swell of three or more metres.
| | | |
| --- | --- | --- |
| DATE | NUMBER | COMMENTS |
| 27-Sep-1997 | 14 | |
| 30-Dec-1997 | 3 | |
| 13-Sep-1998 | 14 | |
| 2-Sep-2001 | 9 | |
| 2-Dec-2001 | 9 | |
| 20-Apr-2002 | 6 | |
| 23-Mar-2003 | 2 | |
| 28-Apr-2003 | 2 | |
| 10-Jan-2004 | 19 | |
| 30-Apr-2004 | 7 | 3 small |
| 29-May-2004 | 6 | 2 small |
| 2-Feb-2006 | 5 | |
| 30-Jul-2006 | 15 | |
| 25-Feb-2007 | 5 | |
| 18-Mar-2007 | 7 | |
| 22-Aug-2007 | 11 | |
| 26-Dec-2008 | 3 | One missing tail |
| 17-Jan-2009 | 1 | Missing tail |
| 25-Jan-2009 | 0 | |
| 17-Jan-2010 | 13 | One with missing tail - same as a year ago? |
| 26-Jan-2010 | 3 | |
| 13-Feb-2011 to 15-May-11 | 0 | |
| 18-Jun-2011 | 1 | Yahoo! |
| 27-Oct-2012 | 1 | |
| 10-Nov-2012 | 1 | Tiny |
| 8-Mar-2013 to 10-Nov-2013 | 0 | |
| 2014 to 2019 | 0 | Only one or two seen every few dives |
| 5-Apr-2020 | 2 | |
| 7 and 15-Apr-2020 | 0 | |
| 13-Sep-2020 | 1 | Very small juvenile |
| 5-Apr-2020 | 0 | |
| 9-Apr-2021 | 1 | |
| 3 and 17-Nov-2021 | 2 | |
| 7-Dec-2021 | 0 | |
| 18-Aug-2022 | 0 | |
| 30-Aug-2022 | 1 | |
| 24-Oct-2022 | 1 | |
| 8-Nov-2022 | 5 | One with eggs |
| 26-Nov-2022 | 2 | |
| 30-Nov-2022 | 2 | |
| 22-Dec-2022 | 8 | One with eggs, one juvenile |
| 10-Jan-2023 | 4 | One with eggs |
| 19-Feb-2023 | 2 | |
| 1-Mar-2023 | 3 | |
| 2-Mar-2023 | 1 | |
| 18-Mar-2023 | 4 | |
| 8-Apr-2023 | 0 | |
| 15-Apr-2023 | 4 | |
| 10-Jun-2023 | 3 | |
| 17-Jun-2023 | 1 | |
| 18-Sep-2023 | 5 | |
| 10-Oct-2023 | 6 | One with tail buried in sand |
| 25-Oct-2023 | 0 | |
| 3-Nov-2023 | 1 | |
| 7-Nov-2023 | 3 | Two with eggs |
| 9-Nov-2023 | 2 | |
| 10-Nov-2023 | 0 | |
| 14-Nov-2023 | 0 | |
MORE NUDIBRANCHS AND FLATWORMS
| | |
| --- | --- |
| | |
| Limacia ornata, November 2023 | Lemon Lolly Doris Doris chrysoderma, November 2023 |
| | |
| Black-margined Nudibranch Doriprismatica atromarginata, November 2023 | Un-named Jorunna species, November 2023 |
| | |
| Miamira flavicosta, November 2023 | Cadlinella ornatissima, November 2023 |
| | |
| Bennett's Hypselodoris Hypselodoris bennetti, November 2023 | Goniobranchus woodwardae, November 2023 |
| | |
| Splendid Goniobranch Goniobranchus splendidus, November 2023 | Clown Doris Ceratosoma amoenum, November 2023 |
| | |
| Goniobranchus tasmaniensis, November 2023 | Pseudocerotidae flatworm species on big belly sea horse, March 2023 |
| | |
| Djiboutia australis, March 2023 | Sulphur Noumea Diversidoris sulphurea (formerly Noumea sulphurea), October 2023 |