This year I again planned a camping trip for the period between Christmas and New Year's Day and extending in the first week of January. The plan was to head to the Upper Murray River for the first few days and then gradually head north again. Once again my travelling companions were Ron and Donna in the Toyota Land Cruiser 200. This time they were taking their camper trailer as was I.
Ron needed to be in Port Macquarie by & January 2023 for his Mum's 90th birthday, so the plan was built around getting them towards striking distance of Port Macquarie by the morning of 5 January.
My route as recorded by my GPS uploaded to Google Earth
Left home in Sydney then south to the Murray River. Then back up inland and home from top right.
Day 1 - Tuesday 27 December 2022 - Sydney to Gundagai
There is no rush to leave early as we are only going to Gundagai today. I have a leisurely morning before doing the final packing of food and other things. I head off at 9:15 am and head my normal way via the Princes Highway to Appin and Wilton and then onto the Hume Highway. At 11:00 am I arrive at Kingsbury VC Rest Area, 135 kilometres from home. It is very warm, 28ÂșC.
As I arrive, Ron and Donna phone me, they are at Picton, about 25 minutes behind me. They went via the M5 and got caught in a large traffic jam till they got to Campbelltown. I have a cuppa and listen to the Australia versus South Africa cricket match which started yesterday at the MCG. I leave at 11:20 am and at 12:32 pm I arrive at the Mundanoon Rest Area, 249 kilometres from home. I phone Ron and tell them I will wait here for them.
I have lunch in the shade of a couple of small trees as it is now 30ÂșC. I have Veto with me and she is not well. When my ex-wife dropped her back to me yesterday, she told me that she had been doing very liquid poos. Last night Veto ate dinner and seemed better, but while here she does a series of very liquid poos. She then drinks a lot of water and eats some grass. About 10 minutes later she vomits it up with grass, vomiting three times. She then drinks a lot more water.
Poor little girl! She is now 14 and a half years old, so it affects her a lot. After this seems she okay, but not 100%. Ron and Donna arrive and also have lunch. We leave at 1:20 pm. At 2:35 pm we arrive in Gundagai and refuel in the main street where the diesel is heaps cheaper than anywhere else on the highway. I take 59 litres at $2.129, giving a fuel economy of 13.9 litres/100 kilometres.
| | |
| --- | --- |
| | |
| The Dad and Dave sculpture in the park in Gundagai | Our camping spot at Gundagai |
After this we go to the nearby park and Ron and Donna go to Woolworths to buy a few things and get me something I forgot. It is even hotter now, 35ÂșC. While they go shopping, I play with Veto in the park. She seems a lot better now. At 3:05 pm we leave and drive the short distance to Morley Creek Camping Area. This is a free camping area on the southern edge of the town near the old railway viaduct.
A drone shot of our campsite (far left) looking towards Gundagai township
We find a nice camping spot in the shade of some trees. We set up our vans. The place is about half full, but by the end of the evening it is much fuller, probably 30 vehicles. I fly my drone and take some photographs of the camping area and our site.
A drone shot looking down at our Gundagai campsite
At 5:00 pm we have drinks and nibblies and then walk to the toilets. There are none here, but 500 metres away there are some in a park. At 7:00 pm we have dinner. I have some cold ham and turkey and I have with the pasta salad Ron and Donna got from Woolies. It is still very hot.
We sit around and talk and have some wine and port to end the night I pull out some Gaytime bits. These are like the famous ice cream, but a small portion about the size of a golf ball. I go to bed at 9:40 pm and it now a nicer 23ÂșC.
Weather: Fine, max 35ÂșC Arrived: Gundagai Time: 3:10 pm Distance: 370 kilometres
Day 2 - Wednesday 28 December 2022 - Gundagai to Indi Bridge
Weather: Overcast, 17.3ÂșC minimum
It was a warm night till very early in the morning. It was a very quiet night except for a bunch of corellas which went crazy about 2:30 am for a short while. I wake at 6:30 am and as usual on all my trips, I listen to the 7:00 am ABC News and then read the online version of the Sydney Morning Herald. I get up at 7:30 am as the camper trailer is now quite warm inside. I have breakfast and read the paper some more.
I then pack up and walk to the old railway viaduct. This is a timber structure built in 1903 and closed in 1985. It has 77 spans and crosses not only the Murrumbidgee River, but the flood plains on either side of the river. It is 924.5 metres long, the longest wooden truss bridge in Australia. It is in a very poor state of repair.
| | |
| --- | --- |
| | |
| The old timber viaduct across the Murrumbidgee River | Gundagai Railway Station |
It is now 25ÂșC and we leave at 9:35 am and we drive to the other camping area which is on the eastern side of the town and a bit further out. This is not as good an area as there are few shaded areas. We look at the northern side of the viaduct and then go to the Gundagai Railway Station. There is a small museum here and a gold coin donation gets you inside (it opens at 10:00 am).
| | |
| --- | --- |
| | |
| A points handle at Gundagai | Inside the Gundagai Station |
We have a look around, it is quite interesting, there is a lot to see. We then go to Mount Parnassus where there is a lookout over the town. It has great 360 degree views. We then go to the cemetery where there are a couple of interesting graves. One is of Captain Moonlite (Andrew George Scott) who was a bushranger. His stint as a bushranger did not go for very long, like most bushrangers. After being arrested a few times for bank robbery and fraud and later escaping from gaol.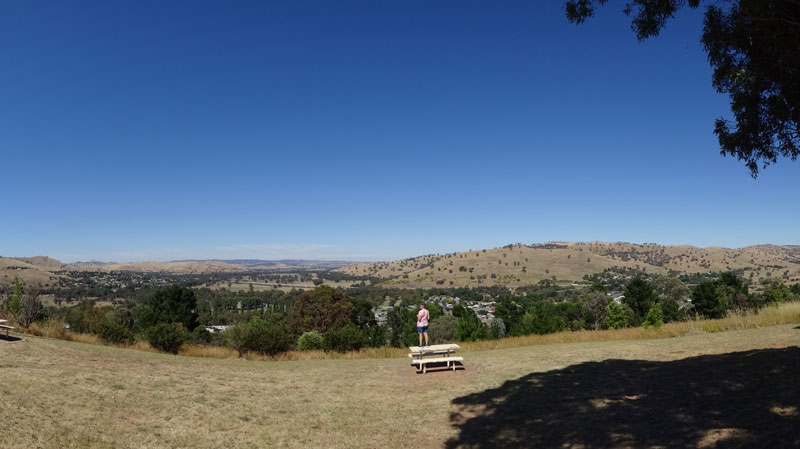 The view over town from the Mount Parnassus Lookout
After some public speaking about Pentridge Gaol and other things, he ended up bushranging in the Masfield area of Victoria and his gang were said to have been confused with the Kelly Gang. In November 1879 he and four others, including his male lover, held hostage the entire town of Wantabadgery 46 km from Gundagai. In the aftermath, his lover Nesbitt was killed and a police officer also killed.
After being tried in Sydney, Captain Moonlite was hung. His dying wish was to be buried next to Nesbitt in the Gundagai Cemetery. This did not happen, but in 1995 his wishes were fulfilled when he was exhumed from Rookwood Cemetery in Sydney and reburied in Gundagai, but not next to Nesbitt as the site of his grave was no longer known.
| | |
| --- | --- |
| | |
| The headstone for Yarri | Captain Moonlite's headstone |
Another grave of note is that of the Aborigine Yarri. In the huge flood of 1852 that destroyed the town (then located on the river flood plain), he and other Aborigines Jacky Jacky, Long Jimmy and one more rescued at least 49 people in their canoes. There is also a sculpture of Yarri and Jacky Jacky and a canoe in the main street.
We go back to town and then have a look at Rusconi's marble masterpiece in the Information Centre. This is of a baroque palace and made from 20,948 pieces of marble collected from around New South Wales. Frank Rusconi started this in 1910 and took 28 years to complete it. Of note, he also sculpted the base of the Dog on the Tuckerbox and made the model of the dog which was then cast in bronze.
| | |
| --- | --- |
| | |
| Ron and the Rusconi Marbles in the visitor centre | The Gundagai Niagara Cafe in Gundagai |
We walk around the town but the Niagara Cafe, famous and in original condition, is closed for holidays. I also go to the newsagent to get a Lotto ticket as there is a $40 million draw on Saturday. Needless to say, I did not win! We leave town at 11:35 am and go via the lookout at the southern side of town but the views are not as good as the one in town.
| | |
| --- | --- |
| | |
| Yarri and Jacky Jacky sculpture in the main street | The Gundagai flood marker |
We head south towards Tumut and at 12:22 pm we stop on the river near the racecourse for lunch. We have travelled 47 kilometres and it is again a very hot 31ÂșC. We leave at 12:53 pm and head via Batlow and Tumbarumba to Tintildra in Victoria. On the way we get to over 1,000 metres and at 2:14 pm we stop at the Southern Cloud Memorial. This is to remember the loss of this plane on 21 March 1931 with the loss of all eight on board. The remains of the plane was not found till 1958.
We continue on after 15 minutes. At 2:50 pm we arrive in Tintildra but the pub is closed, a note saying the owner will be back at 5:00 pm. Bugger! We continue on and at 3:05 pm we look at the Lighthouse Crossing Reserve but all the good spots are taken. Of note, it is not where GoogleMaps and my GPS shows it to be. It is now 33ÂșC, hence our desire for some shade and easy access to the Murray River.
| | |
| --- | --- |
| | |
| Our campsite at Indi Bridge | Our campsite at Indi Bridge |
At 3:45 pm we arrive at Indi Bridge Reserve, after a detour when we find the road at the Towong Bridge is closed as the bridge is being repaired. No idea why the road needs to be closed as well. There are about 12 vehicles here, but some look like day trippers. We set up in the middle near the beach. The weather radar shows rain all around, so we put our awnings out.
After this we go for a swim, it is a cool 21ÂșC in the water, very nice. We then have drinks and nibblies. Again I have ham, turkey and pasta salad for dinner and Gaytimes after. We later light a fire on the beach using timber from the river. There is some light rain on and off, but no great problem. It thankfully cools the temperature from 34ÂșC to 26ÂșC. We go to bed at 9:30 pm and I read till 10:05 pm.
Weather: Fine, max 34ÂșC Arrived: Indi Bridge Reserve Time: 3:45 pm Distance: 210 kilometres
Day 3 - Thursday 29 December 2022 - Indi Bridge Reserve
Weather: Overcast, 16.8ÂșC minimum
It rains about 6:45 am and is heavy for 10 minutes and stops at 7:10 am. I read the SMH and get up at 8:30 am. It is overcast and feels cool. I have breakfast and put up the fly tent as I suspect we might have some flies around during the day.
After I finish the newspaper, I read my book and Ron mixes up some scones. We collect some driftwood and start a fire on the beach. Ron puts the dough into his camp oven and cooks them. Meanwhile, I have some longlife cream and I beat this till it is thick. At morning tea we have scones with strawberry jam and cream, very yummy!
A drone shot of our campsite at Indi Bridge
The sun is now out now and then, some cloud, some sun. My battery is full again by 11:00 am using the 200 watt fixed solar panel. I defrost some steak and sausages for dinner and then listen to the cricket Test again, South Africa is already in big trouble. We have a swim in the river, 20ÂșC and very refreshing as it is 30ÂșC.
Another drone shot of our campsite at Indi Bridge
I read some more and then we have lunch. After this we travel in my car to Khancoban in NSW. We try going via some roads and the Indi Bridge that Google Maps reckons lead there but we come to dead ends. We end up going via Bringenbrong Bridge. We stop at the bridge to look at the campsite on the NSW side (from Wikicamps). However, it is not very big and really only suited to one camper trailer or a couple of rooftop tents.
At Khancoban we drive around and not much is open. There is a sign to a museum but it says no dogs in the area near it, so we cannot visit as we have nowhere to tie Veto up while we go in. We then go to the rose garden and have a look around before going to the Khancoban Pondage. We drive across the wall to the other side. There is a lot of water being let out.
| | |
| --- | --- |
| | |
| The Khancoban Pondage spillway | Veto exploring the beach, taken from my drone |
On the way back we again look for the road that Google shows goes back to our campsite, but there is no road there, just a private track. We get back at 3:25 pm. I have a cuppa and it is now quite windy. Australia has already won the Test Match, less than two days, a record win. Donna told me yesterday that the right blinker on my trailer is not working. I pull the plug apart and find that the wire has come free. I fix it.
Later the temperature drops to 26ÂșC. At 5:00 pm we have drinks and nibblies and then we start a small fire to cook dinner on. We are using Ron's Biji. I have Scotch fillet and sausages (some for later) and I also make a cheesy rice on the stove.
We later wash everything up and then have a fire on the beach. I also get us a Gaytime icecream bite. We have a port as well as we watch the skies, six satellites and one shooting star. We go to bed at 10:10 pm, it is a nice 20ÂșC.
Weather: Fine, max of 30ÂșC Arrived: Still at Indi Bridge Time: N/A Distance: 61 kilometres
Day 4 - Friday 30 December 2022 - Indi Bridge to Neils Bend Reserve
Weather: minimum of 14.6ÂșC and sunny
A lot cooler night. I wake at 6:30 am and get up at 7:45 am. I refill some water bottles from my main water tank and then have a sausage sandwich for breakfast. I read the paper and at 10:00 am we pack up. I am finish at 10:30 am, I have got a lot quicker at packing up the awning and camper since August.
We have morning tea, scones again. We then finish packing everything up and have a swim as we are very sweaty. We leave at 11:22 am. At 11:52 am we arrive at the Tintildra Hotel, this is 31 kilometres away. We have a look around and then Ron and I have a beer, a nice Beechworth Pale Ale at a reasonable $8 a schooner. The pub inside has been done up since I last visited in December 2010 and looks great.
| | |
| --- | --- |
| | |
| The Tintildra Hotel | Our campsite at Neils Bend |
We leave at 12:30 pm and go to Clarkes Lagoon Wildlife Reserve but there is a brand new sign that says no dogs are allowed. Back in 2010 I camped here and doges were permitted. We head on go to Neils Bend Reserve. We arrive there at 1:00 pm. We have a look around the entire reserve and I find a nice spot at the very end, but there are people parked where the best spots are located.
I talk to the people and as I suspect, they are only day trippers. They offer to move their vehicles now so we move to the spot. We have lunch first and then set up our campsites. Rain is again looking possible so we put out our awnings.
At 2:40 pm we go for a swim a short distance away from our spot. It is a bit muddy getting in and out here but the water is nice. Veto comes into the water a bit but then decides to dig in the mud and then roll in it. She is now very dirty, so I have to wash here using river water, shampoo and some clean water. Once I dry her a bit she runs crazy everywhere!
| | |
| --- | --- |
| | |
| Another shot of Neils Bend | Lightning flashes at Neils Bend |
We have afternoon tea, more scones, well the last of them. There are thunderstorms all around us and the BOM radar shows them moving west to east. I set up my shower and we have hot showers. We then have drinks at 5:15 pm. It is sunny here, but very heavy clouds everywhere.
At 6:45 pm we have dinner. I cook Mongolian lamb from Woolworths and have with some of the rice from last night. The wind keeps changing direction, very strong, then calm, then strong again. There are thunderstorms to the south and west. We start a fire and sit around it till 9:45 pm when rain was predicted to start. WE pack up and go to bed. It starts raining at 10:00 pm but it is very light.
Weather: Fine, max of 26ÂșC Arrived: Neils Bend Reserve Time: 1:00 pm Distance: 50 kilometres
Day 5 - Saturday 31 December 2022 - Neils Bend Reserve
Weather: minimum of 15.6ÂșC and overcast
During the night there was light rain on and off till early. I wake at 6:30 am and read the SMH from 7:10 am and get up at 8:00 am. It is now 18.5ÂșC.
I have breakfast and then realise that the river is much higher than yesterday. In fact, there is a branch on the other side of the river which was sticking out of the water about 150 mm and now is under water, although you can see where it is by the turbulence it is causing. It really must have rained a lot upstream.
A photograph from my drone of our campsite at Neils Bend
It is sunny from 10:00 am. From 10:00 am to 11:00 am the river goes up another 50 mm and later it goes up more. I fly my drone and get some photographs. I then show Donna some things about her new drone. It is also a DJI but a Mini whereas I have the older and larger Mavic Air. She shows me a helipad she bought, it is a foldable round mat that you can use to provide a flat surface with no dirt. I later purchase one, $29 from JB Hi-Fi.
A photograph from my drone looking upstream from above our campsite at Neils Bend
After a cuppa we decide to go to Jingelic Hotel for lunch. However, as Ron disconnects his trailer, he rips the zipper that holds the awning to the main tent. At 12:20 pm we head off and go via Walwa, the Pebble Beach Camping Area (the Victoria Jingelic Reserve) and the Jingelic. It is very, very crowded, not only at the camping area but at the hotel. We go into the beer garden and cannot find any vacant table. Some people there tell us there are also very long delays for meals.
We head off after about 15 minutes and go back to Walwa. Here we go into the Walwa Hotel beer garden. There are not too many tables out here and most and not in good condition. The hotel has new owners as of the middle of last year, so hopefully this is on their plan. We find a table and some chairs and set them up in the shade of a tree.
We order lunch. I was hoping for a hamburger but there are none, so I order a chicken parmigiana ($24). We have a couple of beers too. It takes a while to get our meal as the dining area was full when we arrived and there are also quite a few outside. The meals are quite good, too big, so I keep half of mine for lunch tomorrow.
| | |
| --- | --- |
| | |
| The Walwa Hotel | Waiting for lunch at the Walwa Hotel |
We leave at 3:05 pm and at 3:15 pm we are back at Neils Bend. It is a hot 31ÂșC and the river has risen at least another 50 mm. I have a can of coke to cool down and read by the edge of the river. As tonight is New Year's Eve, we have a roast dinner planned but we are eating later than normal so that we can last till midnight.
At 5:30 pm we start our campfire. We have showers again using my setup and then have drinks and some nibblies. At 6:30 pm we put the roasts on in the camp ovens. I am cooking a roast beef and Ron is doing a chicken. It is way too hot to sit near the fire, so we are back up near our campers. The dinner is cooked by 8:10 pm and we have the two meats with vegies. Very nice.
It is still too hot to sit at the fire so we let it go out. At 9:05 pm there are fireworks over the river and upstream a bit. They go for about 30 minutes, on and off. I pull out the Grant Burge sparkling wine and we start the World Uno Championships. We have played this every NYE we have spent out in the bush, at least 10 or 12 I reckon.
We also have some nice sparkling that Donna brought with her. I end up winning six games, Ron four and Donna three. We finish at midnight. We have a couple of small ports and they go to bed at 1:00 am. It is still a warm 20.3ÂșC.
Weather: Fine, max of 32ÂșC Arrived: Still at Neils Bend Reserve Time: N/A Distance: 0 kilometres (me)
Day 6 - Sunday 1 January 2023 - Neils Bend Reserve to Jugiong
Weather: minimum of 17.6ÂșC and sunny
I wake at 6:30 am and then sleep again till 7:30 am. I lay in bed for a while and then read the SMH. I have to finish off yesterday's issue before starting on today's Sun-Herald. I get up at 9:05 am as it is now getting hot inside the tent. I cook a bacon sandwich for breakfast. It is 23ÂșC.
There are some clouds but lots of sun too. I read the paper some more and at 10:10 am we start packing up. We have morning tea once we finish and then leave at 11:10 am. We stop at Walwa to get rid of rubbish and use the toilets (there are none at Neils Bend).
We leave there at 11:37 am and travel via Google Maps directions to Tarcutta. This involves some minor roads but they are not too bad, even the dirt ones. We arrive at Tarcutta at 1:00 pm and pull up near the park in the main street (the old Hume Highway). It is 115 kilometres to here and it is a hot 31ÂșC. I have lunch in the park while Ron and Donna eat at their camper.
The rest area here is very poorly designed, with the parking, toilets and tables all spread out from each other. While here I notice a very obese motorcycle cop pulling over people as they come into town. It's a wonder he can ride the bike to be honest. We leave at 1:45 pm and see that he has another car pulled over. The speed limit is only 50 km/h from as soon as you come off the freeway and go all the way into town. A definite deliberate speed trap, there is no way that it needs to be 50 for all this distance, there are very few houses.
A photograph from my drone looking towards the Jugiong village with our campsite bottom left
We arrive in Gundagai at 2:15 pm and go to the park. It is now 32ÂșC. While Ron and Donna watch Veto, I go to Woolies and get some bread, chips, milk and hot cross buns. I then play with Veto in the park, she loves the grass and has me pulling her around as she rolls on her back, scratching the left side, then the right, then the middle. This always has people watching laughing. We also fill our water containers in the park.
We leave at 2:57 pm and at 3:30 pm we arrive in Jugiong. We go to the showground and after driving around for a while we find spots at the south-western end. It is very crowded, at least 200 vehicles I would think, including some groups. We then spot even better ones where there are no people and move there.
The camping area is on the Murrumbidgee River. We park in the new spots at first and once we have worked out where the shade is going to be from some pine trees, we adjust our trailers and set up camp at 4:30 pm.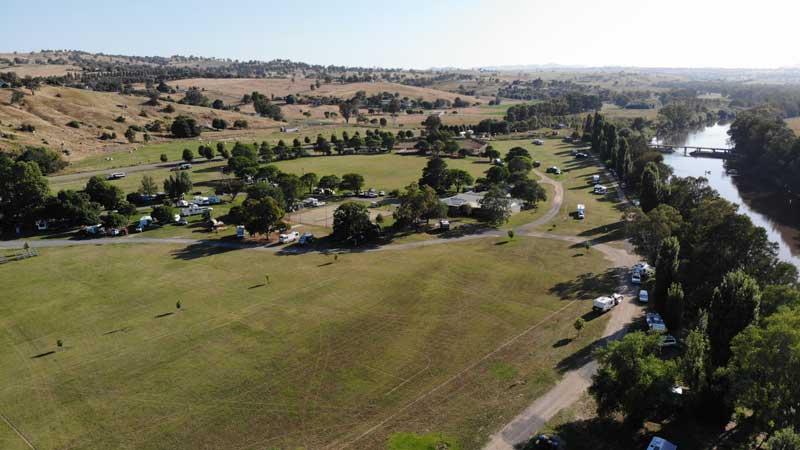 A photograph from my drone looking upstream at Jugiong
Ron sets up his shower and we have cold ones, well, quite refreshing really. At 5:30 pm we walk to the Sir George Hotel. When I was stuck in Jugiong for five days back in December 2004, this hotel was not open one day or night. We go into the beer garden and have a couple of very expensive beers ($12.10 a schooner of BentSpoke Pale Ale) and Donna has a glass of sav blanc, ($11.50). Nice pub, but shit expensive.
| | |
| --- | --- |
| | |
| The Sir George Hotel at Jugiong | Having a very expensive drink in the Sir George Hotel |
We are back at the campsite at 7:00 pm. I heat up some of the Mogolian lamb and rice left over from a few nights ago. We have a perfect view of the night sky and see 19 satellites but no shooting stars. We go to bed at 10:10 pm. I read for 20 minutes.
Weather: Fine, max of 32ÂșC Arrived: Jugiong Time: 3:30 pm Distance: 203 kilometres
Day 7 - Monday 2 January 2023 - Jugiong to Darby Falls
Weather: minimum of 17.2ÂșC and sunny
I get up at 7:05 am as Veto does a poo on my doona! Luckily it was very hard and did not leave any mark, although I have to clean it of course. She does a couple more once I put her outside. I have breakfast, it is already 23ÂșC. I read the SMH and at 8:30 am I pack up. I then walk to the toilets which are only a few nudred metres away. We leave at 9:05 am.
We go to the petrol station in Jugiong which, for some strange reason has the cheapest fuel anywhere near where we are travelling. I fill up, 86.1 litres at $2.089, $179.88. I averaged 16.3 litres per 100 kilometres since Gundagai on 27 December.
We leave at 9:20 am and at 9:55 am we arrive in Murrumburrah which is part of a twin town with Harden (never heard of Murrumburrah before). We actually think we are in Harden to be honest. It is 44 kilometres to here.
| | |
| --- | --- |
| | |
| The murals on the silo at Murrumburrah | Bill the Bastard sculpture in Murrumburrah |
We stop in the main street which is very dead, many empty shops and the ones that appear to be operating are closed for holidays (I cannot understand why as many tourists are around). There is a large silo mural as you come in and a park with some war related material. It turns out that the very first light horse brigade, the 1st Australian Light Horse was raised here for the Boer War in the 1890s. There are some very nice sculptures including one of Bill the Bastard, a statue of Bill the pack horse who in World War I at Gallipoli cariied huge loads up to troops and then rescued five men while shot. A very interesting story, see this link for more information.
| | |
| --- | --- |
| | |
| The Murrumburrah Hall | A church in Boorowa |
While here, Donna goes to Harden's House of Honey. She spends about an hour in there. At 10:25 am I move to the park for morning tea and eventually Ron and Donna join me. We leave at 11:00 am and go via the main street of Harden, a much livelier town. We arrive in Boorowa at 11:40 am, 42 kilometres from harden. This is a nice historic town that I last visited in 1978 when a friend owned one of the pubs.
We walk around town and I find the hotel. It no longer operates as a hotel. We end up buying pies from the Superb Bakery (most things are named after the superb parrot). We go to the Boorowa Hotel and I purchased two schooners of Reschs Draught for $6 each, a discounted price as I am a member of the Reschs Appreciation Society. We have the beer with the very nice pies outside. The pub is quite nice inside too.
The Boorowa Hotel
Another day, another town, another pub, another beer
The former Boorowa Union Hotel, I stayed here in 1979
Note the new 300 series Land Cruiser
Wyangala Dam spillway, in July 2022 this was a raging torrent
We leave at 12:50 am, it is a warm 30ÂșC. We travel to Wyangala Dam and get there at 1:55 pm. The road is awful, so many potholes! It is 74 kilometres to here. It is now a very hot 33ÂșC. We then go up the road on the other side of the Lachlan River hoping to get to near the spillway, but the road is blocked by a gate. It used to be open, not sure when it was closed off.
A photograph from my drone looking downstream at Darby Falls. In July 2022 those rocks on the left were totally covered with water.
We leave at 2:46 pm and at 2:57 pm we arrive at Darby Falls Reserve. This is only 17 kilometres from the dam. I camped here last July. The camping area is on the Lachlan River which is far lower than then as no water is being released from the dam now. Rain is just starting and it rains heavy for 15 minutes and then light for another five minutes. There is no-one else here.
When the rain stops, we move the cars to near the old toilet which has been wrecked by the floods which happened in late 2022. There is debris way up in the trees and a fence above the camping area! This area is fairly grassy and we set up camp by 4:10 pm. We put the awnings out in case there is more rain.
| | |
| --- | --- |
| | |
| Our campsite at Darby Falls | The platypus in the Lachlan River, Darby Falls |
I then fly my drone. We then walk to the bridge and Donna spots a platypus upstream. We see it a few times but as we try to find a better spot to get photos from, it disappears altogether. Fantastic, only the third one I have ever seen.
We have drinks at 5:20 pm but at 6:10 pm it starts sprinkling, but it stops quickly. No more rain falls. We start the fire and later I cook some more Mongolian lamb and rice. We sit at the fire and eat dinner and then chat. We go to bed at 10:00 pm.
Weather: Fine, max of 33ÂșC Arrived: Darby Falls Reserve Time: 2:57 pm Distance: 179 kilometres (me)
Day 8 - Tuesday 3 January 2023 - Darby Falls Reserve to Carcoar Dam
Weather: minimum of 17.2ÂșC and sunny
I wake at 6:30 am and get up at 7:45 am. After breakfast I pack up and then realise I have lost the keys to my car! I had them earlier as I opened the car from inside the camper trailer. I assume they are inside so I get Ron to help me get in. Unfortunately you need to lift the cover up a fair way before the door can be opened. I get inside and using a torch find that they are not there.
I try to think what I did as I was fixing the inside up before I came out. I remember grabbing my head lamp and other things. Ah ha! I check the location where I put the head lamp, a drawer in the kitchen. Sure enough, they are in there. I must have dropped them at the same time I put the head lamp in. I close the camper back up.
It is now 25ÂșC and we leave at 9:45 am. We continue on Darby Falls Road to Cowra. At 10:05 am we arrive at the Lachlan Valley Rail Museum but it is closed. This happened last time I was hear, it is not open very often, even in peak tourist season. We go to the Cowra Information Centre which is located on the western outskirts of the town centre. It is 27 kilometres to here and it is a warm 28ÂșC.
| | |
| --- | --- |
| | |
| The mural in the main street at Cowra | The Peace Bell in Cowra |
While Ron and Donna go into the centre, I have morning tea in the park next door and give Veto a run around. We leave at 11:10 am and move to the centre of the town and park in side streets. We walk down the main street and look at the murals and sculptures near the small park. We also go to a $2 shop and I buy some stainless steel clothes pegs. They are not only handy for washing, but holding other things in place.
We also go to the Peace Bell which was made from melted down coins from 107 countries. It is to commemorate peace and is one of a number of peace bells installed around the world. At noon we drive to the hill lookout. There are great views to the south over the town. After this we move the short distance to the Adventure Playground where there are some trees for shade, it is 29ÂșC.
| | |
| --- | --- |
| | |
| Donna and Veto at the lookout in Cowra | The Institute of Arts, Carcoar |
We have lunch and look at the playground, it has lots of really interesting things to do. For example, two flying foxes, some slides, a water stream that has weirs that can be opened and closed to divert water and a thing called the Mouse House. This is a rotating wheel like you see pet mice have in their cages. Ron and I give it a go, wow, it is a bit hard to try to walk as it turns. We stop and get out, I reckon we would have hurt ourselves!
After lunch we leave at 12:55 pm and drive to the Cowra Prisoner of War camp. I was here last July but Ron and Donna have not been here for over a decade. It has changed a huge amount since they were here. They have a look at the interpretative displays and we leave at 1:34 pm and drive the short distance to the War Cemetery. Here all the Japanese prisoners who died in the breakout from the POW camp are buired as well as the Australians who died. There are also other prisoners buried here. For photos of these, see my page from my July 2022 trip.
| | |
| --- | --- |
| | |
| Carcoar Post Office and the main street | The Catholic Church, Carcoar |
We depart at 1:55 pm and drive along some back roads to the Mid Western Highway. This takes us to Carcoar. We stop at this historic town and have a walk around. There are lots of historic buildings. It is also the birth place of noted Paralympian Kurt Fearnley who has a park named after him. After our walk around, we go to the Royal Hotel and have a beer (I have Reschs). There is also free camping behind the hotel.
| | |
| --- | --- |
| | |
| The Royal Hotel, Carcoar | Another beer at a pub |
We leave at 3:40 pm and drive the short distance to Carcoar Dam. It is 880 metres high here so you would think it would be cool, but it is hot at 30ÂșC. There are heaps of people camped here, most are water skiers or fishers. There are lots of open spaces, but nothing is anywhere near flat enough to camp on. There also appears to be an abandoned caravan on a prime spot. We cannot find a spot. We park in one very poor spot and I go for a walk.
I go up past the abandoned van and towards the old toilet block. Here I find a flat section of track that only leads to another main track. I call Ron and Donna up and we agree this is a good spot to camp. Even though we will block the track, it basically leads nowhere and will not affect anyone. We move up there and setup camp by 4:50 pm. We are in good shade.
| | |
| --- | --- |
| | |
| Veto sleeping on the footpath outside The Royal Hotel, Carcoar | Our campsite at Carcoar Dam |
We have cold showers and then get drinks out. At 5:40 pm a thunderstorm rolls in. We retreat to our campers. There is a lot of thunder and rain and then hail starts. Mostly it is small pea size hail, but later some larger marble size falls. At 6:10 pm it eases a lot and 10 minutes later it stops and the sun comes out. We move back outside.
The temperature drops from 30ÂșC to 20ÂșC but later comes back up a few degrees. I cook Scotch fillet and sweet potato on Ron's Biji and have with some salads. We sit around after dinner and keep checking the BOM radar. It shows more rain about 10:00 pm but it all goes to the south and north of us, although there are some sprinkles at 9:45 pm. We go to bed and it then rains a bit.
Weather: Fine, max of 30ÂșC Arrived: Carcoar Dam Time: 3:55 pm Distance: 101 kilometres
Day 9 - Wednesday 4 January 2023 - Carcoar Dam to Sofala
Weather: minimum of 15.6ÂșC and sunny
There was another thunderstorm at 12:15 am which went for about an hour. Veto then wanted to get up but luckily the rain had stopped. I let her out and she runs around for a bit including under and around Ron's car. She finally comes back and I pick her up. At 6:30 am she again wants to get up.
I read from 7:10 am and get up at 8:00 am. We dry things out that have got wet. I run a Chux over the tent to remove as much of the water left as I can. There is a toilet block towards the entrance and I walk there. Despite what a bloke told us yesterday, it is fairly clean, although all the garbage bins, including large industrial sized ones, are overflowing.
| | |
| --- | --- |
| | |
| The Carcoar Dam wall | An echidna we saw just past the Carcoar Dam wall |
We start packing at 9:35 am and I am finished at 9:50 am, a record 15 minutes. We leave at 9:55 pm and go to the dam wall. There is water flowing over the spillway, I think I heard it after the thunderstorm during the night. We then continue on that road and a short distance later I see an echidna cross the road. We stop and get some photographs of it.
| | |
| --- | --- |
| | |
| The Blayney Post Office, amazingly an original one still being used | The main street of Blayney, Catholic Church on right |
We arrive in Blayney at 10:35 am, 20 kilometres on. There are some nice churches, the Post Office and court house are also interesting. We have morning tea, although we cannot find a park to have it in. We leave at 11:35 am. We have decided to go to Mount Panorama motor racing circuit, home to the Bathurst 1000 car race. We enter the track at Hell Corner and drive up the mountain in the direction the race runs.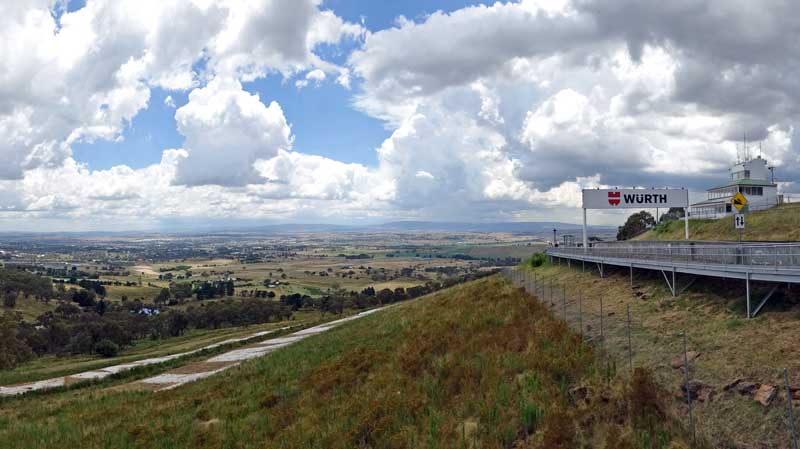 A panoramic photograph from the end of the Skyline looking towards Bathurst
The road is a lot steeper than it seems on TV and also some of the corners are a lot tighter. I would hate to be going around them at well over 100 km/h. We stop at the Esses at 12:12 pm (62 km). We walk along the pathway to a lookout and then back to the cars. We drive down through the Esses and then along Conrod Straight to Pit Straight. At the end we turn around and head into town.
We leave the mountain at 12:25 pm and go to a fuel station in Bathurst. I take 64.0 litres at $1.959, the cheapest I have seen for a long time. I have averaged a poor 18.5 l/100 km. I then go to Bicentennial Park to have lunch and wait for Ron and Donna who have gone to the shops.
| | |
| --- | --- |
| | |
| Coming down through The Esses on Mount Panorama | At the start of Conrod Straight on Mount Panorama |
It is a warm 30ÂșC. I sit under a tree and eat my lunch and wait for Ron and Donna. After they arrive and have lunch, we go to the toilet block at the other end of the park and top up our water containers. We leave at 2:12 pm.
We arrive in Sofala at 2:53 pm and go to the camping area which is located on the north side of the Turon River and the west side of the road. We have a look around and finally settle on a nice spot with shade.
| | |
| --- | --- |
| | |
| Looking towards Sofala township from the campsite | Looking down at our campsite at Sofala, we're under the trees top left |
This is a grassy area and close to a good spot to swim. After we setup, we go and have a swim in the river, it is a lot warmer than the Murray River, 25ÂșC. I fly my drone and then after this we walk into town and go to the Sofala Royal Hotel. We have a beer sitting at a table opposite the pub ($7.50 a schooner of Tooheys). We walk back to the campsite.
The Sofala Royal Hotel
Having a beer opposite the Royal Hotel

| | |
| --- | --- |
| | |
| Our campsite at Sofala | Ron having a swim at Sofala |

We have nibblies and beers/wine. It is sunny but quite windy. For dinner I have the last of the Mongolian lamb. We go to bed at 10:05 pm.

Weather: Fine, max of 30ÂșC Arrived: Sofala Time: 2:53 pm Distance: 115 kilometres

Day 10 - Thursday 5 January 2023 - Sofala to Bylong

Weather: minimum of 15.3ÂșC and overcast

It was very windy at 1:45 am for at least 30 minutes. It is only 17ÂșC at 8:00 am when I get up. Ron and Donna leave then for Port Macquarie as they have to be there before Saturday for Ron's Mum's 90th birthday. It is overcast and windy, a strong southerly. I pack up at 9:40 am and when I am finished at 10:00 am, I walk into town with Veto. I go to the toilets (there are none at the camping area). We then walk back.

| | |
| --- | --- |
| | |
| A rare Leyland P76 in the main street of Kandos | The Railway Hotel, Kandos |

I leave Sofala at 10:13 am. At 10:58 am I arrive in Kandos, 51 kilometres away. It is a cool 19ÂșC and still windy. I stop at a park as you come into town and have morning tea. After this I walk up the main street of this town which is famous for supplying cement to most of Australia. There is not much in town, a church, the railway station and the Railway Hotel which does not appear to be open. The other pub is, but is a very average looking pub, so I decide not to have lunch there.

I then go to the Kandos Museum. This costs $8 for seniors and is dog friendly. Inside there is a lot of history of the town, the cement works and the local area. I leave town at 12:15 pm and 10 minutes later I am in Rylstone. I park in the main street and go for a walk.

| | |
| --- | --- |
| | |
| The room with lots of rural household equipment | The Kandos Cement mixing gauges in the museum |

I have been in Rylstone before, but really did not stop. I decide to have lunch at the Globe Hotel. I find a table in the beer garden and tie Veto up to the chair. I order a hamburger with the works, $20, and go and get a beer. The hamburger is excellent, huge and very tasty with good chips.

| | |
| --- | --- |
| | |
| The Globe Hotel in Rylstone | Having a schooner of Rechs Draught! |
| | |
| My Globe Hotel burger with the lot, excellent! | Veto relaxing under my table |

After lunch, I leave at 1:30 pm and head towards Bylong. This road is awful, with potholes everywhere, washed out sections of road, a causeway washed away and more. It is slow going for the 52 kilometres. I arrive in Bylong at 2:15 pm. There is a free camping area at the sporting ground. This is behind the rest area and toilet block. A donation of $10 per person is asked for and tomorrow I pay this into the honesty box. Lucky I had a $10 note, coins won't fit in the small hole.

I drive in and see that there is a huge grassy area. I pick a spot next to a covered table and setup. I am the only person here, but later two caravans and two motorbikes come in. There are also BBQs and a covered area, although someone later tells me that there is no gas for the BBQs. After I set up I have a cuppa and then fly my drone. I then check out the toilets. Unfortunately, someone has smashed the hand basin in the men's, looks like it only happened a day or two before. Such a pity there are so many idiots in this world.

A drone shot of Bylong and the camping area

I also walk to the nearby church and on the way back collect some small firewood. I end up with a fair amount. I have another cuppa and listen to the Third Cricket Test between South Africa and Australia from the SCG. I have been listening all day. At 5:00 pm I have a shower in the toilet block. This is in the disabled toilet and is clean. The shower is great, the longest I have had for almost two weeks.

| | |
| --- | --- |
| | |
| My campsite at Bylong | The Bylong Church next to the camping area |

At 5:15 pm I have nibblies and beers. I then cook some spicy crumbed winglets and two chorizos. I have half of one of the chorizos and the winglets. I did not need much, as the hamburger for lunch was a lot. The rest of the chorizos I plan to add to a pasta tomorrow for dinner. The wind then dropped so I pulled out my firepit and lit a small fire. Later, there was a very light sprinkle of rain and the wind was up and down. When I go to bed at 9:30 pm it is only 12ÂșC. After I go to bed, it rains a little at 9:50 pm for while.

Weather: Fine, max of 24ÂșC Arrived: Bylong Time: 2:15 pm Distance: 112 kilometres

Day 11 - Friday 6 January 2023 - Bylong to Broke

Weather: minimum of 7.9ÂșC and sunny

What a cold night for summer, 7.9ÂșC. I wake at 7:05 am and get up at 8:30 am. It is now 20ÂșC and calm. I have breakfast and read the SMH. I decide that I don't need to leave early as I do not have to travel far. I later pack up and then have morning tea. I leave at 10:55 am. It is sunny but there is some cloud around.

The road north from Bylong is also not very good. However, once it goes into Muswellbrook Shire it is a lot better. I get to Denman (74 km) at 12:05 pm. I was going to buy a pie or something for lunch, but there are only two hotels and a food van. The bakery is not open (why close in peak tourist season?) so I leave at 12:30 pm.

At 12:55 pm I stop at Jerrys Plains in the Recreation Reserve Camping Area on the outskirts of town. This is a very nice camping area, close to the hotel. As it turns out, I probably should have stayed here (I will explain tomorrow). I have lunch and give Veto a run. I make a toasted beef and cheese sandwich using the jaffle iron. I leave at 1:25 pm.

Today there has been no cricket at all as it has been raining all day in Sydney. I arrive in Broke at 2:05 pm. There is a very large free camping area off the main road. I drive around and see there are lots of large flat areas, nearly all with good shade. I set up on the upper level at the southern end. Rain is coming, so after a cuppa I put out my awning too. I also collect some firewood off the ground, but will end up not using it.

At 3:10 pm I walk into town and discover that there is no hotel. Bugger, I had wanted to have one last beer in a pub on this trip. That's why I should have stayed in Jerrys Plains. Hard to see how a town that is much bigger than Jerrys Plains does not have a hotel. I am back at 3:30 pm and see that there is rain east and west of me. It rains from 5:25 pm, heavy at times.

| | |
| --- | --- |
| | |
| My campsite at Broke, brilliant place | The Broke Catholic Church |

I have a drink under the awning. The rain continues. I then cook a packet pasta and then add the chopped up bits of chorizo that I cooked last night. This makes an excellent and quick meal. I end up going to bed at 8:10 am as it is still raining. I have decided that it is not worth trying to light my firepit, even though the timber I collected is dry under the trailer. I continues to rain for about 30 minutes and by then I cannot bother getting back up. I read and then go to sleep. It is a cool 18ÂșC.

Weather: Mostly fine, max of 23ÂșC Arrived: Broke Time: 2:05 pm Distance: 140 kilometres

Day 12 - Saturday 7 January 2023 - Broke to Kareela

Weather: minimum of 17.0ÂșC and some sun

There was no more rain during the night but as I went to bed very early, I woke at 2:00 am for about an hour. I ended up sleeping till 6:45 am. I read the SMH and at 7:55 am I get up. I pull all the linen off the bed and take the doona out and put it all in the car. I have a bacon sandwich for breakfast and then read some more. At 8:55 am I pack up as the sun is out and the tent is mostly dry. I put a desiccant pack inside at this time. I also take out all my other things like dirty clothes and radio etc.

At 9:15 am I am finished. I walk to the toilet and there is some fine rain. I leave at 9:34 am and at 10:13 am I stop for a very short time in Wollombi, 31 kilometres away. The road from here is very windy and in poor condition, although I can recall when it was dirt and we had to drive up here for work to fight bushfires.

At 10:33 am I stop at a convict-built culvert and have morning tea. It is raining again.

| | |
| --- | --- |
| | |
| The Wollombi Hotel | The Wollombi Church |
| | |
| One of the convict built culverts on the former Old North Road | The view on the road as I drive |

I leave at 10:40 am and at 12:35 pm I stop at Maccas at Greenacre to get some lunch. A chicken spicy burger meal was okay, but that was my Maccas hit for at least six months.

I arrive home at 1:33 pm.

Weather: Fine, max of 23ÂșC Arrived: Kareela Time: 1:22 pm Distance: 182 kilometres

SUMMARY:

A great short break at the hottest time of the year. The crowds were not too bad except at Carcoar Dam. If you do something like this, you need to have alternate camping areas in mind in case they are all full.

Kilometres: 1,704
Litres: 292.3 (1855 km for refuel)
Fuel Cost: $597.68
Camping: $10